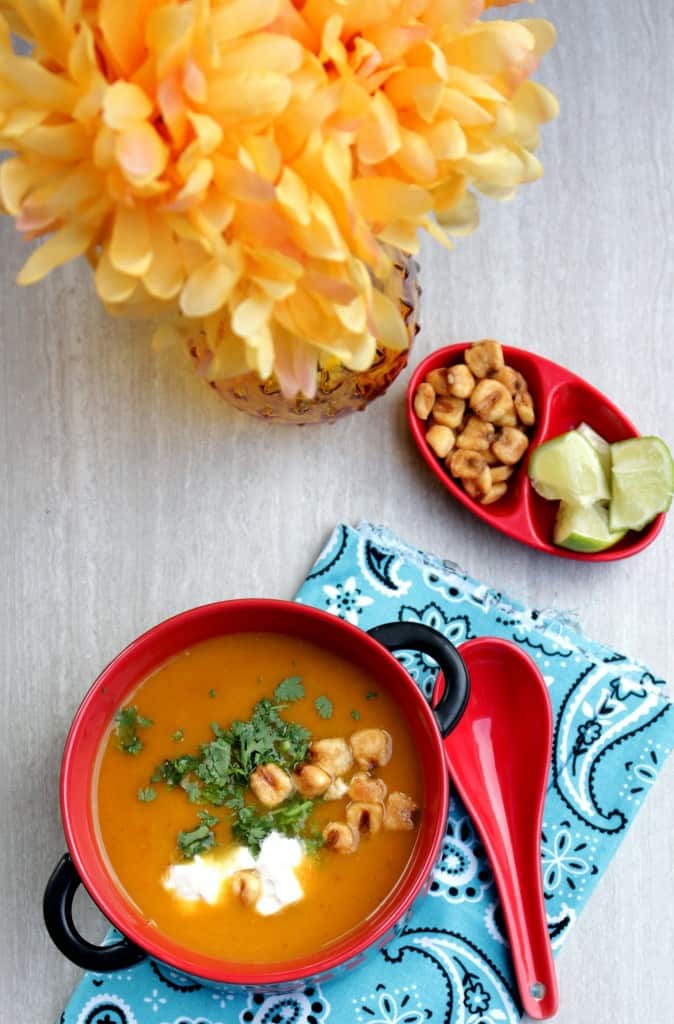 The last soup that I chose to end my first week of the mega marathon is this Mexican inspired/flavored roasted butternut squash soup. I am not a big soup person and the only soup that I will have without any second thought is the tomato soup. I have made the classic tomato soup and the roasted tomato soup and I fell in love with roasting the tomatoes. My husband saw this recipe online and encouraged me by saying that it is a roasted soup.
Everyone in my family loves butternut squash and I often make this delicious Butternut Squash Curry So I thought why not try the Roasted Butternut Squash Soup. I knew that roasting the vegetable would bring out the natural sweetness of the sugar and hence wanted to balance out the sweetness with spice. Ancho chilies in the Roasted Butternut Squash Soup would have been great, but I ran out of my stock and could not find it in the grocery store. Hence I just used the Indian red chilies and it gave a good heat to the Roasted Butternut Squash Soup, but still I was missing the peppery flavor.


The Roasted Butternut Squash Soup itself does not take too long to make. Once the vegetable is roasted it just takes 30 minutes to make the soup. I did not care much about the sour cream, but if the soup is really spicy, the sour cream would help to balance it out.
This whole marathon, I have been trying to keep away from my comfort zone – The Indian Cuisine and trying my hands on flavors of different countries. My first week had been very successful in that as I was able to make 3 different soups from 3 different countries; Japan, Middle Eastern and Mexican.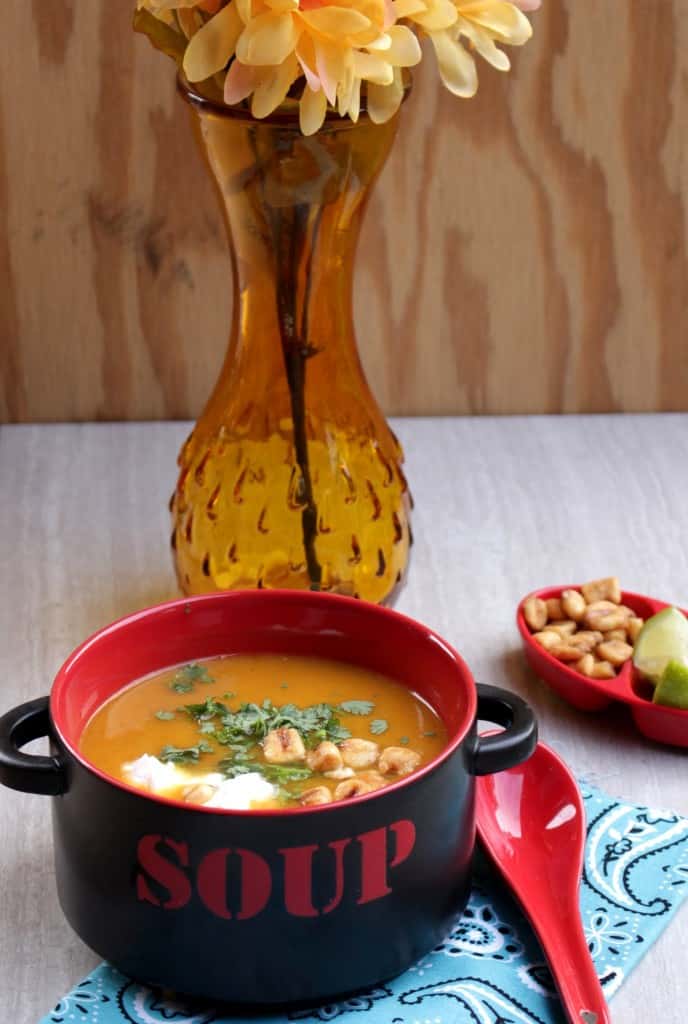 My other recipes this Marathon –
Soups
Preparation time – 10 minutes
Cooking time – 50 minutes
Difficulty level – easy
Recipe adapted from – Serious Eats
Ingredients to make Roasted Butternut Squash Soup – Serves 4-6
Butternut Squash – 1 ½ lbs
Olive oil – 2 + 2 tbsp
Ancho chilies – 2 or 3 small (deseeded, if less spicy is preferred)
Onion – 1 large (chopped)
Carrots – 2 (diced)
Garlic – 2 cloves (crushed)
Vegetable broth – 3 cups
Water – about 2 cups
Roasted cumin powder – 1 ½ tsp
Salt – as needed
Pepper – to taste
Sour cream – to garnish (optional)
Cilantro – to garnish
Roasted corn nuts – to garnish (optional)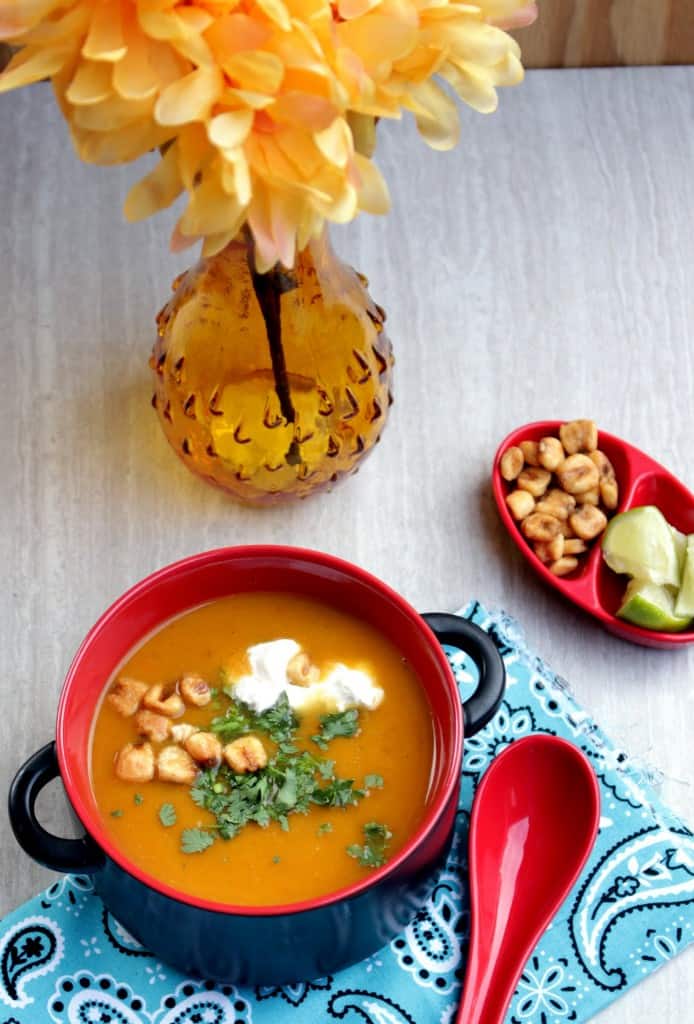 Procedure to make Roasted Butternut Squash Soup –
Peel the butternut squash and then cube them into half inch pieces. Place them in a bowl and add 2 tbsp of olive oil and salt to taste. Mix well.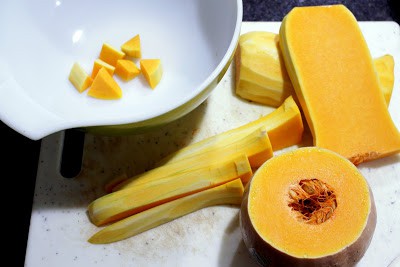 Layer a baking sheet with aluminum foil and spray with oil. Spread the cubed butternut squash in a single layer. Bake them at 425 F, turning couple of times in between until browned and tender. It took me about 30 minutes.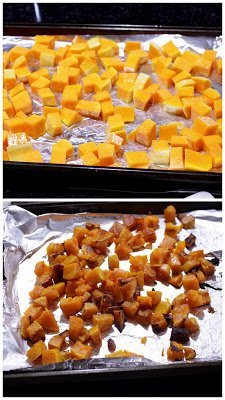 In a small pan, dry roast the ancho chilies until aromatic. I was unable to get Ancho chilies and hence used the Indian dry red chili. Keep it aside.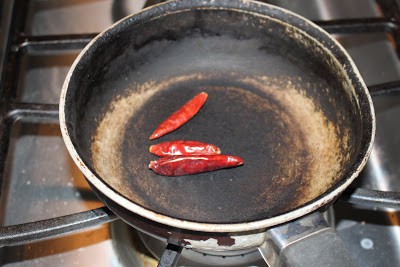 In a soup pot or a deep pot, add the remaining 2 tbsp olive oil. Add the onions, garlic and carrot and let it cook in medium flame until the onions are translucent and the carrots are cooked.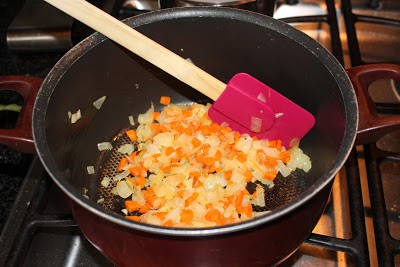 Add the toasted red chili, vegetable broth and 1 cup of water and let it come to a boil. Simmer for about 5 minutes and then add the roasted squash. Add cumin powder and let it simmer for 5 minutes.
Using an immersion blender, blend the soup until smooth and creamy. At this stage if the soup is too thick, add more water and bring it to preferred consistency.
Add salt and pepper as needed and transfer it to serving bowl. Garnish with cilantro and sour cream (optional). I also served the Roasted Butternut Squash Soup with some roasted corn to add crunch.