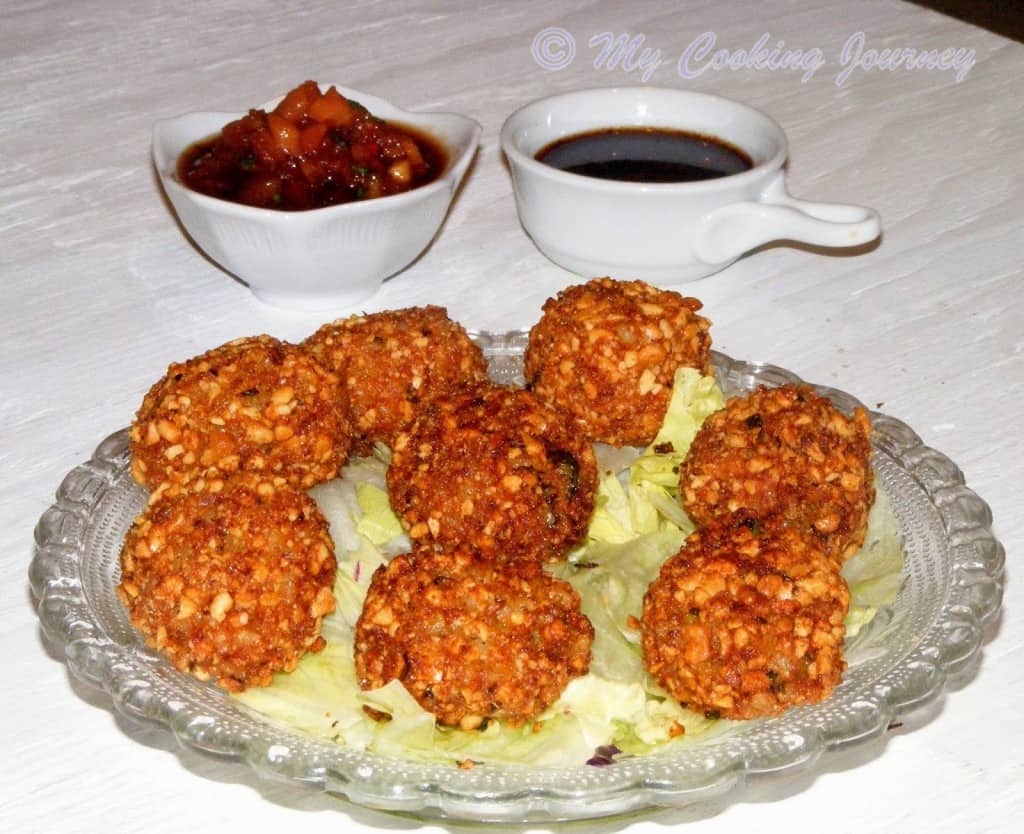 Indonesia, officially the Republic of Indonesia is a country in the Southeast Asia. The country shares its land border with Papua New Guinea, East Timor and Malaysia. Ion's capital is Jakarta. Indonesia is the world's fourth most populous country. Indonesia has been an important trade region since the 7th century and hence has a very wide cultural diversity.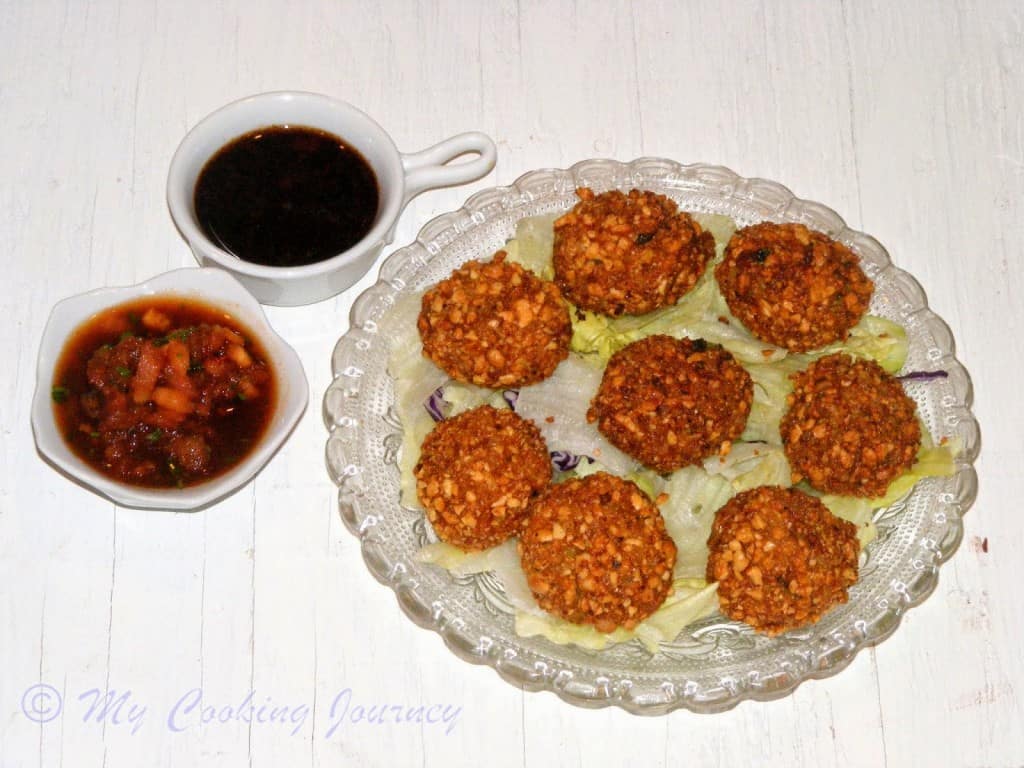 The dish, rempeyek with sambal and garlic dipping sauce, I made today is to represent Indonesia uses its staple rice as the main ingredient. The rempeyeke is generously coated with yet another common ingredient of the nation, peanuts. The dipping sauces I have made on the side gives an idea about the kind of spices commonly used in the Indonesian cuisine.
This recipe is adapted from the book Taste of Asia by Steven Wheeler. The book features step by step pictorials of the recipe and had very well explained details.
Spicy Peanut Rice Cakes - Rempeyek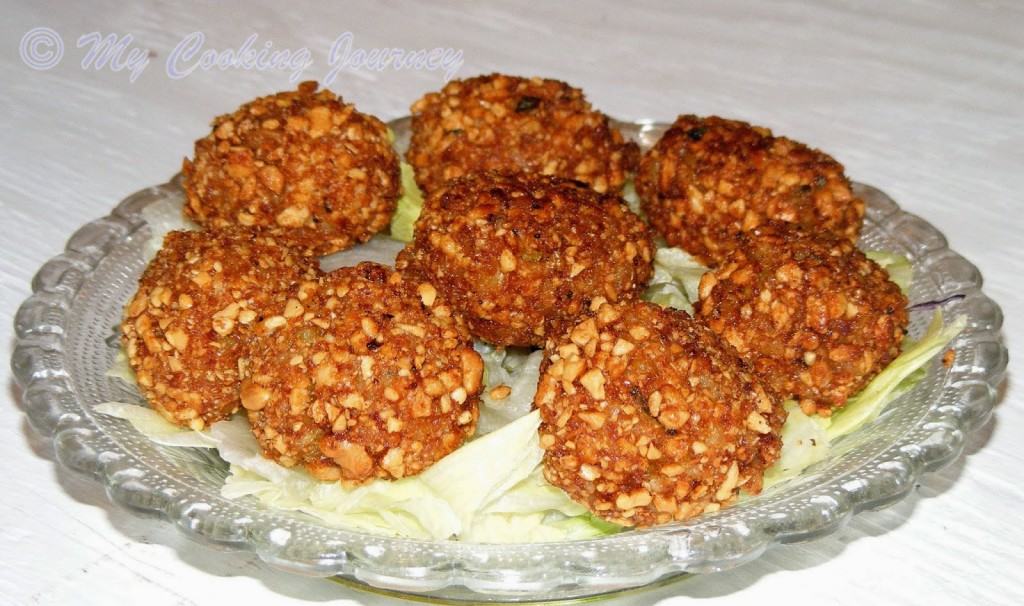 These spicy rice cakes, Rempeyek, are usually served with a green salad and a dipping sauce such a spicy tomato sambal (recipe below). I have also made a hot chili and garlic dipping sauce to go with it.
Preparation time – 10 minutes
Cooking time – 45 minutes
Difficulty level – easy
Ingredients – Makes about 20 Rempeyek
Brown rice (or any sticky long grain rice) – ½ cup (uncooked)
Garlic – 1 clove (crushed)
Ginger – ½ inch piece (peeled and chopped)
Turmeric powder – ¼ tsp
Sugar – 1 tsp
Chili sauce – 1 tsp
Soy sauce – 2 tsp
Cilantro – 2 tablespoon (chopped)
Lime juice – from ½ lime
Peanuts (raw) – Chopped or crushed coarsely (about a cup, more or less might be needed)
Oil – to deep fry
Salt – as needed (note that soy sauce is salty and you might not need any salt)
Procedure to make Rempeyek –
Cook the rice as per instructions and keep it aside.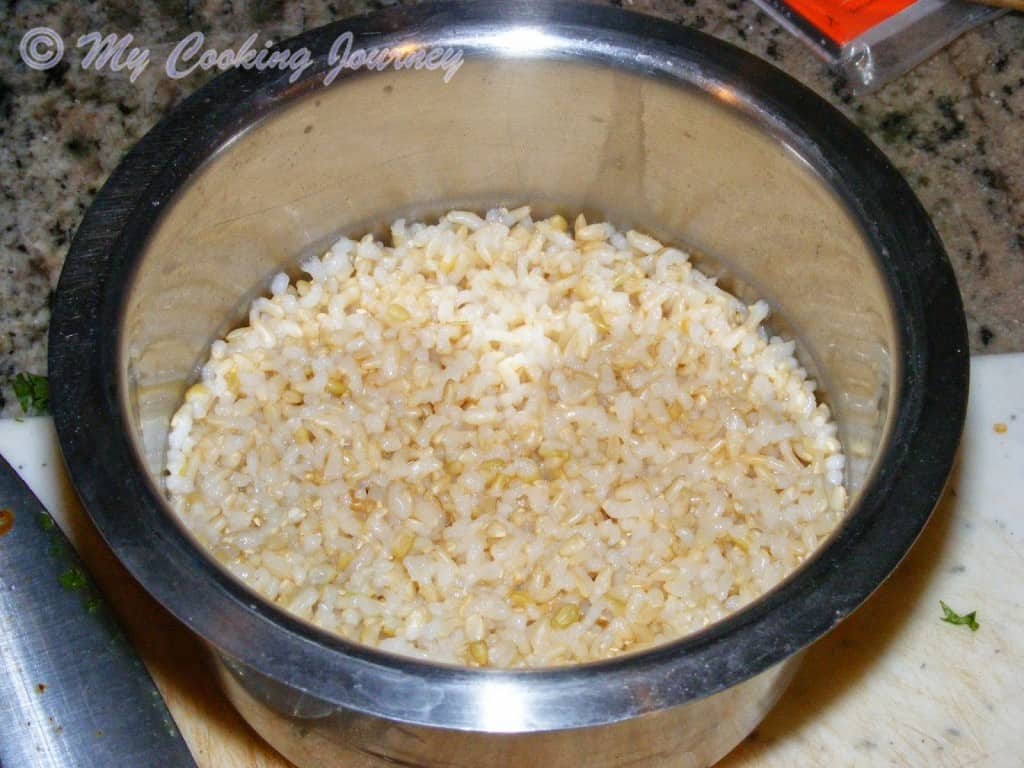 Using a mortar and pestle, crush together the ginger, garlic and turmeric powder.
Add the sugar, chili, soy sauce, cilantro, lime juice and salt (if using) and mix well.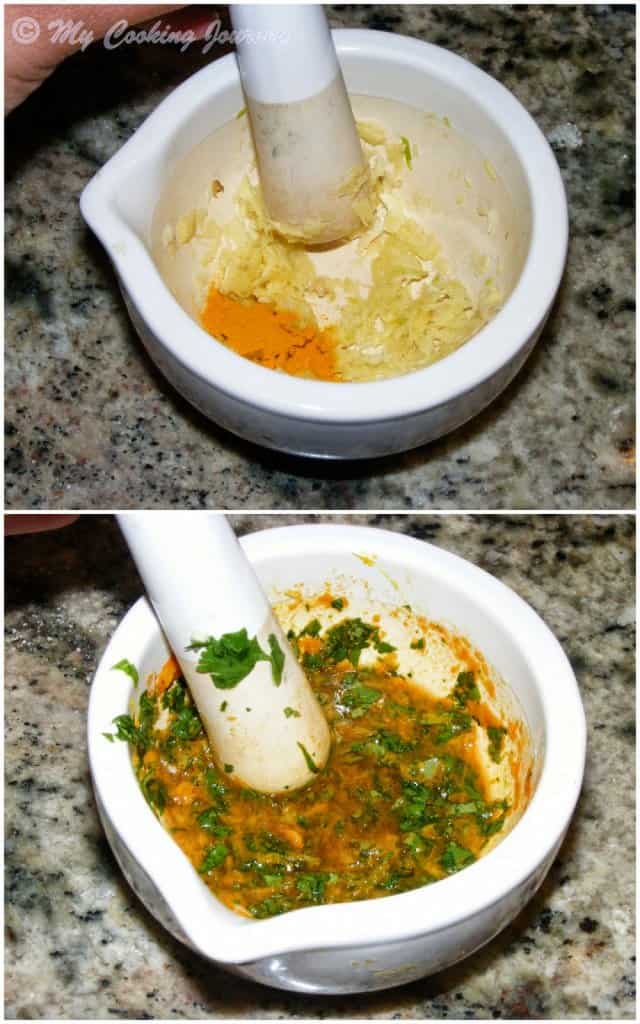 Now add the rice to the mixture (little by little) and pound until little smooth and sticky.
Using wet hands shape this mixture into small balls. Now roll these balls in the crushed peanuts and keep them aside in a tray. Repeat this with all the balls and let it rest until ready to fry and serve.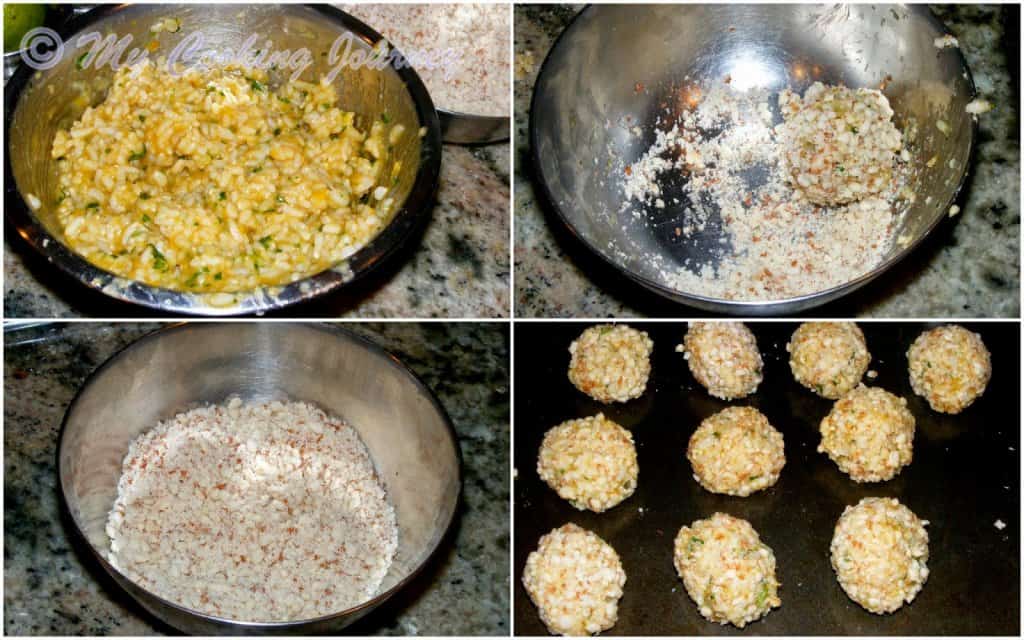 Heat the oil in a deep frying pan and fry the prepared balls (about 3-4 at a time). Fry them until crisp and golden brown.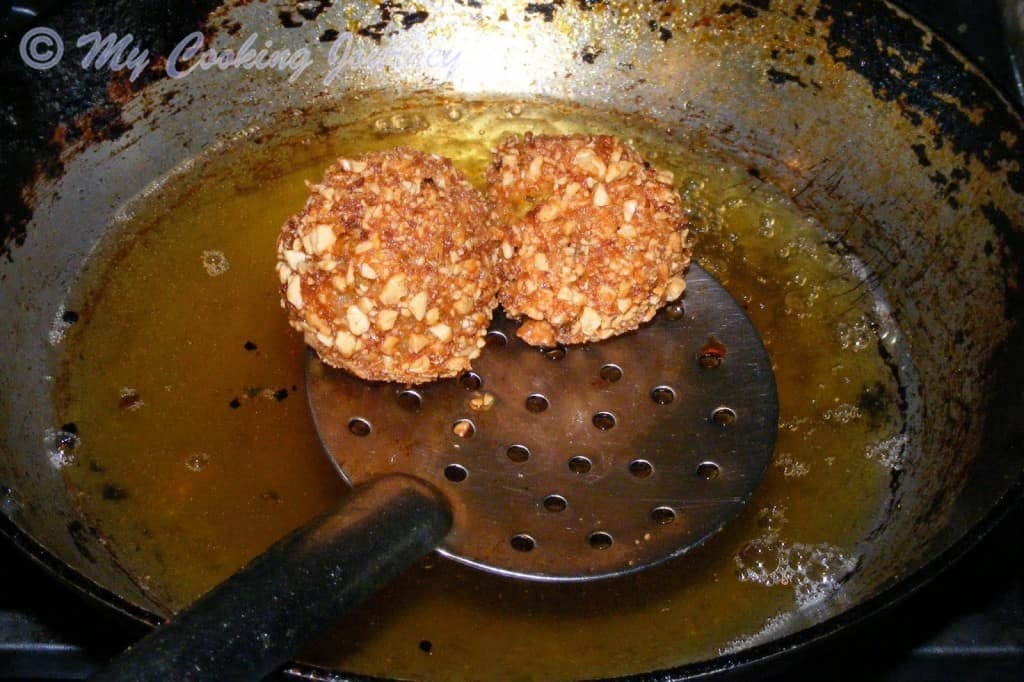 Remove the rempeyek with a slotted spoon and drain on paper towel lined dishes.
Serve hot rempeyek with the dipping sauces.
Hot Tomato Sambal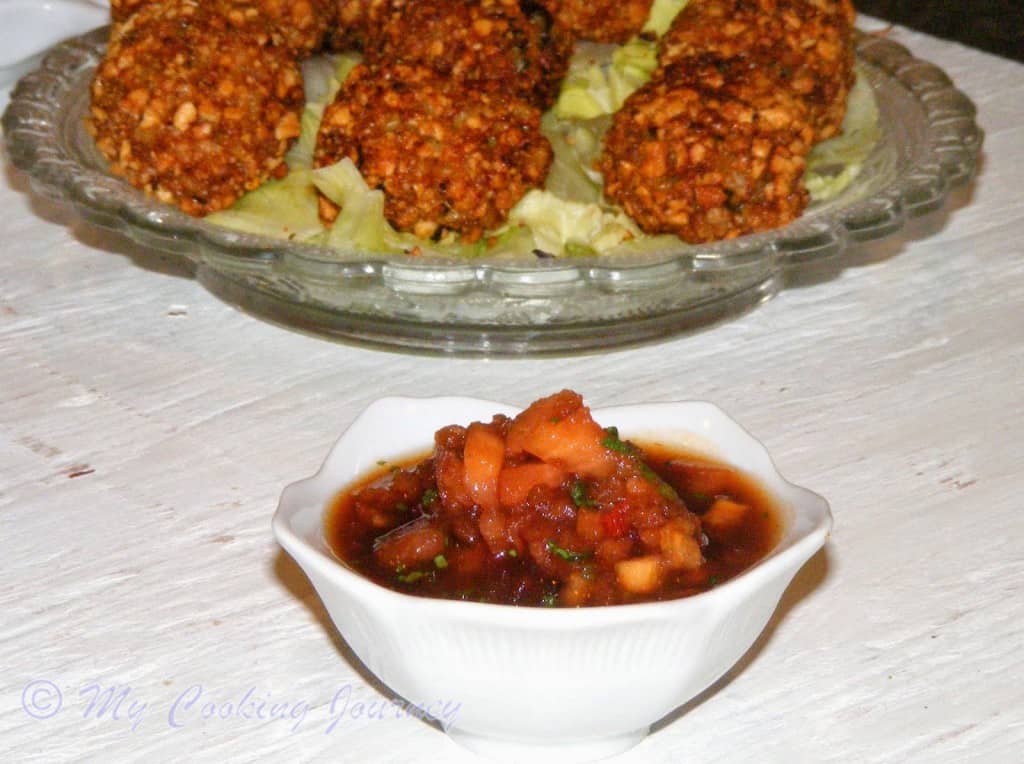 Sambals are condiments that are used as a dipping sauce for meats, fishes and other fried dishes. They are very strong and should be used sparingly. The hot tomato sambal is quick to make and made with blanched, skinned and deseeded tomatoes.

Preparation time – 5 minutes
Cooking time – 10 minutes
Difficulty level – easy
Ingredients – makes about 1 cup Tomato Sambal
Tomatoes – 3 (ripe)
Chili sauce – 1 tsp
Soy sauce – 3 tablespoon (or substitute with fish sauce if you use it)
Cilantro – 1 tablespoon (chopped)
Salt – ½ teaspoon (check before you add it)
Procedure to make Tomato Sambal –
Boil water in a medium pan and then add the whole tomatoes in the water. Let it boil for a minutes and then transfer the tomatoes to the cold water. Once it is cool enough to handle, peel the skin off and then halve them. Remove the seeds from the tomatoes and chop it up into fine pieces.
Transfer the chopped tomatoes to a bowl and then add the rest of the ingredients. Check the seasonings before you add the salt. I did not need any salt.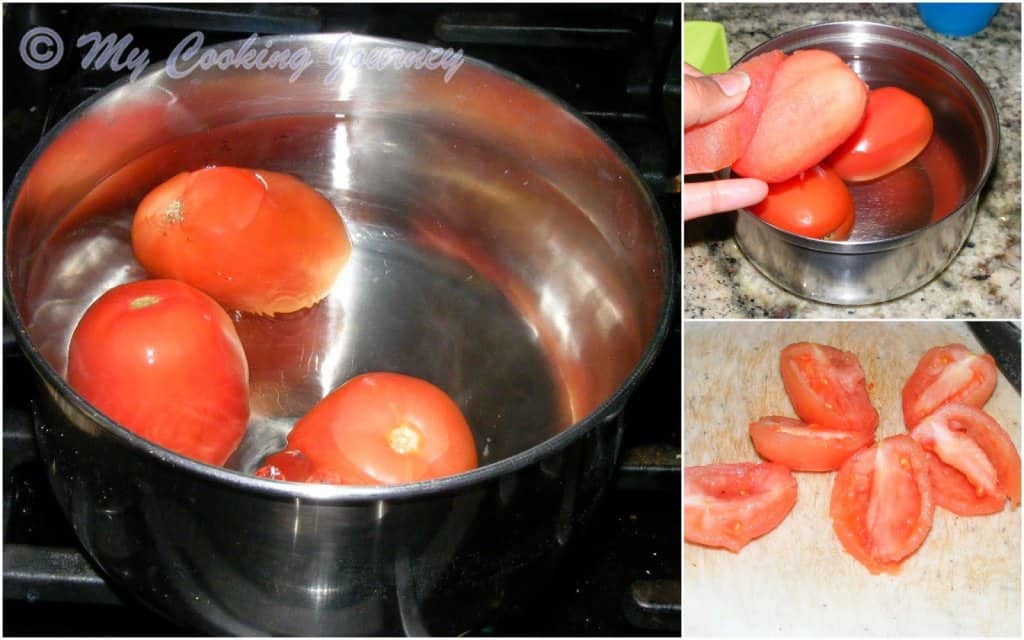 Refrigerate for couple of hours and then serve as a side.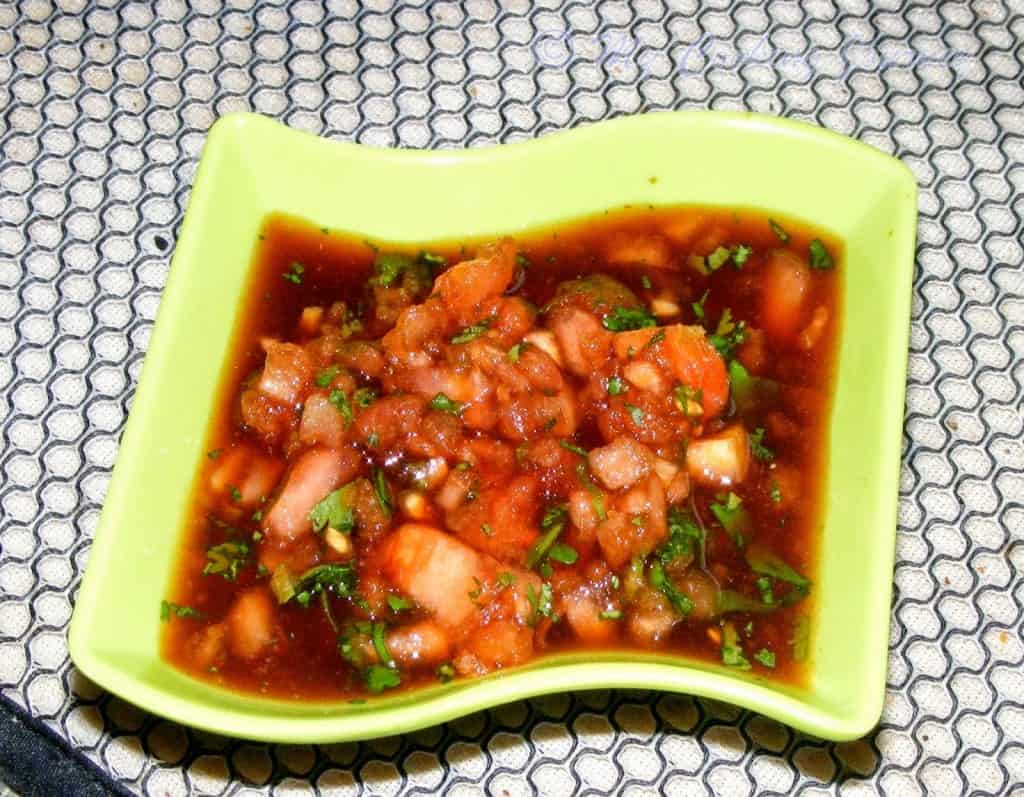 Hot Chili and Garlic Dipping Sauce – Sambal kecap

This is a very strong sambal which is spicy as well as acidic. This recipe gave me a perfect opportunity to use my mortar and pestle and I was very happy about that.Preparation time – 5 minutes
Cooking time – none
Difficulty level – easy
Ingredients – Makes about ¼ cup Sambal kecap
Garlic – 1 clove (minced)
Red chilies – 2 (seeds removed and soaked in warm water for few minutes)
Sugar – 2 tsp
Tamarind sauce – 1 tablespoon (I used ¼ teaspoon of tamarind pulp with 1 tablespoon of water)
Soy sauce – 3 tbsp
Lime juice – from ½ lime
Procedure to make Sambal kecap –
Deseed the red chilies and soak it in warm water for about 5 minutes. The remove the red chilies and chop it as fine as possible.
Transfer the chopped chilies, minced garlic and sugar into a mortar and pound until smooth. You could also use a food processor.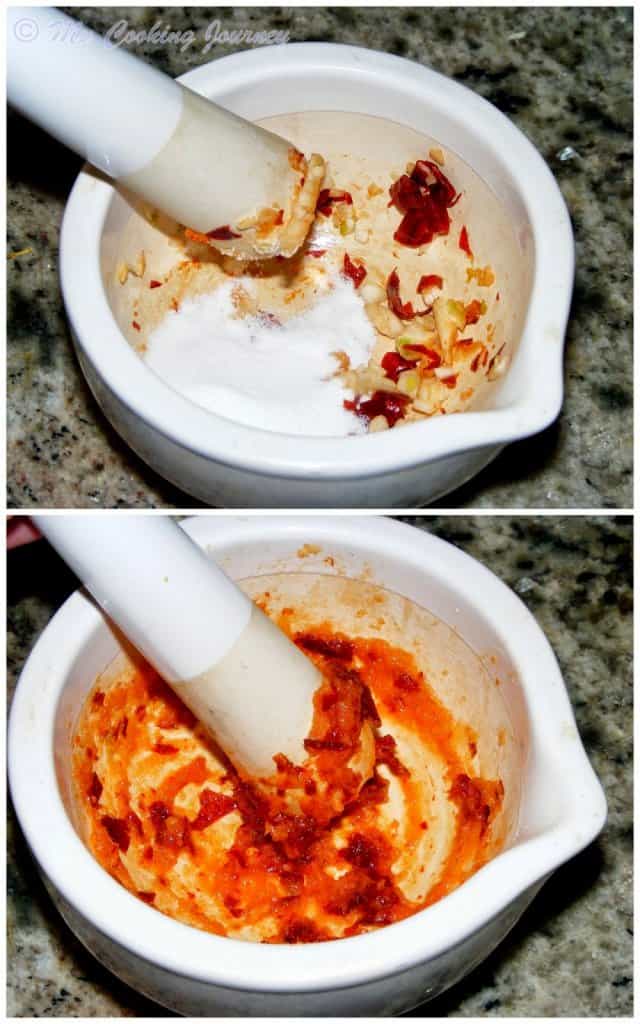 To this add the soy sauce, tamarind sauce and lime juice and mix well.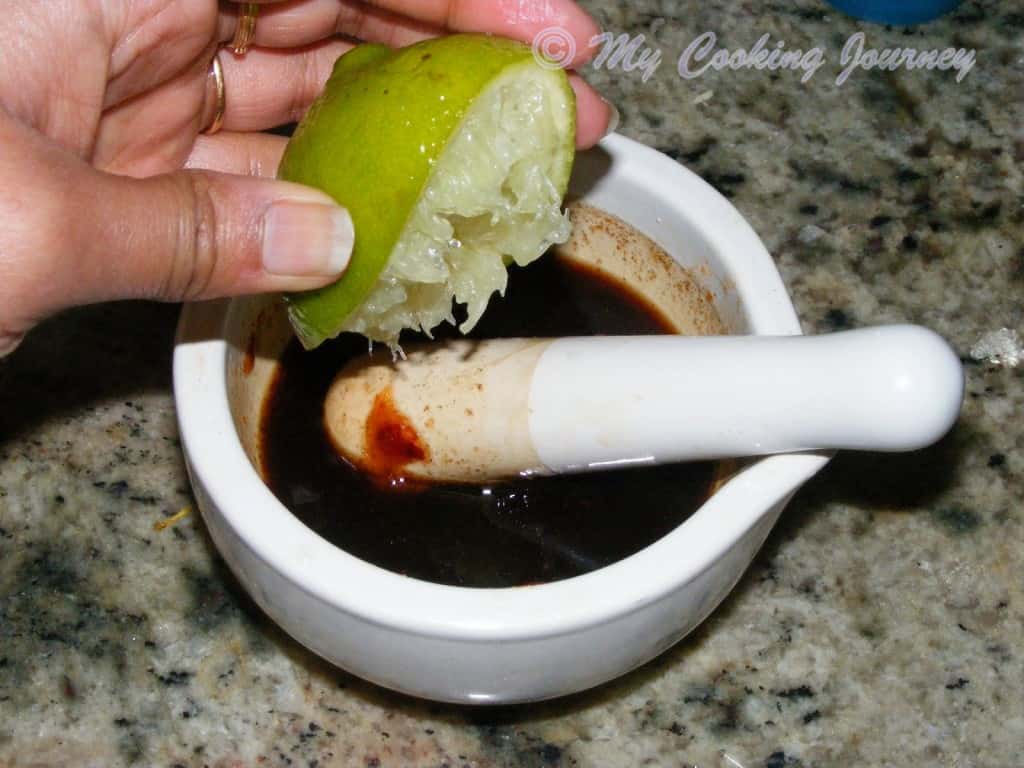 Refrigerate and then serve!