23rd Sept, 2013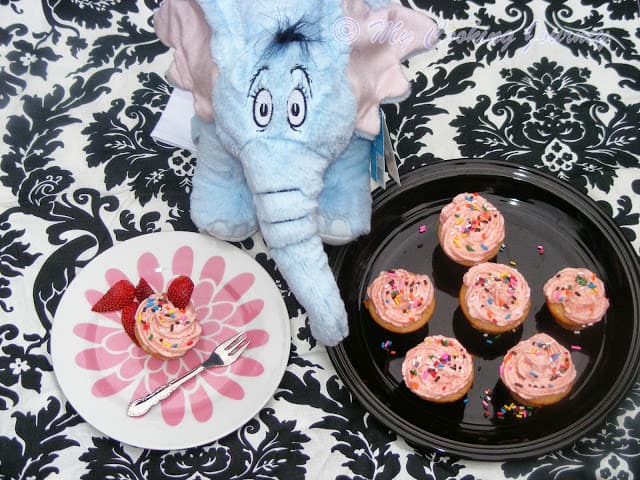 The elephant was a present for my little one from his brother
I make cupcakes for my kid's birthday party at school and for any other parties that they have in school. When I was looking for a different recipe with fresh strawberries, my dear friend Marybeth gave me this recipe that she often makes. Me and Marybeth share many similar culinary interests and her recipes always work well for me and my family likes it a lot. This was the cupcake that I have made few times since then, but never got blogged about.
One day when I was making this for my son's Birthday at school, one of my friends asked me you are making a pink cupcake with pink icing for your son. To answer that I told her, I see this as a different shade of red rather than pink and yes this is what I was sending to school. I am very unhappy with the fact that people are so color specific for boys and girls making it hard for home bakers. I would rather feed the kids fresh ingredients than fuss about the color. So if you are a mother like me with just boys and no girls, do not back off from making this cake. If questioned, answer them that this is a different shade of red!
The cake is made with fresh strawberries that come through very well. Also the icing is made of all butter and fresh strawberry which makes the strawberry flavor stands out very well. I topped it off with some fresh strawberries which the kids enjoyed picking through when eating at school. This recipe makes 12 regular size or 24 small cup cakes. This recipe goes to my alphabet S under the category baked.
A-Z Marathon – Alphabet S
Category – Baked
Preparation time – 20 mins
Cooking time – about 25 mins per batch
Difficulty level – easy
Ingredients – (makes 12 regular or 24 small cupcakes)
For the cake –
Fresh or frozen whole strawberries – 2/3 cup
All purpose flour – 1 ½ cups
Sugar – 1 cup
Butter – ½ cup (room temperature)
Vanilla – 1 tsp
Baking powder – 1 tsp
Milk – ¼ cup (whole milk at room temperature)
Egg – 1 large
Egg whites – from 2 large eggs
Salt – ¼ tsp
For the icing –
Fresh or frozen whole strawberries – ½ cup
Butter – 1 cup (firm and slightly cold)
Powdered sugar – 3 ½ cups (sifted)
Vanilla – ½ tsp
Salt – a pinch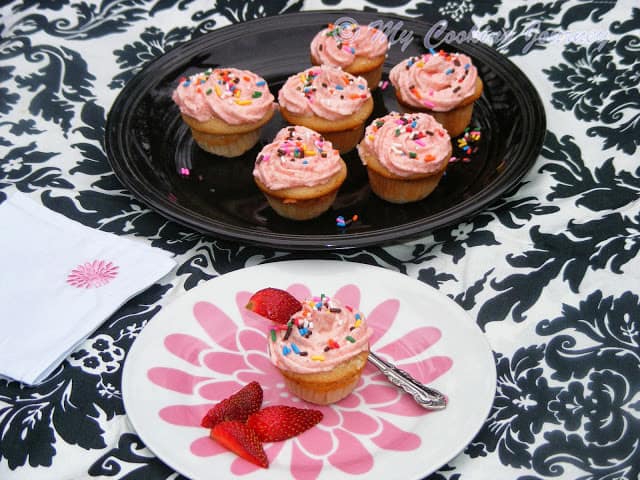 Procedure –
To make the cupcakes –
Line 12 regular or 24 small cupcake/muffin tins with liners. Preheat the oven to 350 F.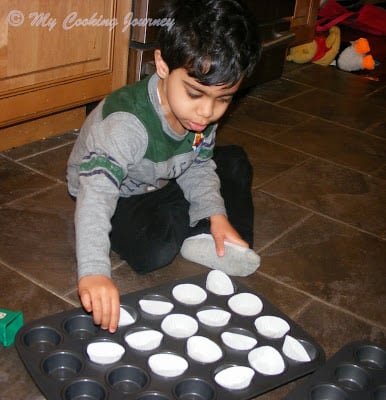 Place the strawberries in a blender or food processor and puree it. You should have about 1/3 cup of puree. Add more or less strawberry to adjust the quantity.
In a medium bowl, whisk the flour, baking powder and salt. Keep aside. In another bowl mix together the strawberry puree, milk and vanilla. Keep aside.
In the bowl of an electric mixer fitted with the paddle attachment, cream butter on medium-high speed, until light and fluffy. Gradually add sugar and continue to beat until well combined and fluffy. Reduce the mixer speed to medium and slowly add egg and egg whites until just blended.
With the mixer on low, slowly add half the flour mixture; mix until just blended. Add the milk mixture; mix until just blended. Slowly add remaining flour mixture, scraping down sides of the bowl with a spatula, as necessary, until just blended.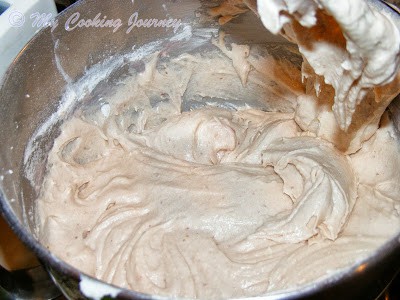 Divide batter evenly among prepared muffin cups. Transfer muffin tin to oven and bake until tops are just dry to the touch, 22 to 25 minutes.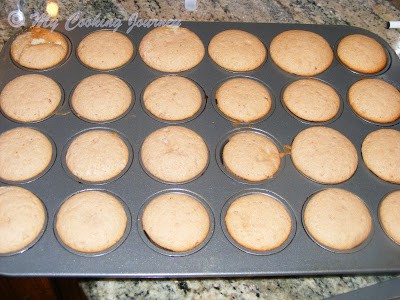 Transfer muffin tin to a wire rack and let cupcakes cool completely in tin before icing.
To make the icing –
Place strawberries in the bowl of a small food processor; process until pureed.
In the bowl of an electric mixer fitted with the paddle attachment, beat together butter and salt on medium speed until light and fluffy. Reduce mixer speed and slowly add confectioners' sugar; beat until well combined.
Add vanilla and 3 tablespoons strawberry puree (save any remaining strawberry puree for another use); mix until just blended. Do not over mix, or frosting will incorporate too much air. Frosting consistency should be dense and creamy, like ice cream.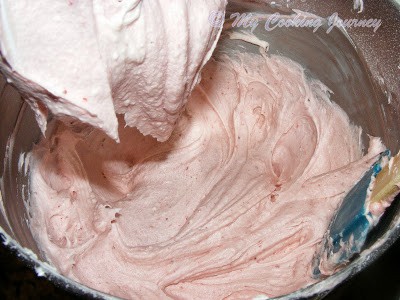 Ice all the cupcakes and decorate as preferred.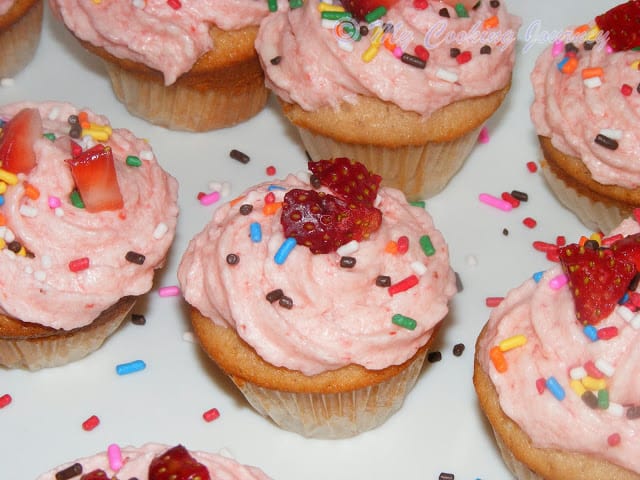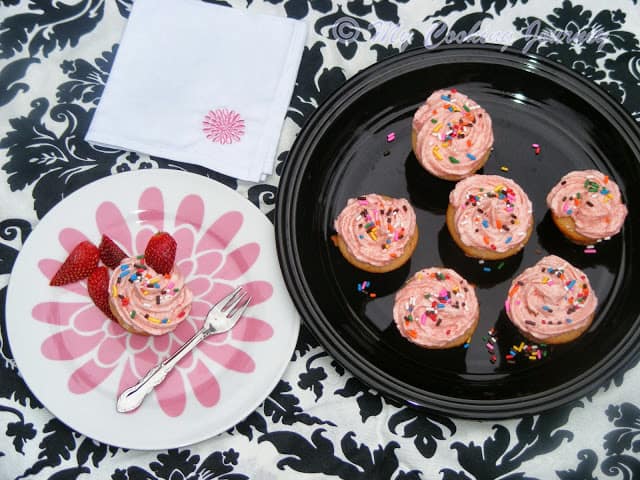 Logo courtesy : Preeti
Check out the Blogging Marathon page for the other Blogging Marathoners doing BM# 32
document.write('