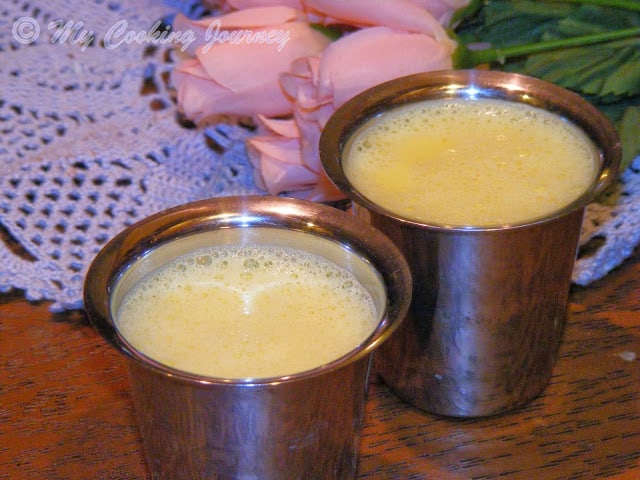 This is one of the simplest and probably the most effective to cure the symptoms of common cold and cough in children and adults alike. Turmeric milk is one of the most ancient remedy that eases the symptoms when sick. Turmeric is known to have many medicinal properties and few of which includes anti bacterial, anti viral, anti inflammatory and anti oxidant properties.
At the first sight of cough in the house hold begins our ritual of having honey lemon and ginger tea and we end our day with the manjal paal (yellow milk). Even if just one member of the house is coughing, we still make sure that all of start the yellow milk at nights. This really helps my kids to sleep better without coughing too much at nights and just 2-3 days of continuing it totally gets rid of the cold symptoms. I make the turmeric milk very basic adding just honey and turmeric to the milk. At times I also add a little bit of ground cardamom, but not always. Do make sure that you do not give honey to children under two.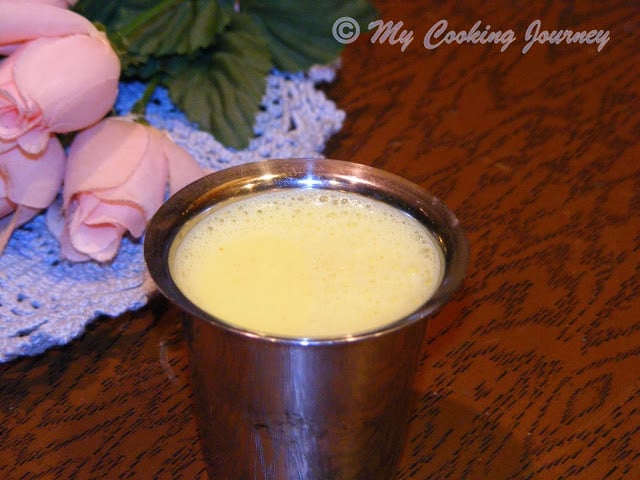 This is my third recipe for this week's blogging marathon under the theme Healthy recipes. This is my third recipe that we follow at home during the bout of cold and cough.
Few other measures that we follow in the house to ease the kid's symptoms –
Applying Vicks liberally over the chest and the back. My aunt suggested that for young kids to constantly inhale the Vicks apply the Vicks to the pillows or covers near the kid. I used to do this when my kids was very young and struggled to breathe through stuffed nose.
Having a humidifier in the room. This helps to relieve the dryness.
Running a warm bath. Lot of parents or grandparents is scared to bathe the kids when they have cold. It is very important to run a warm bath. This not only gets rid of the nasty bug, but also helps to open up the airways and helps them breathe better, which in turn would help the kids to sleep.
Try to make the kids sleep a little elevated. This helps them to breathe better.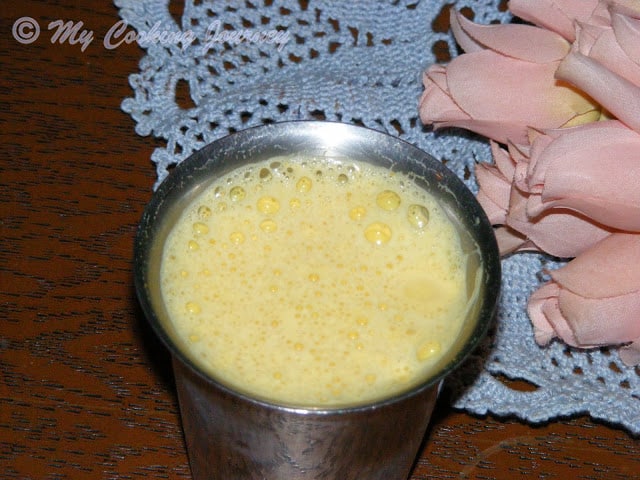 Preparation time – 5 mins
Cooking time – 10 mins
Difficulty level – easy
Ingredients to make Turmeric Milk – (serves 2 kids)
Milk – 1 ½ cup
Turmeric powder – ½ tsp
Honey – 1-2 tbsp (depending on the sweetness)
Cardamom powder – ¼ tsp
Procedure to make Turmeric Milk –
Boil the milk. Once the milk boils, add the rest of the ingredients and mix well.
Serve when warm to the kids. I would suggest that they drink it a little bit on the high warm side.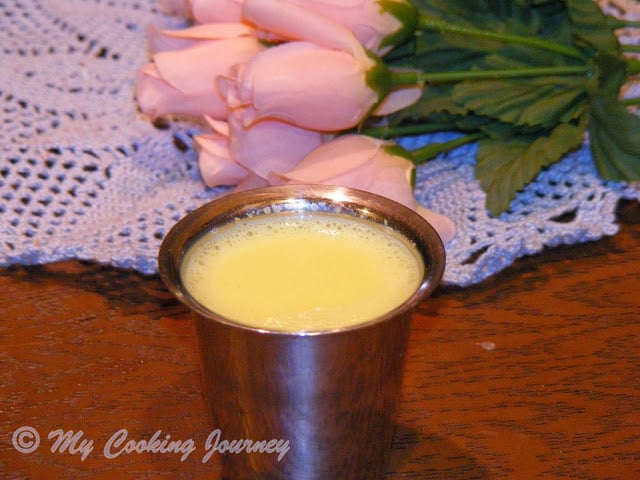 Check out the Blogging Marathon page for the other Blogging Marathoners doing BM# 35