Walnut Biscotti is an Italian classic baked treat that are twice baked for its crispiness and long shelf life. These are perfect to dip into a cup of coffee or take on a trip to snack along.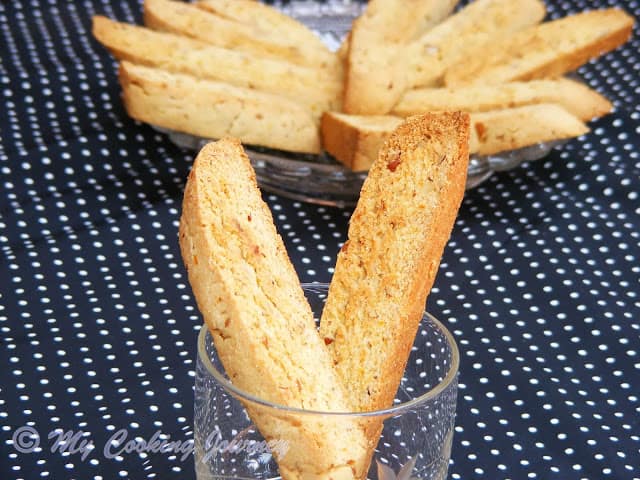 Biscotti's are Italian Cookies that are part baked, sliced to reveal a feast of mixed nuts and then baked again until crisp and golden. These light and crunchy cookies have walnuts in them and are flavored with orange and coriander seeds. Walnut Biscotti's are twice baked cookies that originated in Italy.
What are Biscottis?
Traditionally an Italian classic, Biscotti have been baked for centuries. It was the perfect food for sailors who were at sea for months at a time. The biscuits were thoroughly baked to draw out moisture, becoming a cracker-like food that was resistant to mold. Biscotti were a favorite of Christopher Columbus who relied on them on his long sea voyage.
The walnut used in this recipe can be substituted with any other nut of your choice. I used pecans instead of walnuts. Just make sure that you roast your nuts before using (even if they are already roasted). Roasting the nuts brings out the natural nuttiness and it tastes great. Also do not omit the coriander seeds in the recipe. The flavor of the coriander seed with the orange was a very pleasantly different one.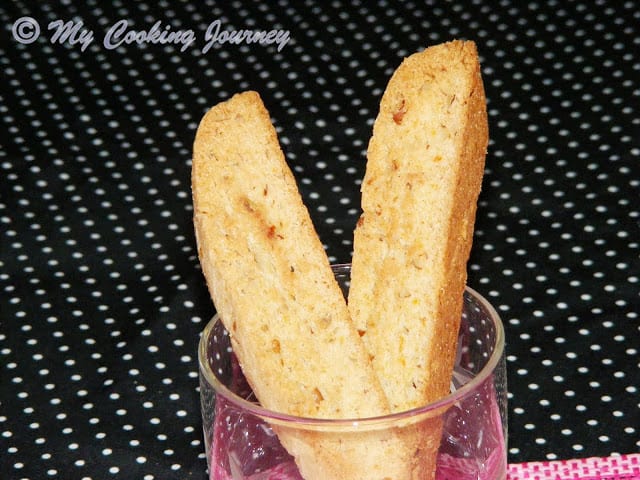 Sign up to my newsletter
Recipe adapted from – The Cookie and Biscuit Bible by Catherine Atkinson
Ingredients to make Walnut Biscotti – makes about 40
Unsalted butter (diced) – ½ cup/115gms/4 oz
Granulated sugar – 1 cup/200gms/7 oz
Eggs – 2
Walnut or olive oil – 1 tbsp/15 ml
Finely grated rind of one large orange
All purpose flour – 3 cups/350 gms/12 oz
Baking powder – 1 ½ tsp/7.5 gm
Corn meal – ¾ th cup/75 gms/3 oz
Toasted walnuts (chopped) – 1 cup/115gms/4 oz (I used Pecans)
Coriander seeds (crushed) – 2 tsp/10 gm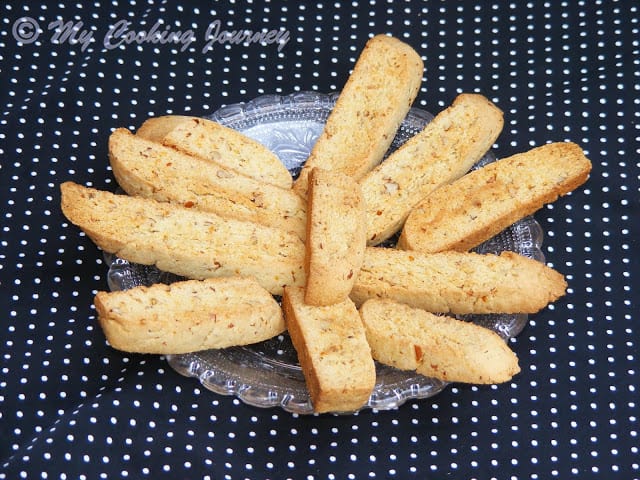 Procedure –
Spread the nuts on a baking sheet and place them in a 325 F/ 160 C preheated oven for 5-7 minutes or until just beginning to brown. Once cooled down to room temperature, chop them into small pieces.
Put the sugar and butter in a bowl and beat together well.
Add the eggs, walnut/olive oil and orange rind and mix well.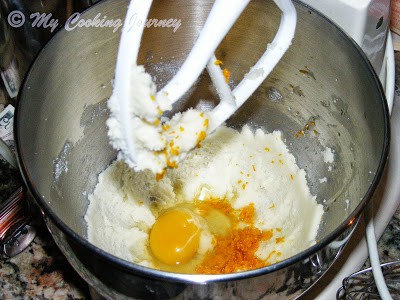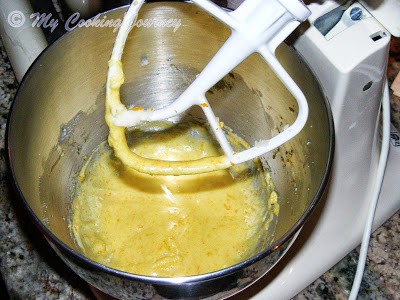 Sift the flour and baking powder over the mixture and add the corn meal, walnuts and crushed coriander seeds. Mix thoroughly and bring together to form a soft, but not too sticky dough.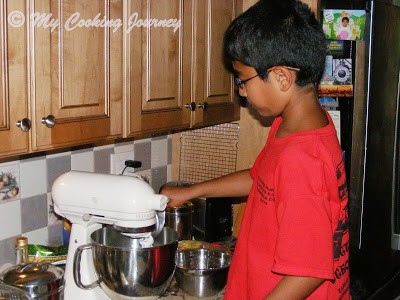 Shape the dough into 4 logs about 18 cms/7inch long and 5cm/2 inch in diameter. Place them slightly apart on a non stick baking sheet.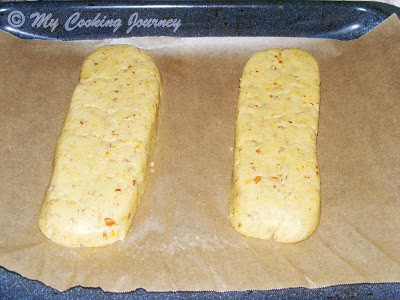 Bake for 35 mins in preheated 325 F/ 160 C oven until slightly golden.
Leave the logs to cool on wire racks for about 10 mins.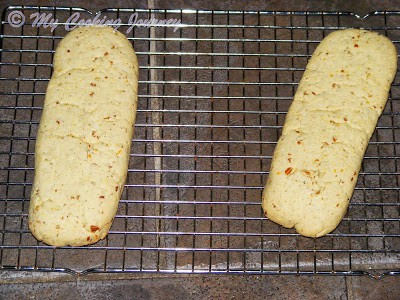 Then slight diagonally into 1 cm/ ½ inch slices.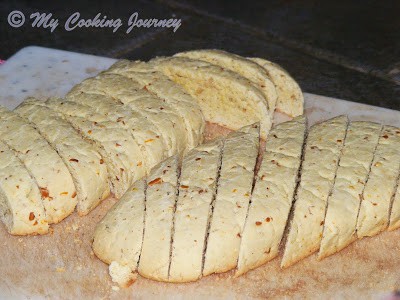 Place them slices on the baking sheet and bake again for 10 mins.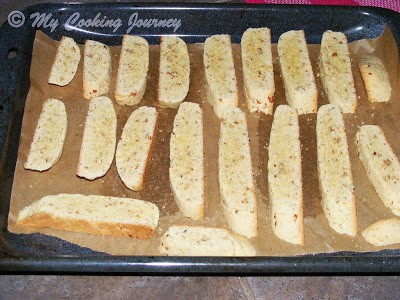 Once the biscotti's are evenly baked, remove them and cool them in a cooling rack.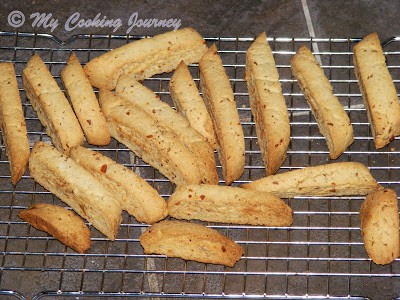 Once cooled entirely, store the Walnut Biscotti in an airtight container for a long time (They stay fresh for over a month or even two), if they remain that long to be stored.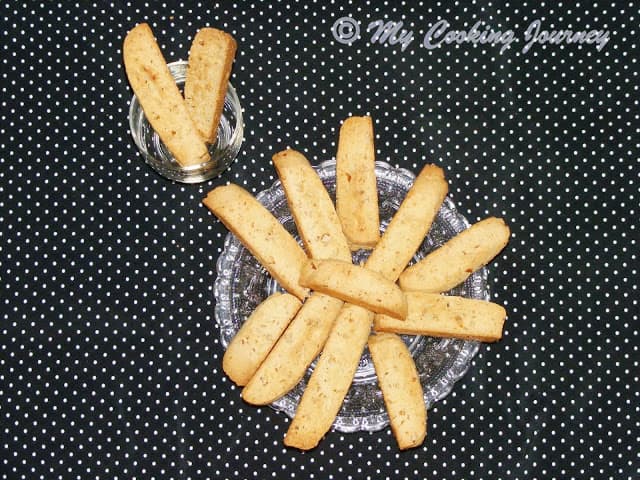 Expert tips and FAQ's
Use a sharp, serrated knife to cut the logs; otherwise, you would end up breaking the logs.
Rotate the Walnut Biscotti once or twice when baking the second time to ensure even browning on all the sides.
Again the walnut can be substituted to any other nut in the recipe.

If you made this recipe and liked it, give a star rating on the recipe card or let me know in the comments below.
You could also share it with me on Instagram using #MyCookingJourney and tagging me @sandhya.ramakrishnan.
You could follow me and my recipes on Facebook |Instagram | Pinterest | twitter

Walnut Biscotti Recipe

Walnut Biscotti is an Italian classic baked treat that are twice baked for its crispiness and long shelf life. These are perfect to dip into a cup of coffee or take on a trip to snack along.

Print Pin Rate

Ingredients

115

gm

Unsalted butter

½ cup or 4 oz

200

gm

Granulated sugar

1 cup / 7 oz

2

Eggs

15

ml

Walnut or olive oil

1 tbsp

1

Finely grated rind of one large orange

350

gm

All purpose flour

3 cups / 12 oz

7.5

gm

Baking powder

1 ½ tsp

75

gm

Corn meal

¾ cup / 3 oz

115

gm

Toasted walnuts

1 cup / 4 oz

10

gm

Coriander seeds

2 tsp

Instructions

Spread the nuts on a baking sheet and place them in a 325 F/ 160 C preheated oven for 5-7 minutes or until just beginning to brown. Once cooled down to room temperature, chop them into small pieces.

Put the sugar and butter in a bowl and beat together well.

Add the eggs, walnut/olive oil and orange rind and mix well.

Sift the flour and baking powder over the mixture and add the corn meal, walnuts and crushed coriander seeds. Mix thoroughly and bring together to form a soft, but not too sticky dough.

Shape the dough into 4 logs about 18 cms/7inch long and 5cm/2 inch in diameter. Place them slightly apart on a non stick baking sheet.

Bake for 35 mins in preheated 325 F/ 160 C oven until slightly golden.

Leave the logs to cool on wire racks for about 10 mins.

Then slight diagonally into 1 cm/ ½ inch slices.

Place them slices on the baking sheet and bake again for 10 mins.

Once the biscotti's are evenly baked, remove them and cool them in a cooling rack.

Once cooled entirely, store the Walnut Biscotti in an airtight container for a long time (They stay fresh for over a month or even two), if they remain that long to be stored.

Notes

Expert tips and FAQ's

Use a sharp, serrated knife to cut the logs; otherwise, you would end up breaking the logs.
Rotate the Walnut Biscotti once or twice when baking the second time to ensure even browning on all the sides.
Again the walnut can be substituted to any other nut in the recipe.

Nutrition

Calories:

107

kcal

|

Carbohydrates:

14

g

|

Protein:

2

g

|

Fat:

5

g

|

Saturated Fat:

2

g

|

Cholesterol:

14

mg

|

Sodium:

24

mg

|

Potassium:

40

mg

|

Fiber:

1

g

|

Sugar:

5

g

|

Vitamin A:

91

IU

|

Vitamin C:

2

mg

|

Calcium:

20

mg

|

Iron:

1

mg