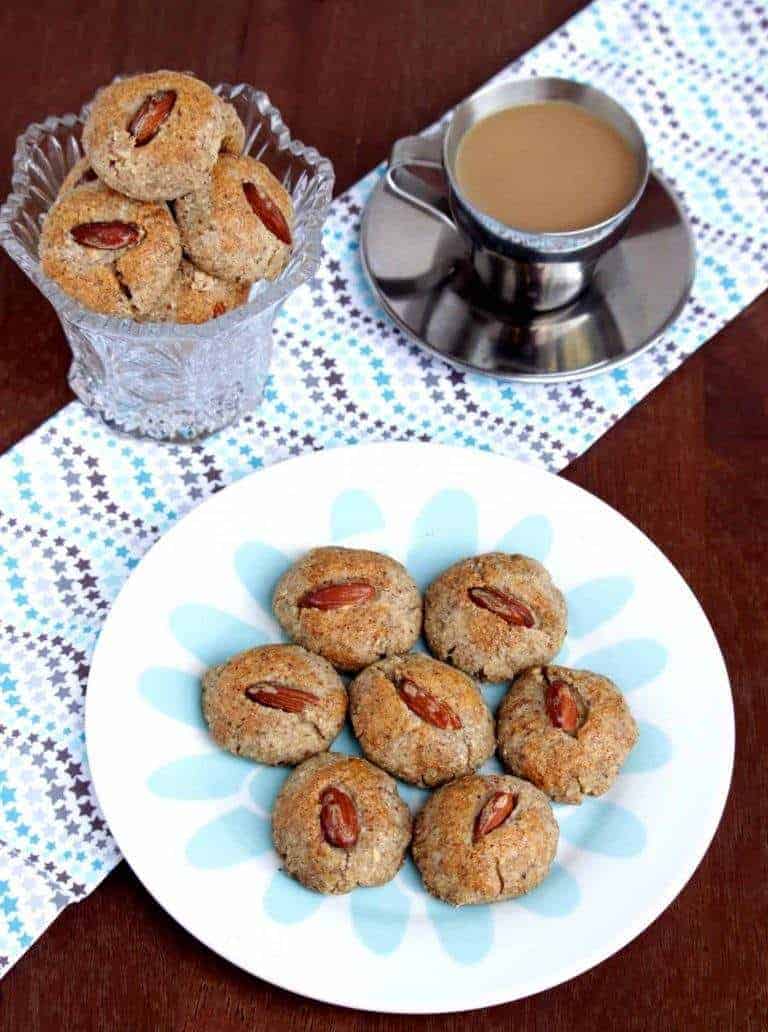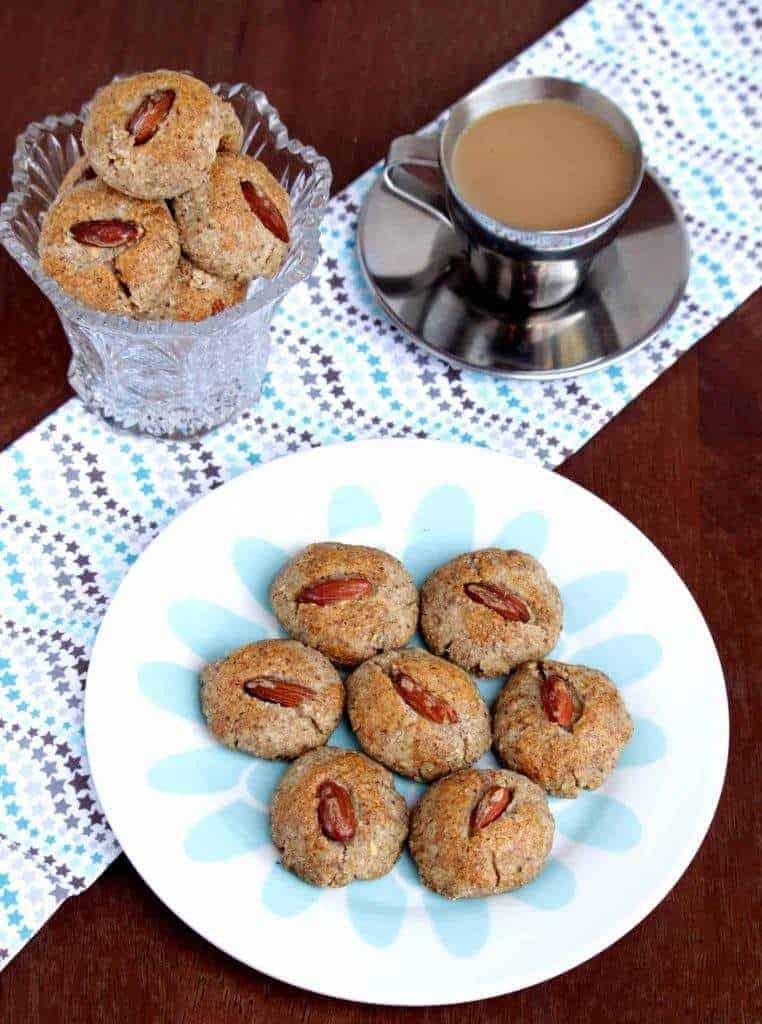 Chinese almond cookies also known as Almond cakes or Almond crisp is a popular cookie that is made around the Chinese New Year to distribute to friends and family. This Almond cookie is one of the simplest cookie that I have made and it is considered a sign of good luck.
This month, I am beginning my Mega Marathon with my Blogging Marathon friends, themed A-Z Baking Around the World. We are going to be baking recipes from all around the world. The recipes have to be in the alphabetical order and one country cannot be repeated more that twice. I wanted to begin the journey with a sweet note and what else could be much more apt than the this Chinese Good Luck Almond Cookies. This is my recipe under the alphabet A from the country China. Do check back every day to see what is baking at My Cooking Journey!
These Almond cookies were adapted from the Chinese Walnut cookies that was made during the 16th century for the royals. Eventually the cookie was started being adapted by commoners and they started using almonds instead of walnuts for other flavor profile. This Chinese Almond Cookie became so popular that there is a National Chinese Almond Cookie Day celebrated on April 9th in the United States.
When researching about the cookies online, I found several version with butter, lard and oil. I have used butter a lot for most of the cookies I have baked and hence wanted to try it with oil to make it a vegan version. This almond cookie is very simple to make and it just needs a few basic ingredients. There are many recipes online with just all purpose flour and almond flavoring to make the almond cookies, but I did not just want to flavor my cookie with almond essence. I wanted the actual flavor of the almond and hence started looking for something with almond flour in it.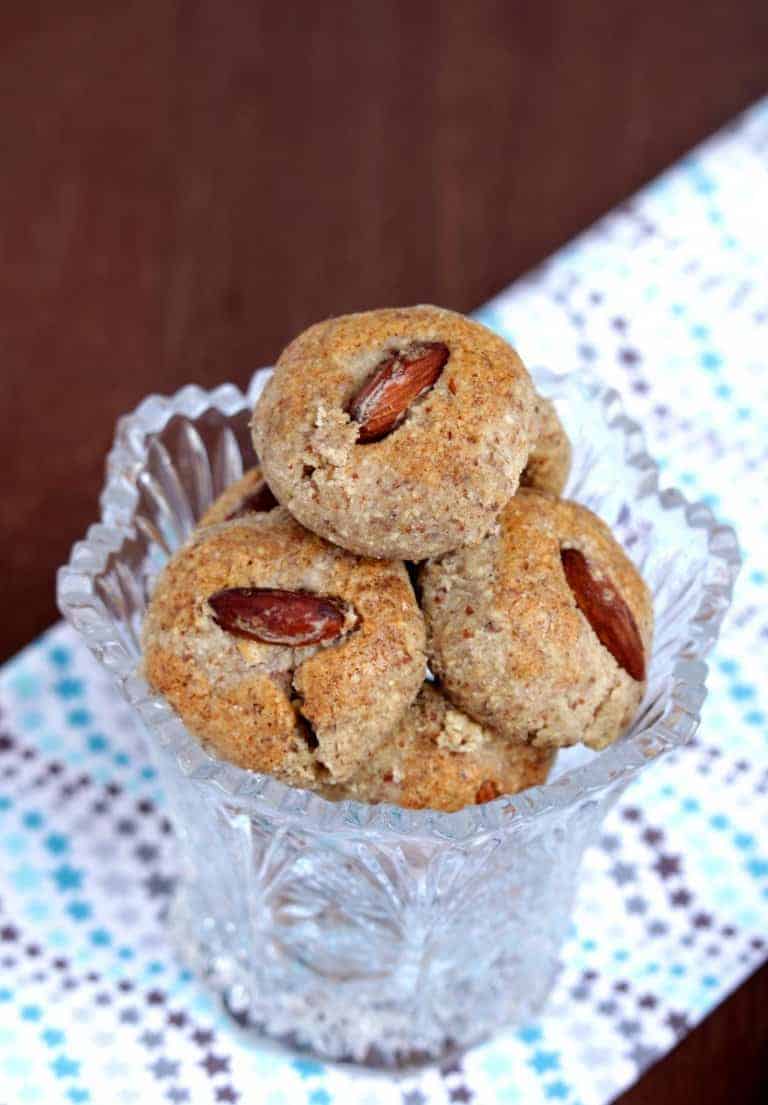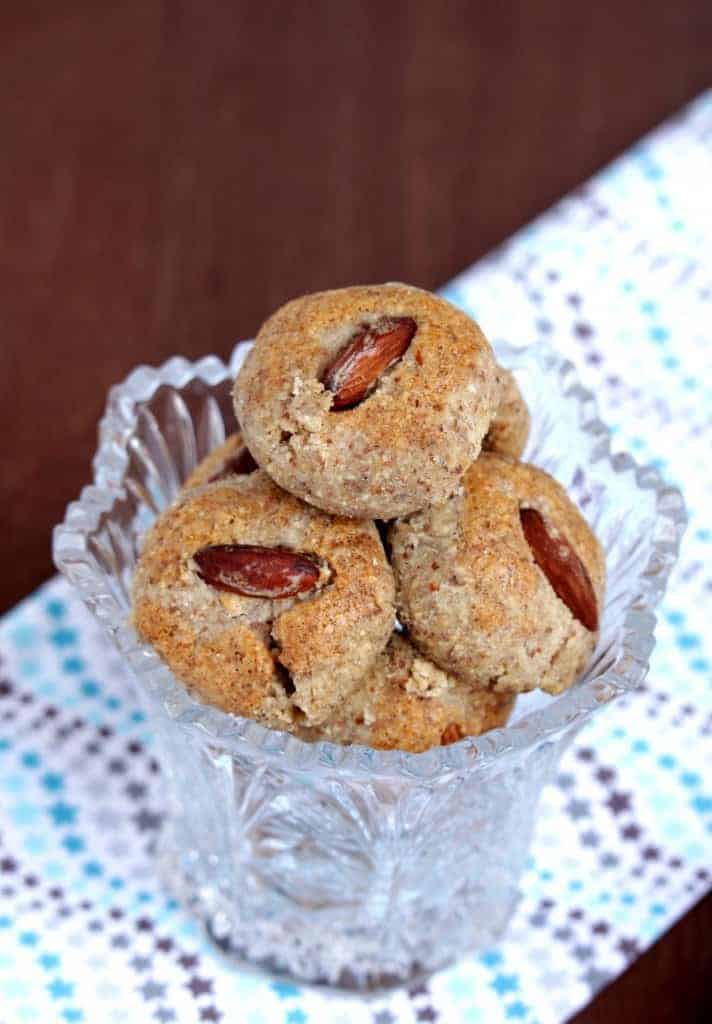 I have used almond meal in the recipe, but you could very well use the almond flour instead. If using the almond flour, the cookies will be lighter in color and more white than the ones that I have made. Almond meal is the same as almond flour except it is made with whole almonds (skin and all) whereas the almond flour is made with skinned almonds.
I buy my almond meal in bulk from my local Sprouts store, but we can very well make it at home. I was a little concerned about how the flavor would be as I was using all oil in the almond cookies, but there is no trace of smell or flavor of the oil. It is very important to use neutral oil so that we don't have the oil flavor in the cookies. I used vegetable oil for the recipe.
The cookies had egg yolk wash on top of it. Since I was going all vegan, I chose to use almond milk wash on the cookies. If you are not making it vegan, but still want to make it egg less, heavy cream would be a great option.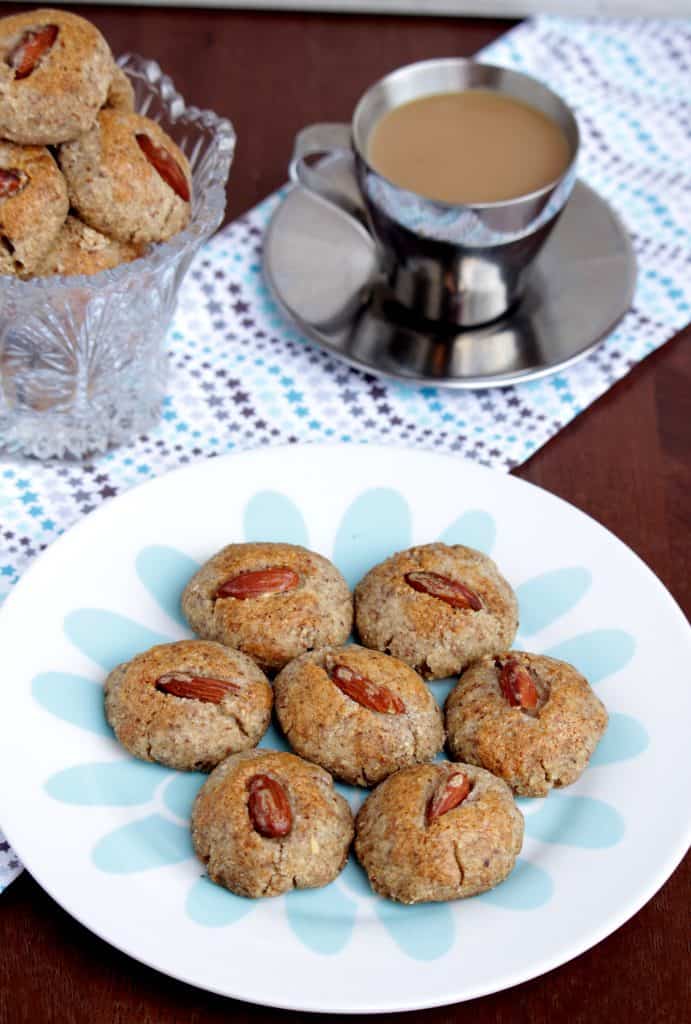 Preparation time - 5 minutes
Baking time - 15 to 20 minutes per batch
Difficulty level - easy
Recipe adapted from - Just One Cookbook
Ingredients to make Chinese Almond Cookies - makes about 20 small cookies
All purpose flour - ¾ cup
Almond meal or Almond flour - ½ cup
Sugar - ½ cup
Baking soda - ½ tsp
Baking powder - ½ tsp
Oil (I used vegetable oil) - 75 ml (might need a tsp or more depending upon the humidity level)
Almond milk - couple of tablespoons to brush on top of the cookies
Sliced almonds or whole almonds - for garnish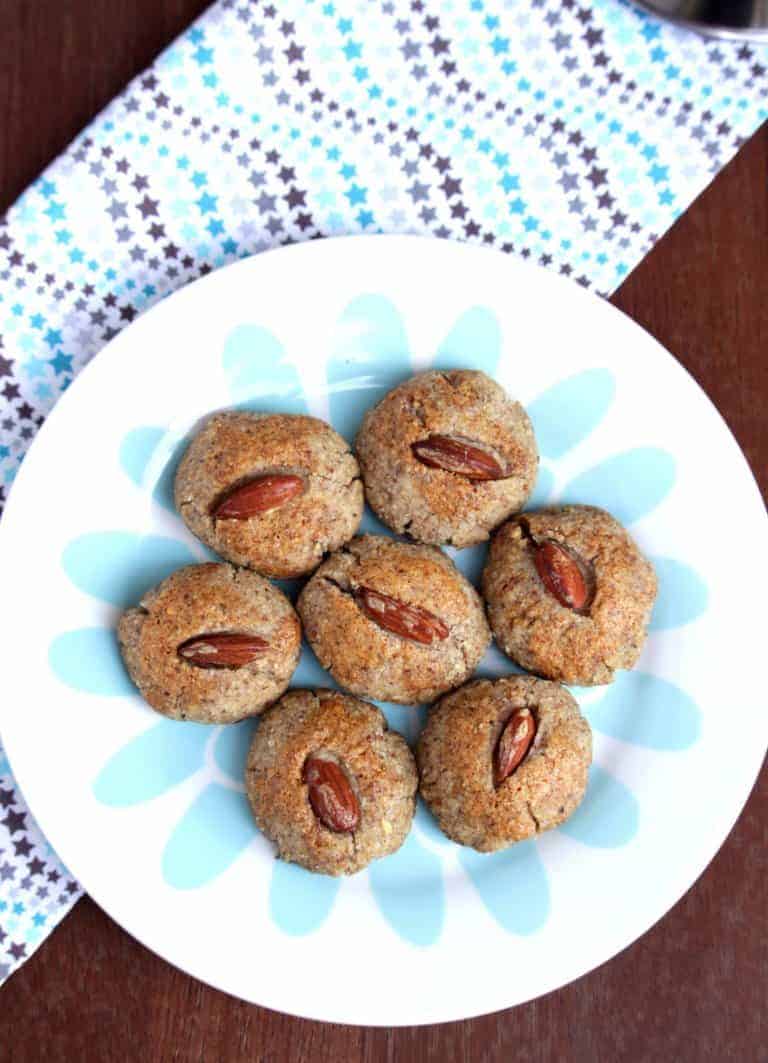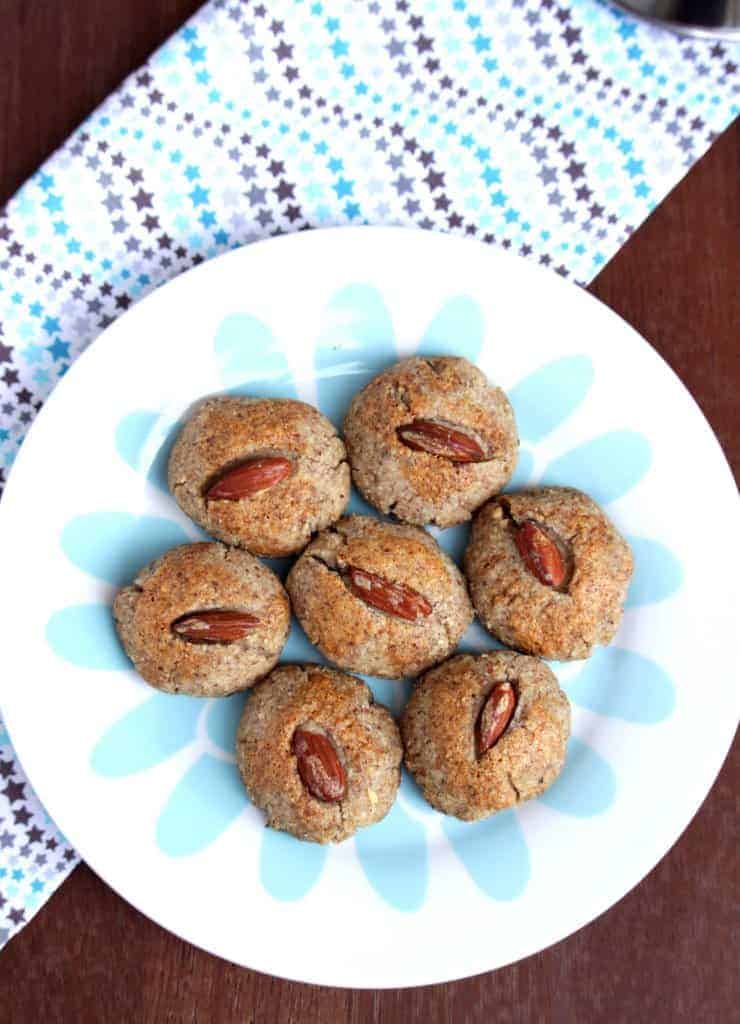 Procedure to make Chinese Almond Cookies -
Preheat the oven to 350 F. Line a cookie sheet with parchment and keep it aside.
I used store bought almond meal and hence did not have to process the almonds. If making it on your own, prepare the almond flour or almond meal and measure out ½ cup.
In the jar of the food processor, combine the flour, almond meal, sugar, baking powder and baking soda.
Run the processor a couple of times to combine the ingredients and slowly add the oil. Pulse the processor a few times until the mixture comes together as a loose dough. When held together in the palm, it should form a ball.
If the dough is too dry, add a teaspoon more of oil and continue doing this until it comes together. I needed about 2 more teaspoons of oil to bring the dough together.
Roll the dough into small balls and slightly flatten them. Press a whole almond or sliced almond in each cookie and place them in a parchment lined baking sheet.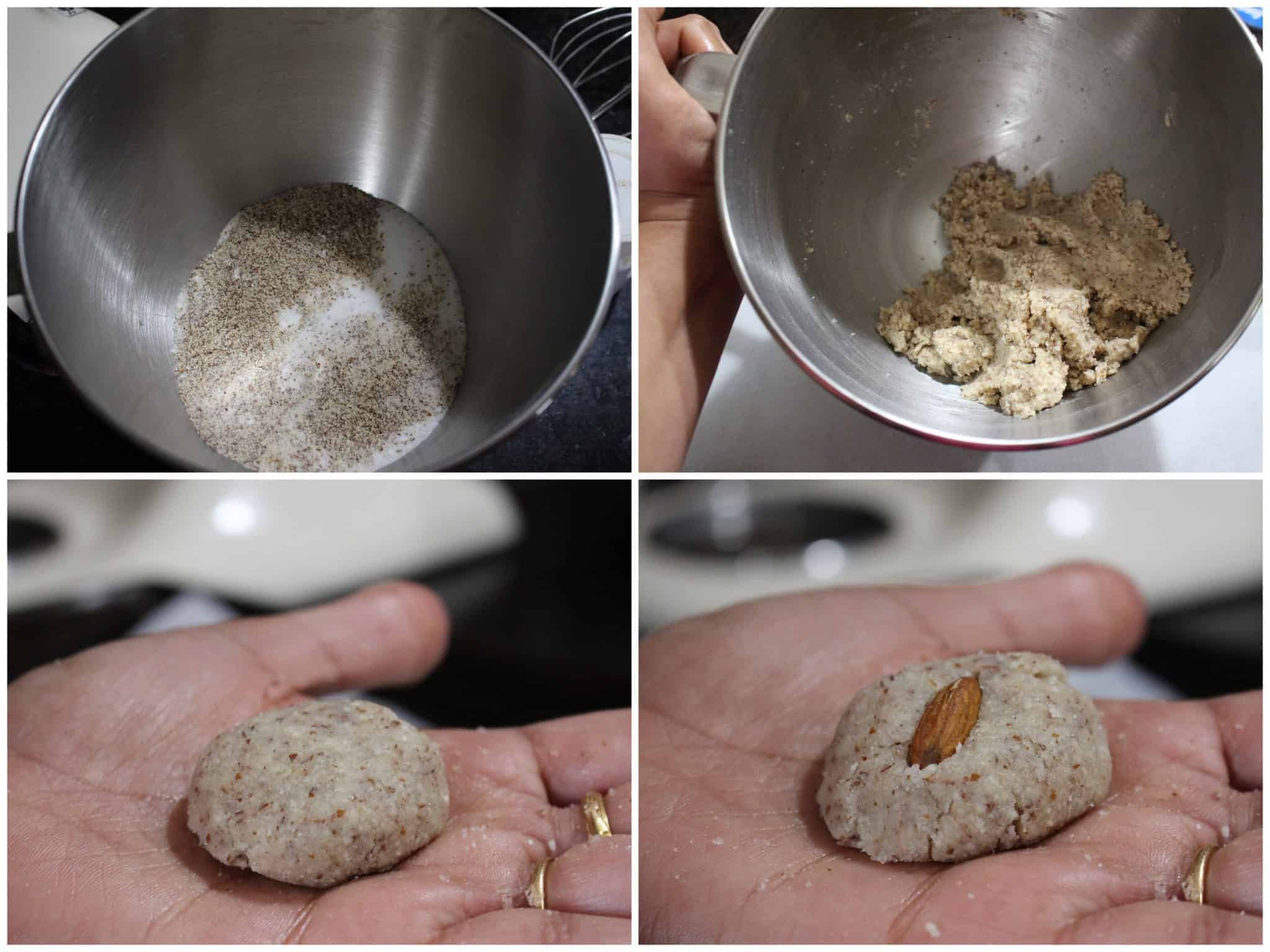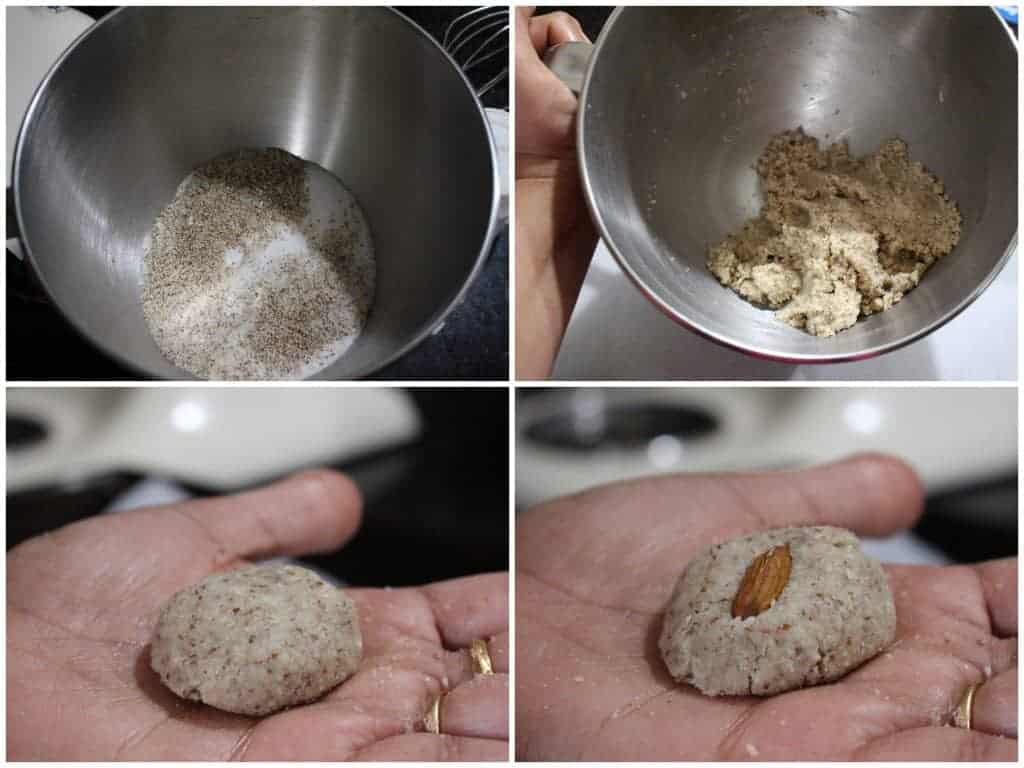 Brush the top of the cookies with almond milk liberally and bake them for about 15 to 20 minutes or until the top of the cookies have turned light brown.
Carefully remove the cookies on a cooling rack and let it cool completely.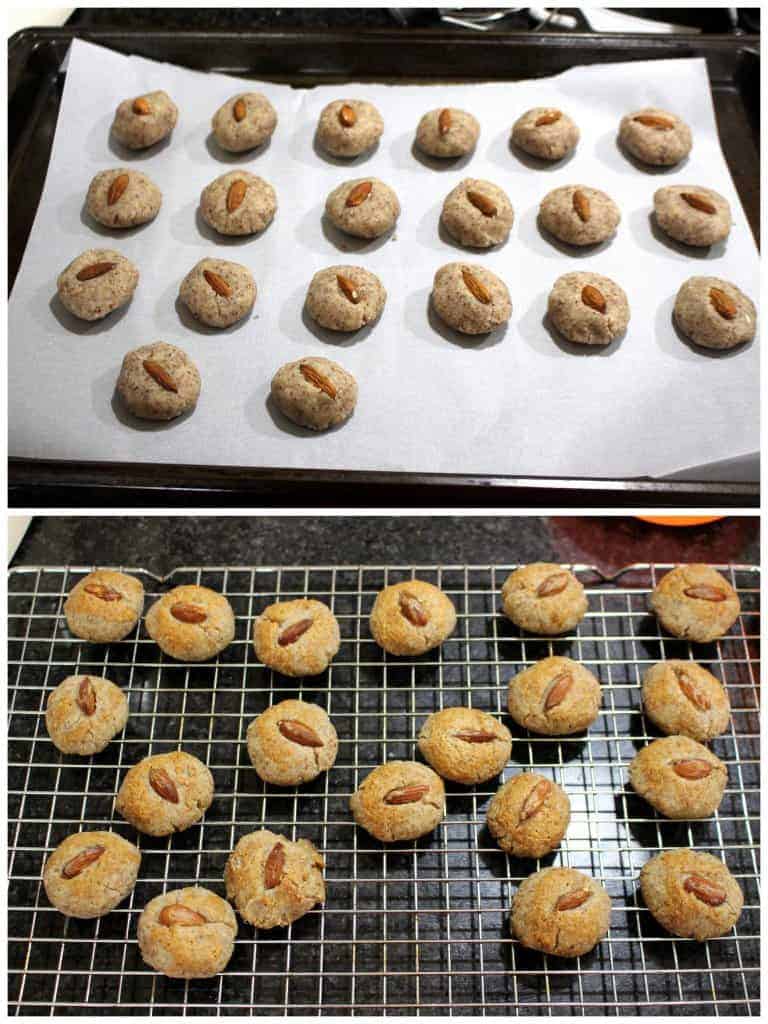 Store in an airtight container.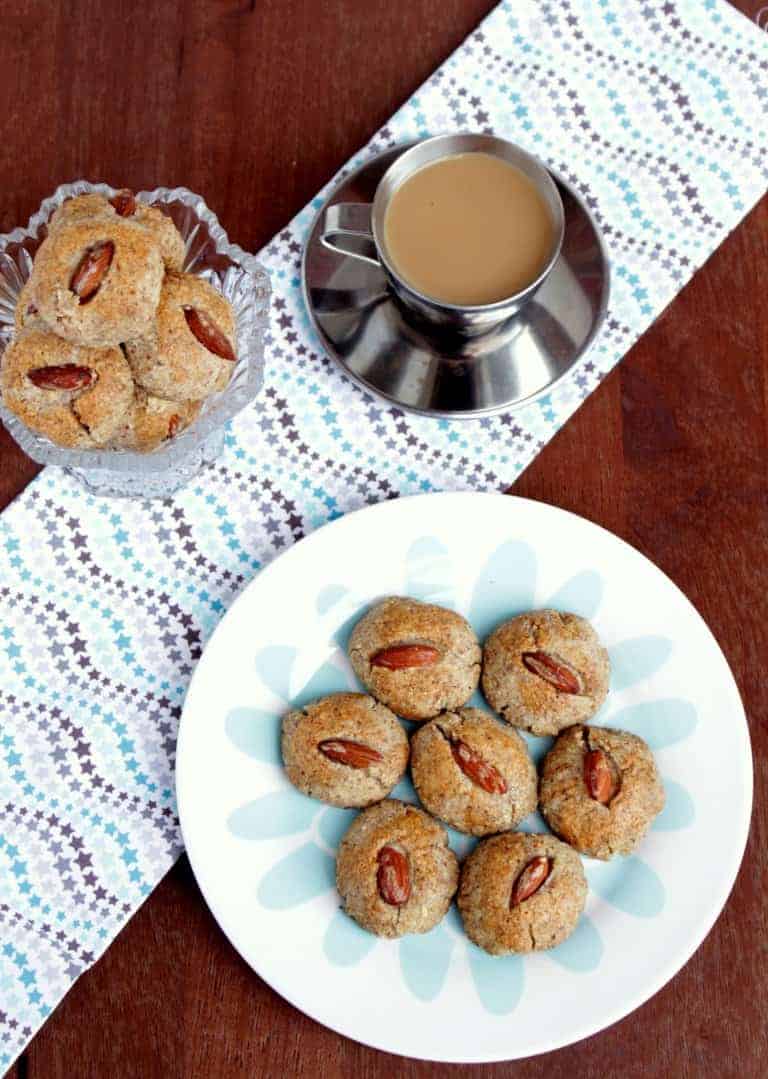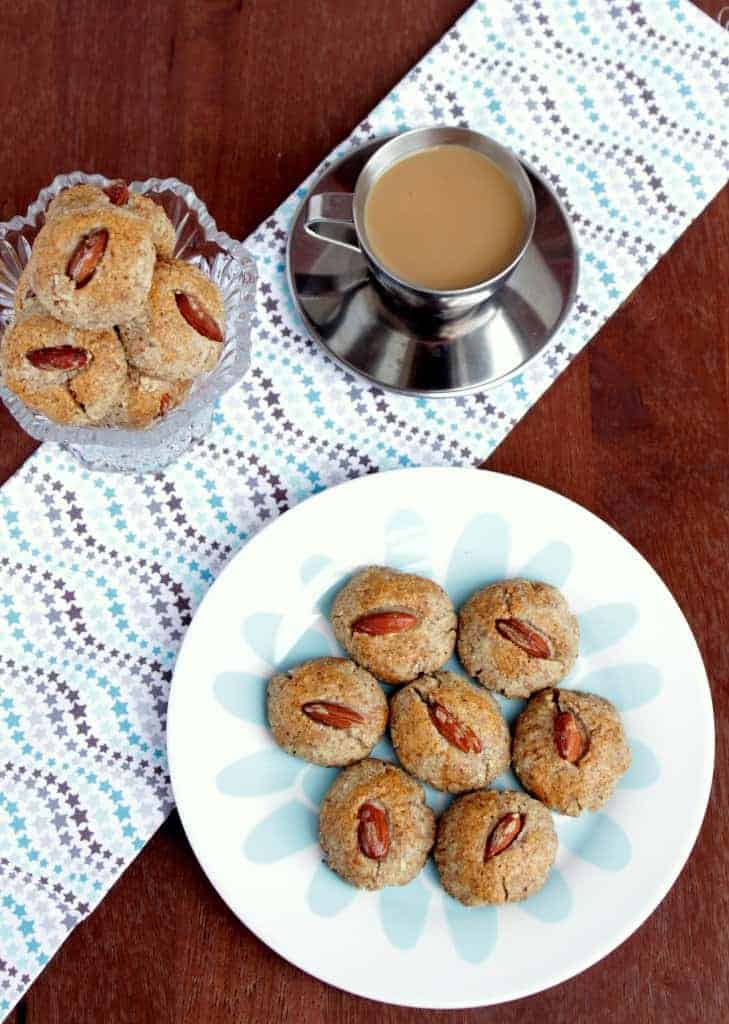 If you like the recipe, do not forget to share it on Pinterest!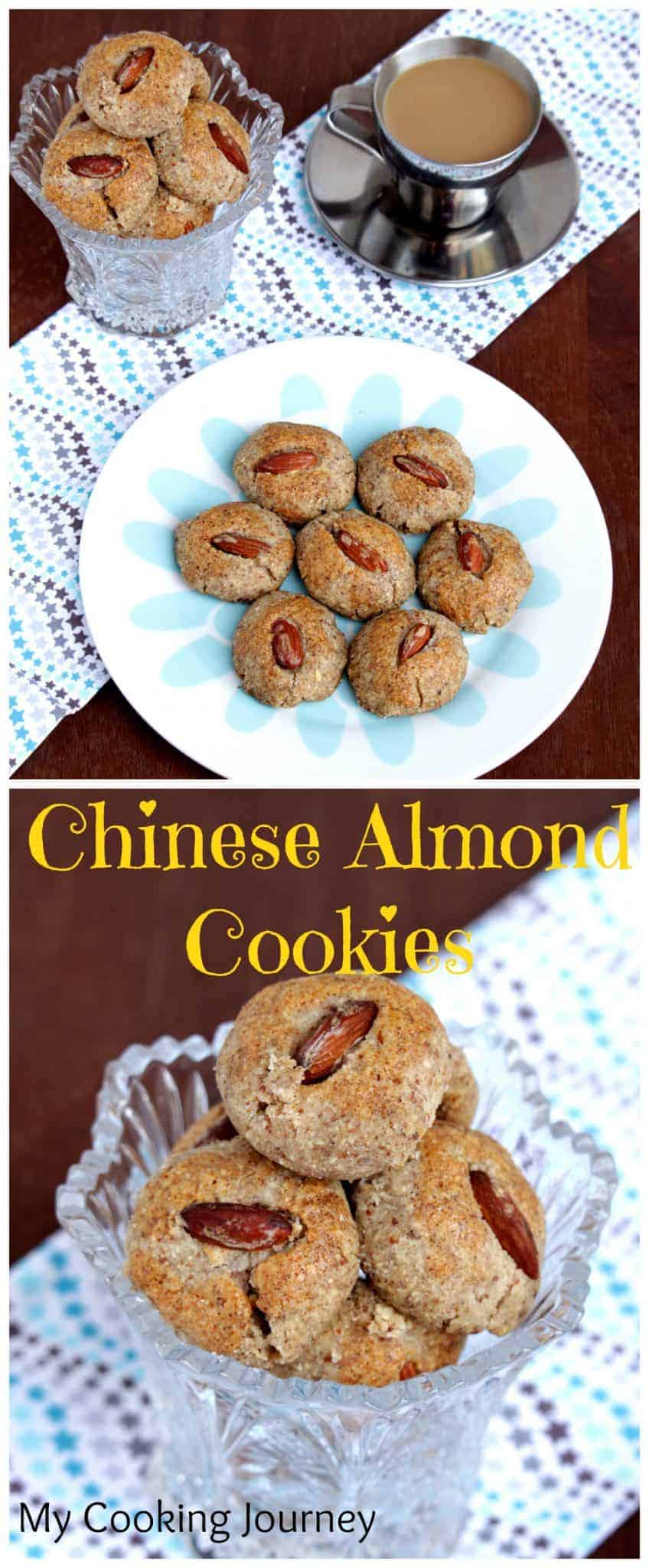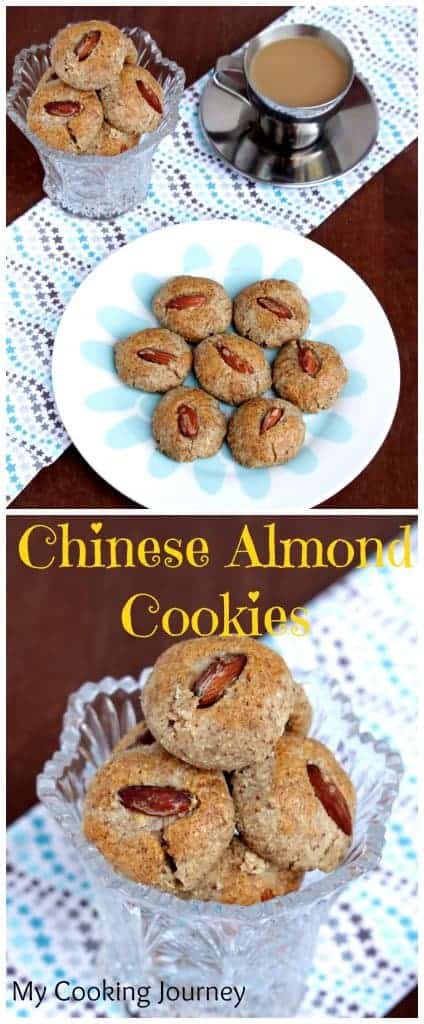 Check out the Blogging Marathon page for the other Blogging Marathoners doing BM# 75