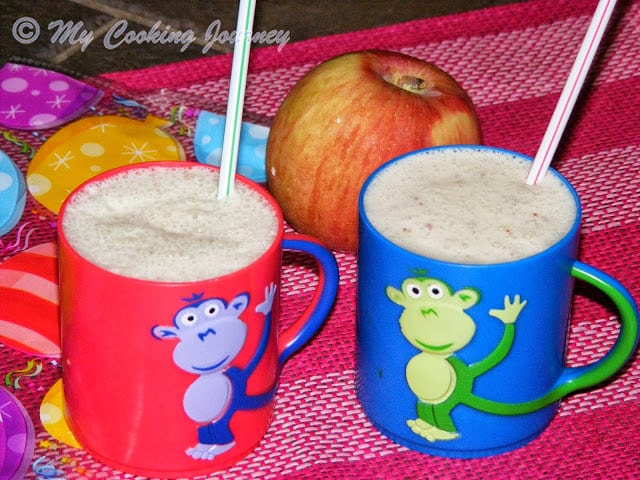 This Apple Smoothie is yet another apple recipe to enjoy the fall season. I love to give my kids milkshakes or smoothies in the evening just as a change from their regular routine of milk. Adding fruits to the milk always perks up my kids. Also giving the kids smoothies for their evening run keeps them filled up until dinner.
I have added cardamom to give a little different flavor. If you are not a big fan of cardamom you could always use cinnamon or leave it out. Also leaving the skin on is to retain the entire nutrition of the apple and I also like the crunch it gives to the smoothie. My only thing is don't just serve it to the kids. As a mother who is always on the run, grab a glass and fill yourself as well with this healthy and delicious smoothie.
This is my recipe for the second day of BM under the them Kid's delight - Nutritional food for sport enthusiasts.
Preparation time – 5 mins
Cooking time – none
Difficulty level – easy

Ingredients to make Apple Smoothie – Serves 3 (kid size)
Apple – 1
Milk – 1 ½ cups (cold)
Yogurt – ½ cup
Vanilla – ¼ tsp
Honey – 2 tbsp (adjust based on sweetness)
Cardamom powder – ¼ tsp (optional)
Ice cubes – few
Procedure to make Apple Smoothie –
Clean the apple well and remove the core. I usually do not peel the apple because of the high nutrient content in the skin. So clean the wax off very well.
Add all the ingredients to the blender and blend until very smooth.
Divide the Apple Smoothie into cups and serve cold!