I am hosting Srivalli's kids Delight event for this month and the theme I chose for the event is cooking with whole grains. As a mother of two young boys, I am always on look out for healthier option to many foods that we buy outside. Packing lunch is always a challenge for every parent and I am no different in this. This week for the next three days I am going to be posting recipes that are kids approved and made entirely with whole grains.
There is a mental block among a lot of us (is is definitely becoming less and less) that anything made very healthy is not tasty. Kids are very aware these days about the health consequences that they face if eating too much junk and they are ready for a change. My son loves vegetable burgers and I always buy a specific brand which is entirely vegetarian. When I was browsing through the whole grain council website, I came across this Bulgur Black Bean Vegetable Patties recipe and this is the inspiration for this burger.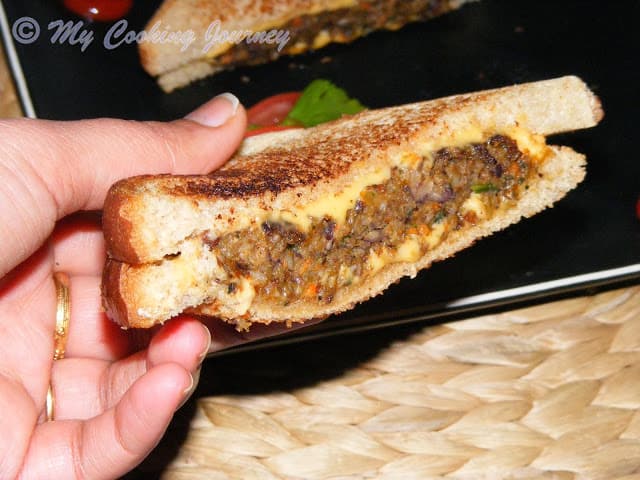 I have always thought that bulgur and cracked wheat are the same, but wondered why they are taking different time to cook. Bulgur cooks much quicker than the cracked wheat and that is when I learned that the bulgur is made with whole wheat that is parboiled (similar to the parboiled rice) and the cracked wheat is just the entire wheat grains that are crushed. In this context I also want to mention that I would prefer using bulgur in my recipes than the cracked wheat mainly because of the little chemistry that happens in the grain. Phytic acid is something that all grains contain in their bran. Phytic acid makes absorption of certain important minerals difficult for the body. This is the main reason that diets high in whole grain may lead to several mineral deficiencies and causes bone loss.Source - Wiki.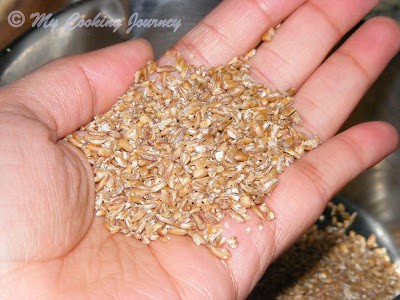 Fermenting, soaking or sprouting the grains causes the breakdown of the phytic acid, hence allowing the minerals to be better absorbed by the body. I understand now about our traditional way of cooking which involved lot of fermentation and soaking of the grains. If you want to benefit from the whole grains entirely, soak them overnight.
Preparation time – 15 mins
Cooking time – 40 mins
Difficulty level – easy
Ingredients to make Bulgur Black Bean Vegetable Patties – (makes 10 large patties)
Bulgur – ¾ cup (I used Bob's red mill quick cooking bulgur)
Black beans – 1 can (14 oz) drained and rinsed
Bread crumbs – ½ cup
Onion – 1 medium (chopped)
Spinach – 2 cups packed (coarsely chopped)
Carrot – 1 large (finely chopped)
Black olives – 6 or 7 (optional)
Garlic – 2 cloves (minced)
Schezwan sauce or any hot sauce – 1 tbsp
Red chili powder – ½ tsp
Cumin powder – 1 ½ tsp
Salt – to taste
Oil – 1 tbsp plus more to cook the patties
To assemble –
Hamburger rolls or bread slices
Additional toppings – cheese, onions, tomatoes, lettuce, Honey mustard sauce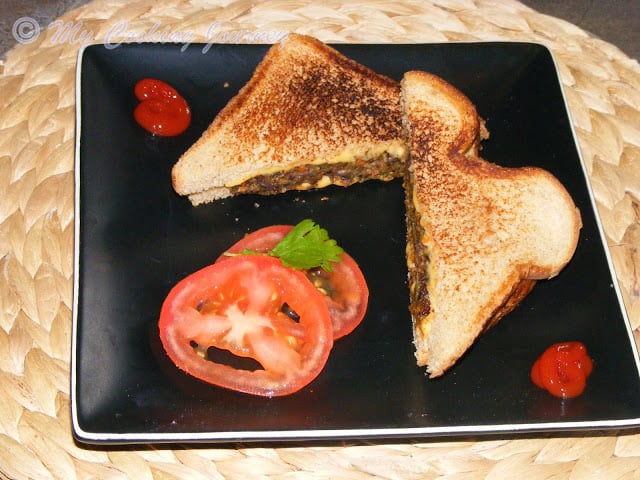 Procedure to make Bulgur Black Bean Vegetable Patties –
Wash the bulgur and cook it in about 1 ½ cups of water. Once all the water is absorbed and the bulgur is cooked (takes about 15-20 mins), fluff it up with a fork and let it cool down a bit.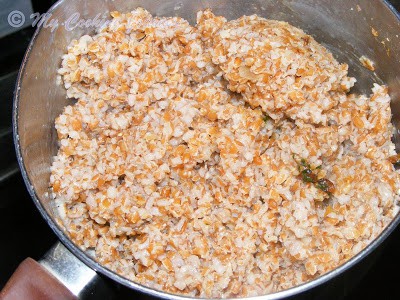 Meanwhile, heat 1 tbsp of oil in a sauté pan. Add the onions and sauté for about 5 mins. Now add the garlic and cook for a minute. Then add the carrots and let it cook for few minutes until slightly cooked. Next goes in the spinach and sauté it for 2 minutes until wilted. Now add the black beans, olives, red chili powder and cumin powder. Fry for couple of minutes and then take off the heat.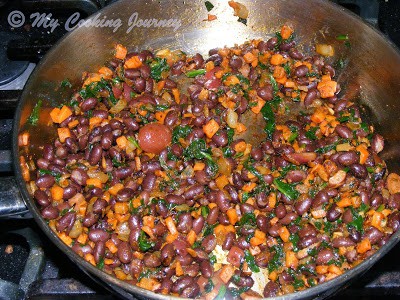 Let the mixture cool down a bit and then transfer it to a food processor bowl (you could do this in a regular large bowl as well, but I had to show off my new food processor and hence in my case it went into that). Also add the cooked bulgur, bread crumbs, schezwan sauce (I had some left in the refrigerator after making the spicy schezwan fried rice) and salt needed. Give it a few whips and the mixture is ready to be made into patties. If doing this by hand, then mix everything well using a wooden spoon or even better by using your hands. Be careful when adding salt, because the olives and beans already have some salt in it.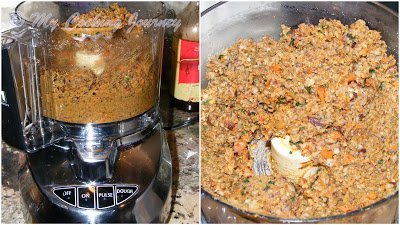 Check the mixture for seasonings and adjust based on your liking. Now divide it into 10 equal parts and make patties out of them. Lay them on a parchment lined tray and chill for about 15-20 minutes. This helps to hold its shape when cooking the patties.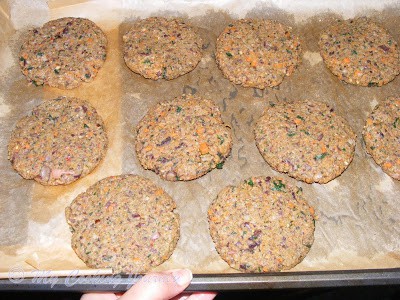 To cook the patties – In a skillet, add about 1 tbsp of oil and shallow fry the patties on both sides until golden brown. Drain on a paper towel lined dish and keep it the Bulgur Black Bean Vegetable Patties warm until ready to assemble.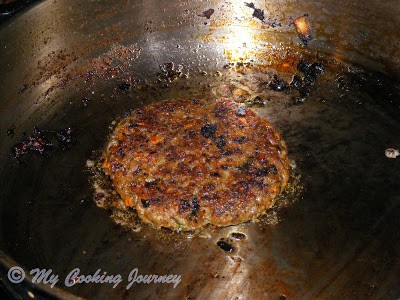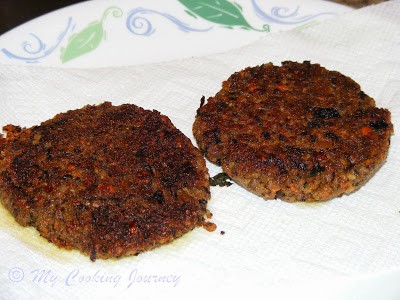 To assemble –
Toast the bread slices or rolls and layer it with cheese. Now lay the warm patty over the cheese and layer it with another cheese slice. Top with another slice of bread or the other half of the roll and serve.
I usually leave the toppings like tomatoes and onions on the side and we layer it in when eating. My son loves to gobble his tomatoes as is and he loves to have some ketchup on the side.
The patties freeze very well. I leave the patties in the freezer on a tray until it is frozen rock solid and then transfer them to a freezer bags. When using, thaw it in a microwave and then cook on a skillet.