For the third and last day of my African cuisine series, I made this simple yet very flavorful salad made with Bulgur and few vegetables. Doing series like these gives me a chance to do lot of research and the local library helps a lot with this. I found this bulgur salad recipe from the book North African cooking by Hilaire Walden that I bought from my local library. I had a good read about the eating habits and lifestyles of people in the countries located in the Northern part of the Africa.
This book features several recipes from three major countries, Algeria, Morocco and Tunisia, that border the Southern Mediterranean Sea. The cuisine of this region is very famous worldwide and is known to be a very colorful and sophisticated cuisine. These three countries share several similarities in the style of cooking, but yet have their own favorite spice or flavor.
There are several North African Salads (or so called salads) that are necessarily not salad, but dips or pastes. Few other salads are made of vegetables or combination of vegetables and grains and they could either be cooked or raw. During the meal, the salads are served as the first course and then are left through the meal in the table. These salads could also make a very good snack when served with hearty bread.
I have become a very big fan of the texture of Bulgur and I have been using it quite a bit in my kitchen. The bulgur burger has been a much loved dish in my family. I am not a big fan of feta, but it was a very wonderful addition in this salad as a salty component.
The book mentioned to leave the bulgur soaking in boiling water for about half an hour, but that did not work with the kid if bulgur I had (even though the package said quick cooking bulgur). So I cooked it boiling water until it was just beginning to soften and then drained it. I also added some black olives to the salad. If adding olives, please do balance the salt in the salad.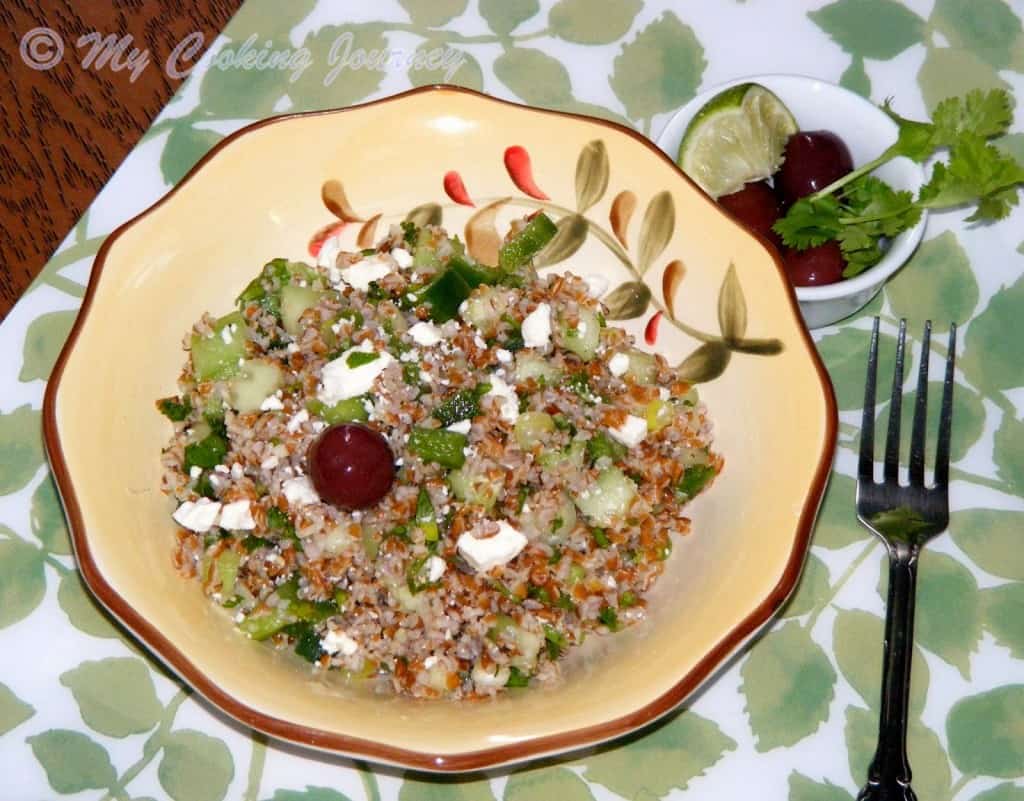 Preparation time - 10 minutes Plus 2 hrs chilling time
Cooking time - 10 mins
Difficulty level - easy
Ingredients to make Bulgur Salad – Serves 4 as a side
Bulgur – ¾ cup
Cucumber – ½ of a large one (chopped into ½ inch piece)
Bell pepper (red or green) – ½ (chopped into ½ inch piece)
Scallions – 4 tbsp (finely chopped)
Cilantro – 2 tbsp (finely chopped)
Feta cheese – ½ cup
Black olives – few (optional)
For the dressing –
Olive oil – 2 tbsp
Lemon juice – 2 tbsp
Garlic – 1 or 2 cloves (finely minced)
Salt – to taste
Black pepper – ½ tsp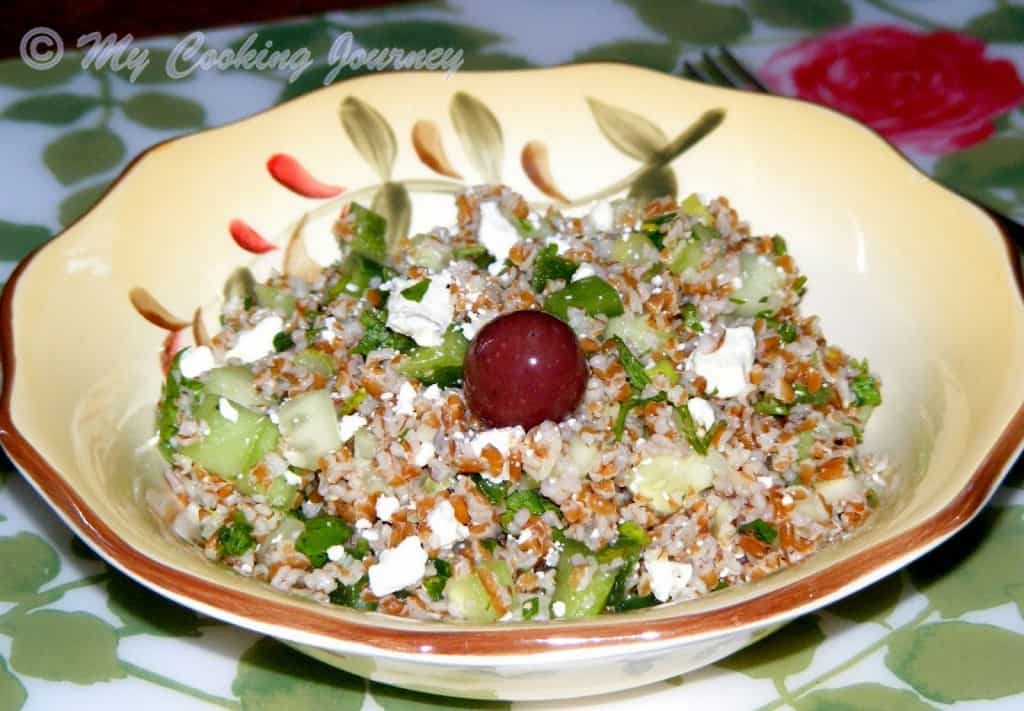 Procedure –
Place the bulgur in a large bowl and add about ¾ cup of boiling hot water to it. Let it soak of 30 minutes or until all the water has been absorbed by the bulgur. If your bulgur is still tough, I would suggest simmering it in boiling water until it softens a bit and then drain it. Make sure the bulgur still has a crunch to it.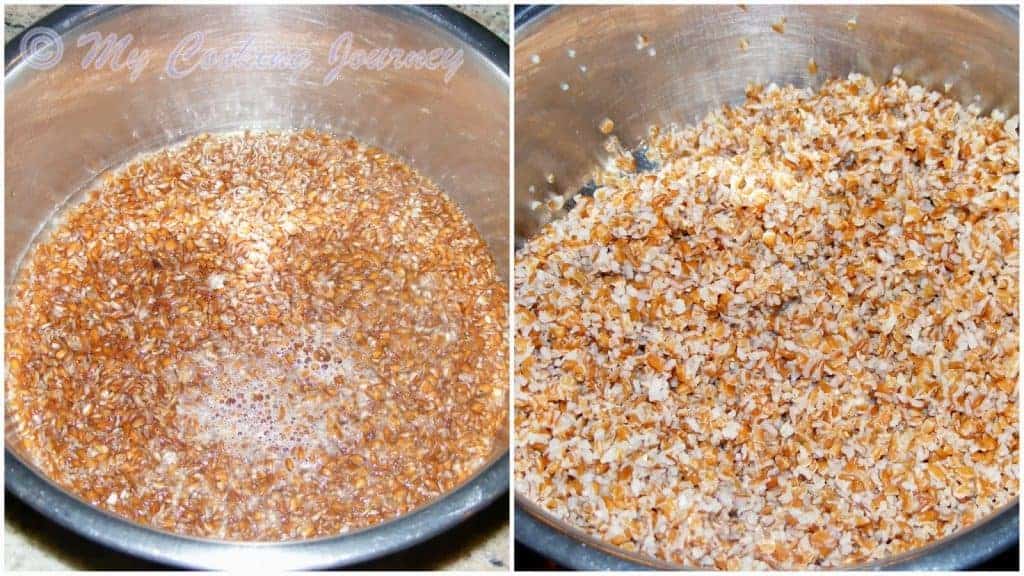 In a small bowl, combine all the dressing ingredients and whisk it well.
In another bowl add all the chopped vegetables and mix well.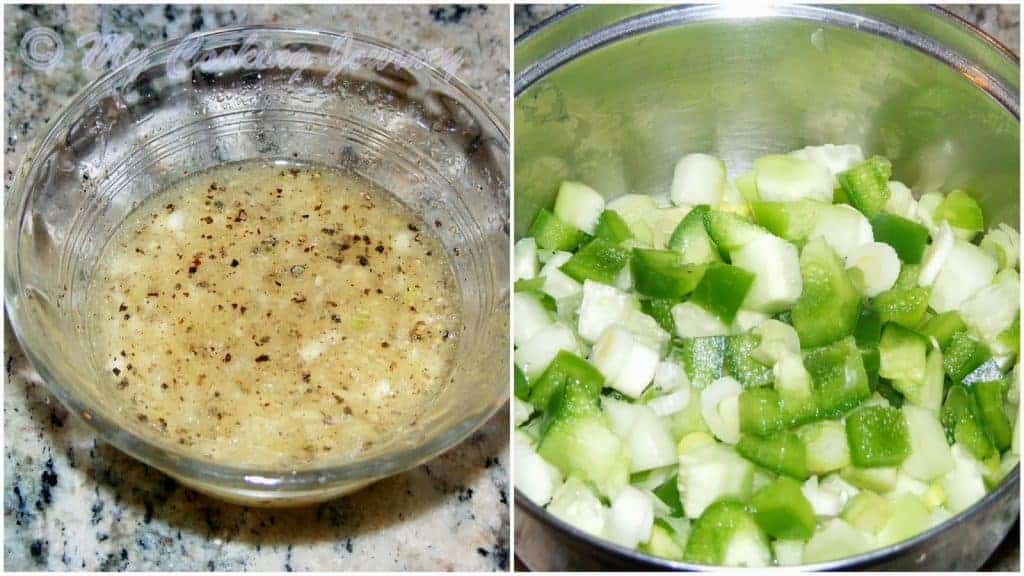 To the cooked and slightly cooled bulgur, add the dressing and mix well. Now add the rest of the ingredients and mix well again.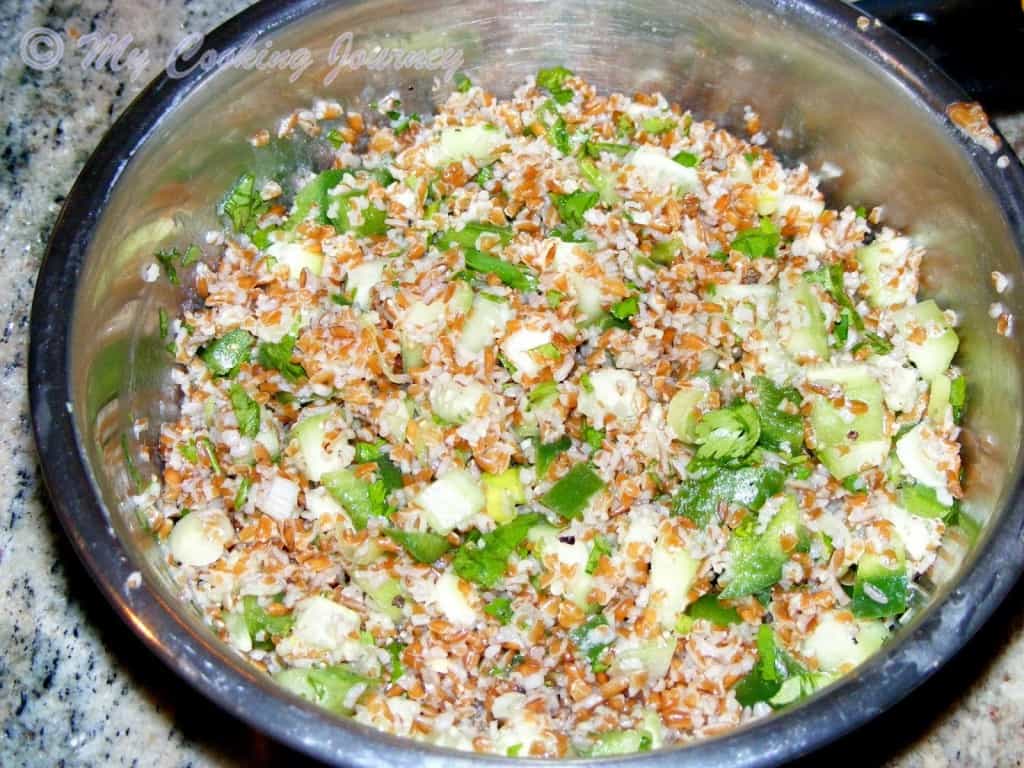 Refrigerate the bulgur salad until ready to serve. The bulgur salad salad tastes good when eaten chilled, so I would suggest that you refrigerate it at least for couple of hours before serving.