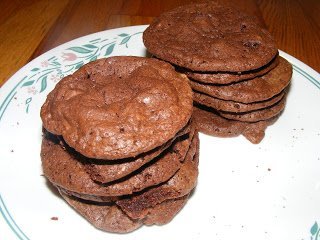 Any chocolate lover would cherish this Double Chocolate Cookies. This cookie has chocolate in all forms. I am not a big chocolate person but this cookie got my taste buds too.I need to confess that I was not in my best forms when I began to make this cookie. My son wanted to help me in the kitchen and hence started thinking about what he could make with me. I decided to try one of the recipes that I came across the Internet. All this happened post dinner at about 8.30pm and we began the chocolate journey.
Difficulty level - Easy/Intermediate
Preparation time - 30 mins
Cooking time - 15 mins/batch of cookies
Ingredients to make Double Chocolate Cookies -
All purpose Flour - 1 cup
Unsweetened Dutch process cocoa powder - ½ cup
Baking soda - ½ tsp
Salt - ½tsp
Coarsely chopped good quality Milk chocolate - 4 oz (I used Hershey's Milk chocolate)
Semi sweet chocolate chip - ½ cup
Unsalted butter - ½ cup (1 stick)
Sugar - 1 ½ cups
Eggs - 2 large
Vanilla extract - 1tsp
Procedure
Preheat Oven to 325 degrees. Whisk together flour, cocoa powder, salt and baking soda and set aside.
Melt 4 Oz of milk chocolate(Chopped) with butter in a small heat proof vessel set over a pan of simmering water. (Do not attempt to melt chocolate directly as chocolate burns very easily). let it cool to room temperature.
Mix Chocolate mixture, eggs, sugar and vanilla in a electric mixer fitted with a paddle attachment.Mix on medium speed until well combined.
Reduce speed to low and gradually mix in the flour mixture. Add the chocolate chip at the end and mix gently.
Using tablespoon measure drop the dough on a parchment lined baking tray, spacing 2 inches apart. Bake until cookies are flat and surface crack (Around 13 - 15 mins). These cookies are soft. Baking them longer makes them harder.
Cool the Double Chocolate Cookies on wire racks and store them layered in parchment in a airtight container at room temperature.
I see these cookies as an intermediate between Brownie and Cookie. My son loved them and it has made its grand entry into my keeper's list.