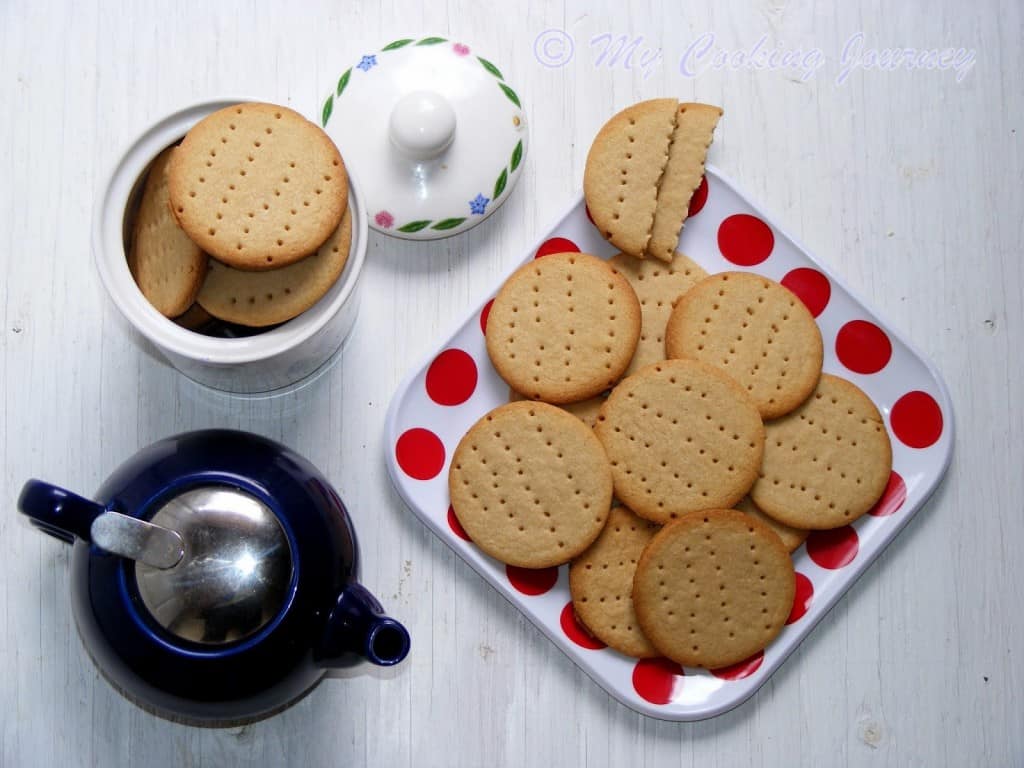 For the final week of Blogging marathon we are doing the special theme which happens to be one of my favorite and that is BM Pair. I am paired with Mireille who blogs at East West Realm. She also happens to be a fellow New Yorker and I had a wonderful time with her along with few other BM friends. She has a very vibrant personality and is very easy to talk with and make friends. I love her passion for researching on different cuisines and her recipes have so much information in them. I still cannot get over the fact that she cooks marvelous Indian recipes and she participated with us in the regional Indian states mega marathon. I being an Indian had to put in so much of effort to come up with recipes from different states, but Mireille made it all seem so simple.
The first recipe I cooked from her space is something I had bookmarked a while back. These English Digestive Biscuits are incredibly easy to make and my kids and their friends absolutely loved them. They are made with whole wheat flour and mildly sweet. These crunchy cookies are perfect to dip in a cup of coffee or tea. When reading through the internet, I read that these biscuits were first developed in the latter part of 19th century to increase the fiber intake in Victorian diets.
Preparation time – 10 minutes
Cooking time – 15-18 minutes/batch
Difficulty level – easy
Recipe adapted from – Mireille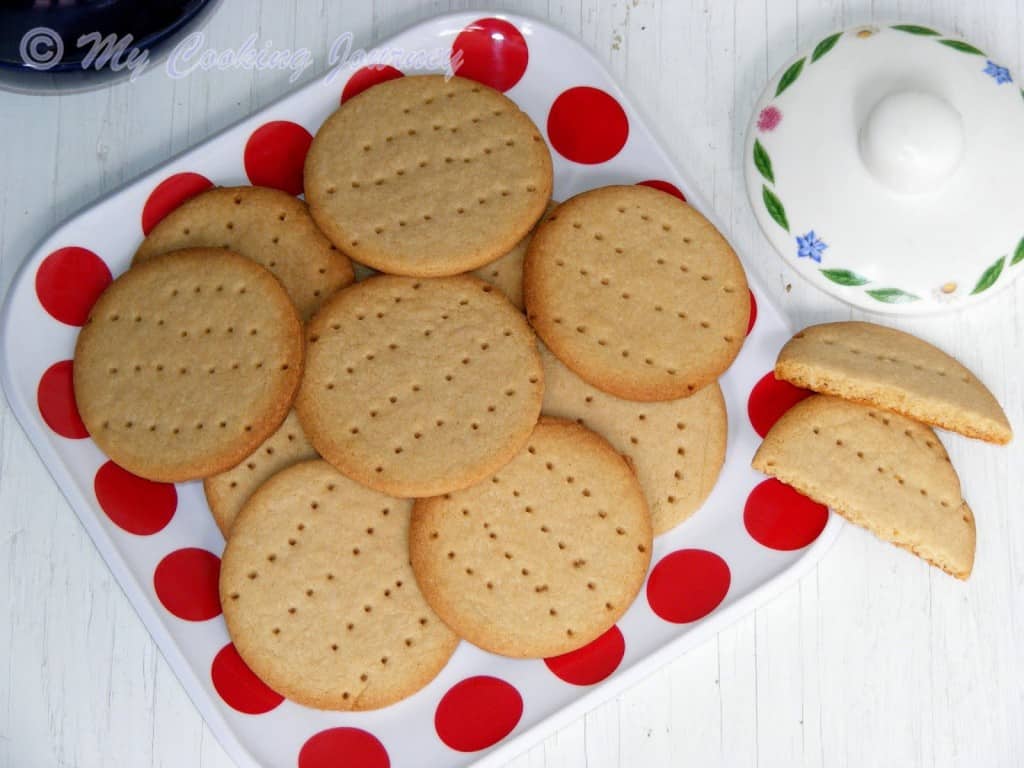 Ingredients to make English Digestive Biscuits – Yields 2 dozen cookies about 2 ½ inch in diameter
Whole wheat flour (I used whole wheat pastry flour) – 1 ½ cups
All purpose flour – ½ cup
Baking powder – 1 tsp
Salt – ¼ tsp
Butter – ½ cup (1 stick, softened)
Powdered sugar – ¾ cup
Milk – 4 tbsp
Procedure –
Preheat the oven to 350 F. Line 2 baking sheets with parchment paper or lightly grease them with non stick spray.
In a wide bowl sift together the flours, baking powder and salt.
Add the cubed softened butter to it and using a pastry blender (my hands were the pastry blender); combine the butter with the flour until it resembles coarse sand.
Now add the powdered sugar and mix well.
Add 1 tbsp of milk at a time and knead the flour to form stiff dough. Do not be tempted to add more milk.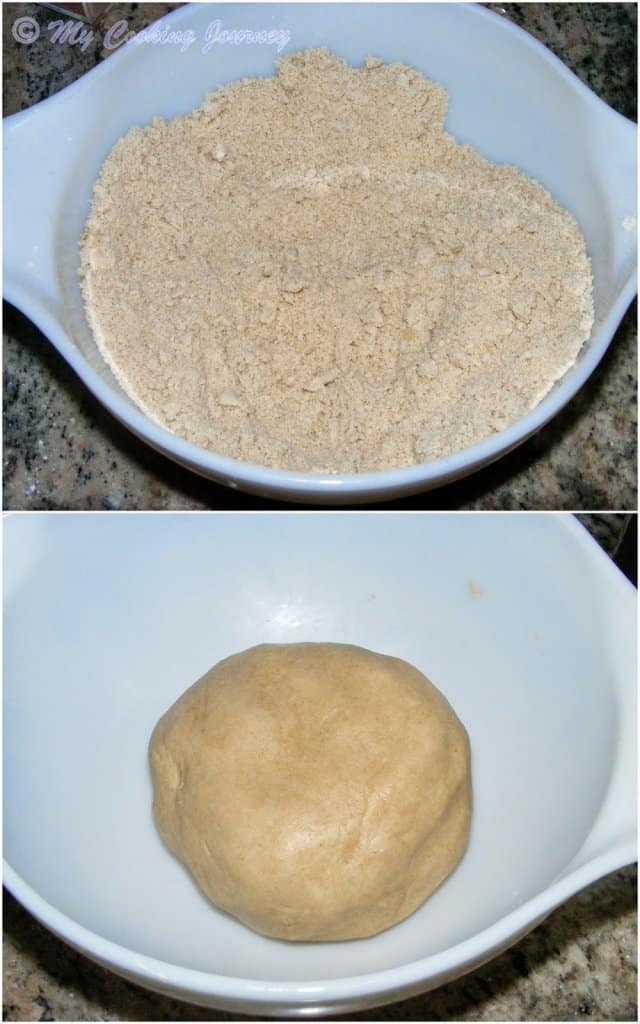 On a lightly floured surface, roll the dough out into 1/8 inch thickness.
Using a round cookies cutter (about 2 ½ inch in diameter), cut out the dough and lay them on the prepared baking sheets.
Using a fork, prick evenly on the surface of the cookies.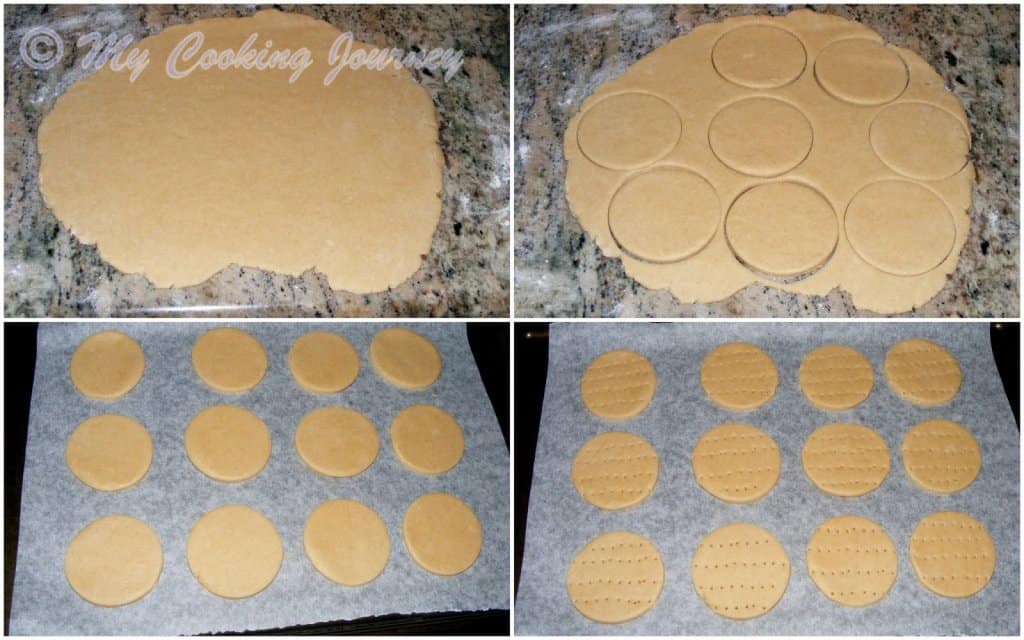 Bake them in a preheated oven for about 15-18 minutes. Mine took about 16 minutes to become pale brown. Remove them when they are light brown and then cool them entirely on cooling racks.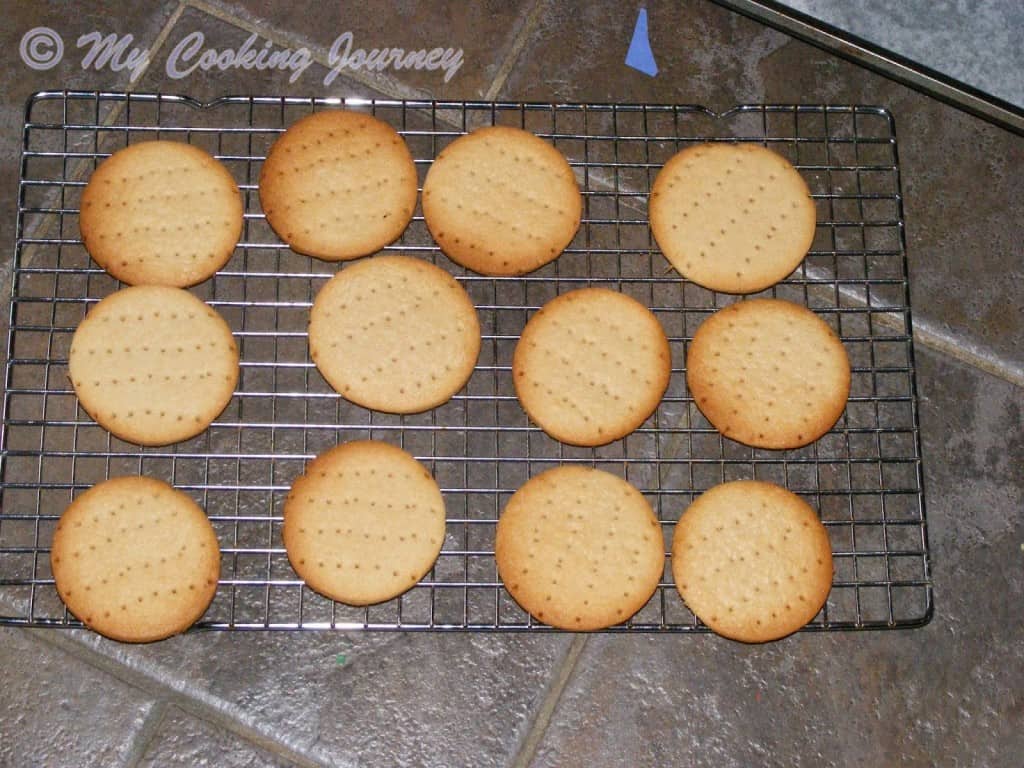 Store the English Digestive Biscuits in an airtight container once completely cooled.