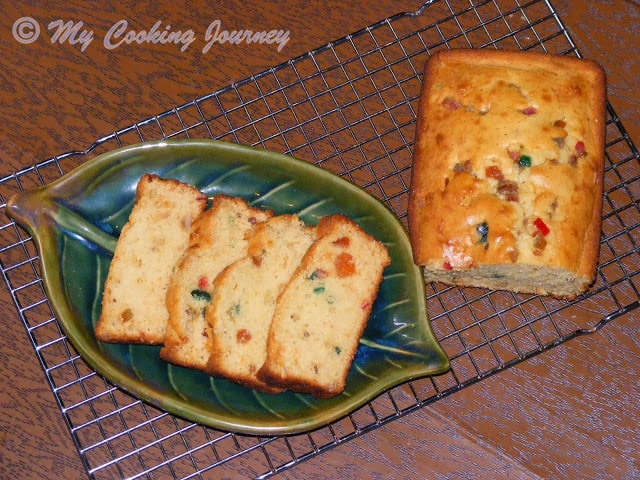 For the second day of travel friendly dishes, I made this fruit cake. We usually travel quite a bit with our boys and most of the trips are weekend trips. I like to carry snacks for the kids as well for us when traveling since that is when we are most hungry. The idea to make this fruit cake came during one of our recent trips to our friend's place. She had a loaf of Wonder cake fruit loaf. My little one who is quite picky when it comes to eating really liked that cake and all our trip back kept asking me to buy it for him.
That is when I thought I will make the loaf cake with the left over cherries (tutti frutti) that I had after making the Christmas Fruit Cookies. I look all over and I cannot find my two little boxes of red and green cherries. Finally I give up and ask my kids and that is when my husband answers saying he ate them all. So all I had left was the box of fruit cake mix that also has citrus peels in them. I made this with that and even though I liked the slight citrusy crunch, I would have preferred these just with the sweet cherries.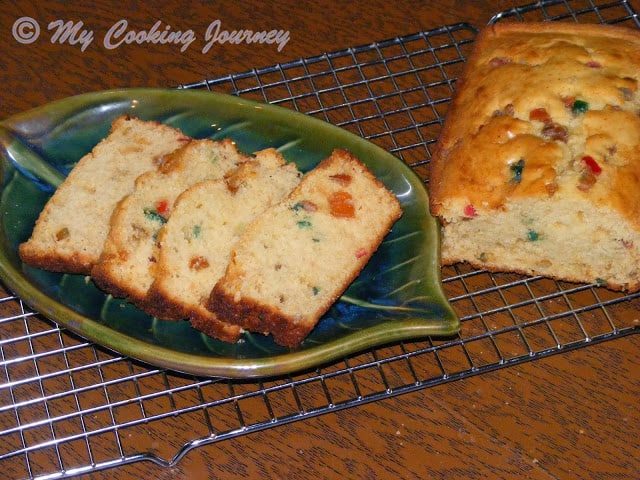 I made this cake after referring to the recipe from here. Once I started mixing the wet ingredients and was getting ready to sift the dry ingredients, I realized that I have run out of baking soda. I swear that I had my container almost full in the cabinet. Again, the culprit turns out to be my husband, who emptied my whole container of baking soda in to the dishwasher as a part of the monthly appliance clean up. To the rescue came the eno fruit salt which was lemon flavored and I substituted that for the baking soda. Also I used Country crock vegetable oil spread instead of butter for the recipe. I had to do so because I ran out of butter and we were stuck inside the house because of heavy snow and deep chill. I really liked the substitution because it imparted a slight salty flavor to the cake. This shows that I had been quite a bit during the holiday season and it was time I restocked my pantry!
The recipe uses condensed milk (about ¾ of the tin) and I and my kids finished the rest of the tin licking it. This is something we don't get to do often, so for this reason I will be making this cake often 🙂
Preparation time – 10 mins
Cooking time – about 45 mins
Difficulty level – easy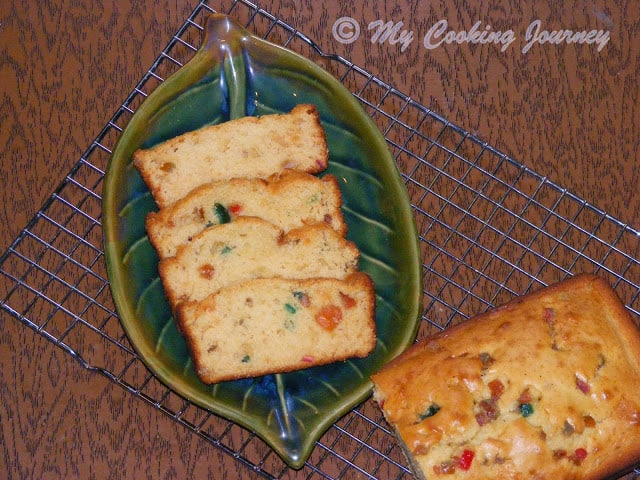 Ingredients to make Fruit Cake – makes one standard loaf pan
All purpose flour – 1 ¼ cup plus 1 tbsp
Baking powder – 1 ½ tsp
Baking soda – ½ tsp
Tutti frutti (any combination of dry fruits or nuts) – ⅓ cup plus 1 tbsp
Butter – 4 tbsp (melted) plus more to grease the pan
Condensed milk – ¾ cup (sweetened)
Milk – ¼ cup
Freshly squeezed orange juice – ¼ cup
Orange zest – 1 tsp
Vanilla extract – 1 tsp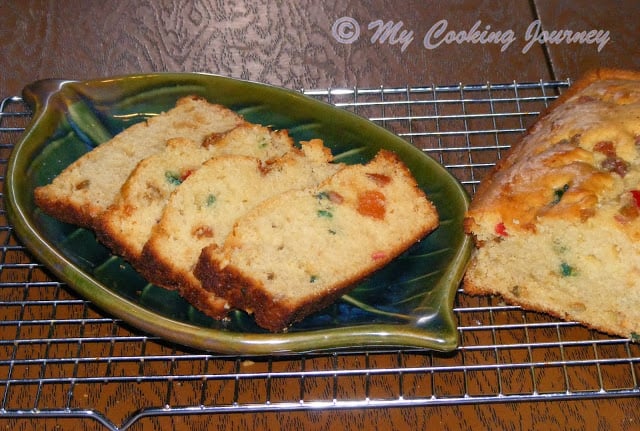 Procedure –
In a small bowl, combine the ⅓rd cup tutti frutti with 1 tbsp of all purpose flour and mix well. Keep aside.
In a large bowl, mix together all the wet ingredients (condensed milk, butter, milk, orange juice and vanilla extract) using a whisk.
Now sift the dry ingredients (flour, baking powder and baking soda) on to the wet ingredients and mix gently. Also add the orange zest to the batter and mix.
Finally add the dry fruits mixture into the batter and mix gently.
Pour it into a greased and floured loaf pan. I use the pam spray for baking that has butter and flour in it. It works great for me all the time and also gives a nice texture to the crust.
Tap the loaf pan couple of times to even it out. Now spread the 1 tbsp remaining tutti frutti evenly over the top of the batter.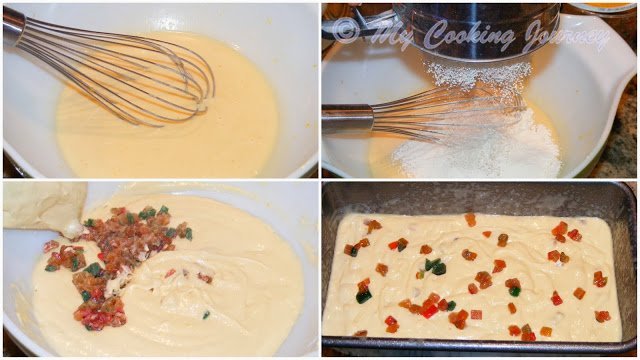 Bake it in a preheated 360 F oven for about 40-45 mins. Check by inserting a wooden skewer in the center of the cake.
Cool the cake on a cooling pan. Let it cool completely before slicing.