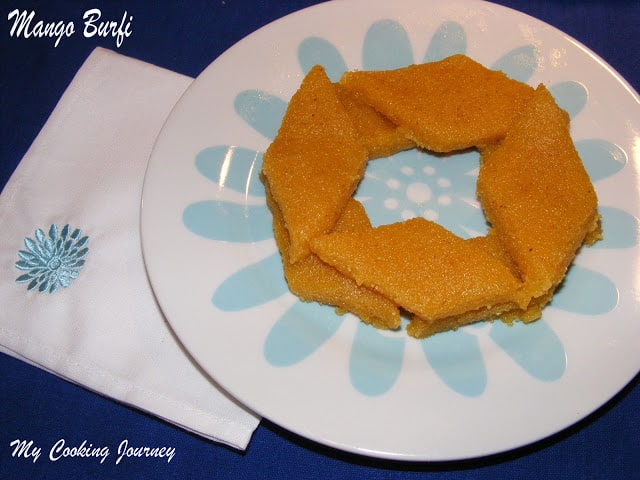 This Mango Burfi recipe has been in my recipe book for over two years and I had not made it even once. This week, I opened up a can of mango pulp for smoothie and I had some left over from that. I was looking for something to do with it and that's when this recipe caught my eye and I decided to make it. The burfies came out really well. It was kind of variation of Rava Kesari, except for a good flavor of Mango and deep richness from mava and milk.. The recipe is from one of the Indian magazines (I don't remember the name of it, been too long). Do try it and pass on your comments.
Preparation time – 10 mins
Cooking time - 30 mins
Difficulty level – easy
Ingredients to make Mango Burfi (Makes around 25 pieces)
Mango Pulp – ½ cup
Suji/ Rava – ½ cup
Mava – ½ cup
Sugar – 1 cup
Milk – 1 cup
Ghee – 1 tbsp
Powdered cardamom – ¼ tsp
Fresh coconut (Grated) – 1tbsp (I did not use coconut)
Procedure -
Boil the milk with sugar in a sauce pan.
Add about tsp of ghee in a non stick pan and fry the suji/rava until golden brown.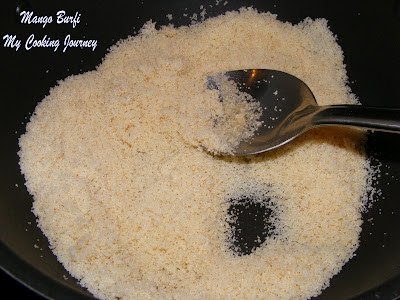 Pour the sweetened boiled milk slowly into the rava and mix well, taking care that it does not form any lumps. Now add the rest of the ingredients (Mava, mango pulp, coconut, remaining ghee and cardamom powder) and cook on low flame stirring continuously.
Meanwhile, grease a tray with little bit of ghee and set it aside. When the mixture becomes thick and starts leaving the sides of the pan, pour it into the greased tray.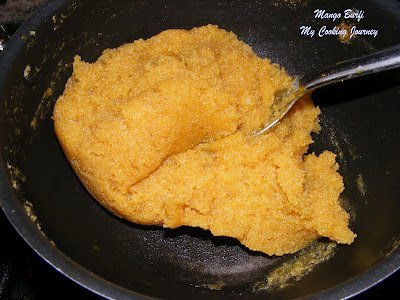 Using the palms of your hands, press down the Mango Burfi and spread it evenly in the tray.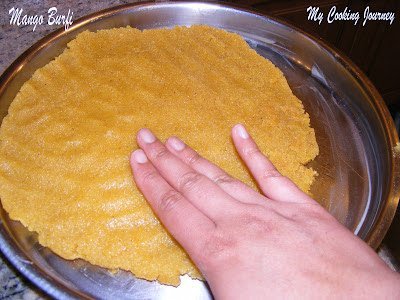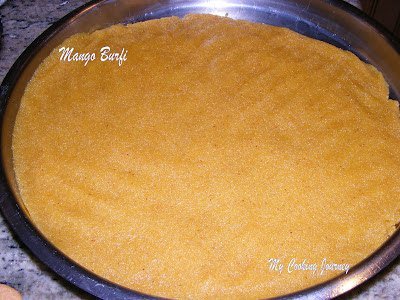 Cut it into desired shape with a sharp knife and let it cool completely in the tray. Once cooled, remove it carefully from the tray and store in an airtight container.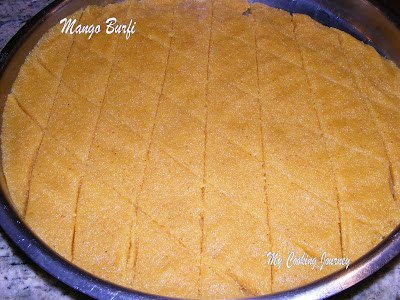 Refrigerate the Mango Burfi, if storing for the next day.