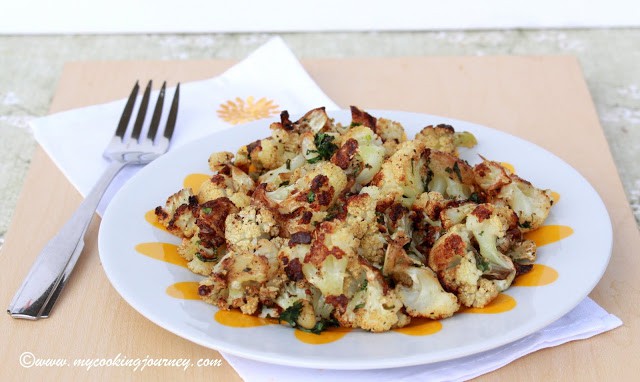 We love cauliflower, but I have never made or tasted cauliflower that is oven roasted. I am so sad that I have never eaten this before because oven roasted cauliflower is by far the easiest way I have cooked cauliflower and a very tasty one. I had a very hard time keeping my kids away from it when I made it as a quick snack this morning. Before I took pictures and write about it, I wanted my boys to have a quick taste and tell me what they felt. That turned out to be a big mistake, because after they tasted one, they could not stop and kept coming back for more. I literally had to yell at them to leave it alone for me to take pictures.
This Oven Roasted Cauliflower recipe is again one of the contest winning recipes from Food 52. I was very tempted to add more spices when roasting the cauliflower, but then held myself back and stuck to the original. It turns out that the roasted cauliflower does not need any extra help as just roasting it releases all the natural sweetness and flavor of the vegetable. The nutty flavor of the roasted cauliflower along with the tanginess of lemon and freshness of cilantro worked really well.
This recipe serves only 2-3 people as a quick appetizer. Plan on having at least 2 heads of cauliflower, if serving as snack for the whole family.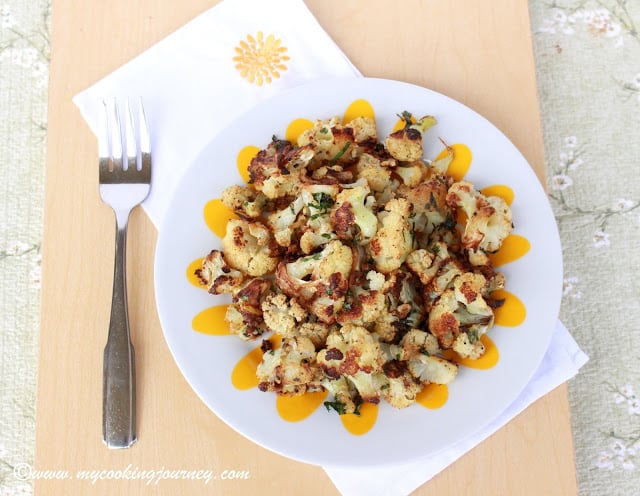 Preparation time – 10 minutes
Cooking time – 30 – 40 minutes
Difficulty level – easy
Recipe adapted from – Food 52
Ingredients to make Oven Roasted Cauliflower – serves 2-3 as a side
Cauliflower – 1 large head
Olive oil – 3 tbsp
Cumin powder – 1 tsp
Lemon juice – 1 tbsp
Cilantro – 2 tbsp (finely chopped)
Salt – to taste
Pepper – to taste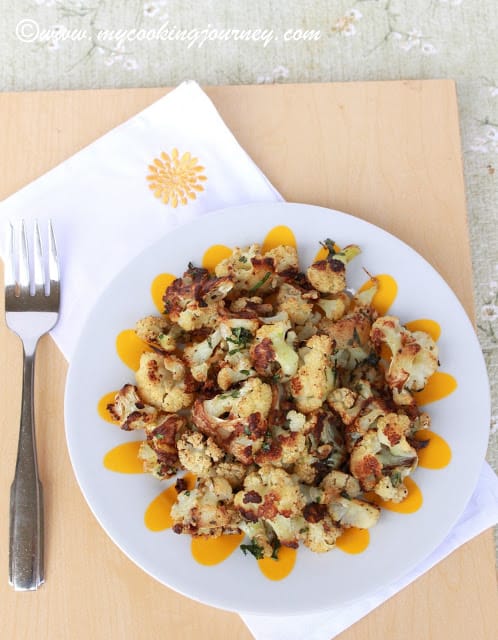 Procedure –
Preheat the oven to 425 F.
Remove the florets carefully from the head and place them in a colander. Try to remove large chunks of the florets instead of making them small. Rinse the florets well under running water and let it drain for few minutes.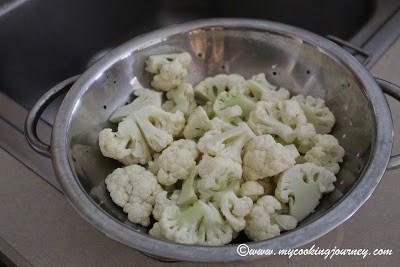 Now cut the florets into bite size pieces. I tried to chop it in such way that each floret had a flat side to it. This way when we place the flat side down, it helps in roasting the florets faster.
Place the chopped pieces in a large bowl and add the olive oil, salt, pepper and cumin powder. Mix it well.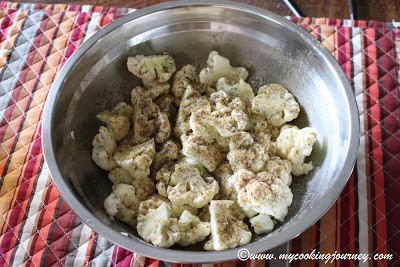 Place the florets, flat side down on a slightly greased baking sheet or a foil lined baking sheet. If there are any smaller pieces, leave it in the bowl and just place the uniform large pieces on the sheet. We will place the smaller pieces half way through the baking process so that they don't burn.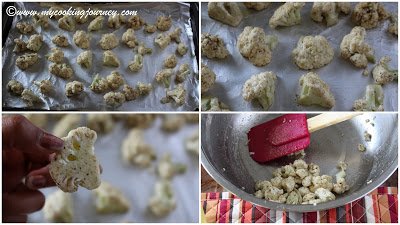 Bake them for about 25 minutes, or until the florets are lightly roasted. Half way through the baking time, flip the pieces and at this time, add the smaller pieces that we had reserved (if any).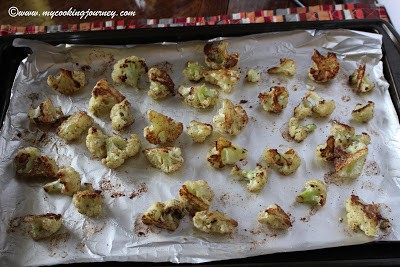 After 25 minutes, drizzle the lemon juice on the florets. Mix it to combine and then return to the oven for 10 more minutes.
Remove the sheet from the oven and add the cilantro. Toss it once and then serve the oven roasted cauliflower warm.