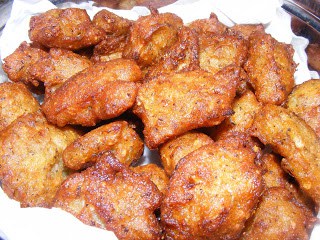 Kunukku is made with left over
Adai batter
. Invariably, every time we grind the batter for adai, we end up having extra batter and this is an amazing way to utilize the batter. It is a wonderful evening snack (If you don't mind it being deep fried) or a snack for the rainy day. The batter for this needs to be slightly thicker in texture. We can add rice flour to bring the batter to required consistency. Another helpful tip is to take the batter from the refrigerator without disturbing it. Excess liquid from the batter would have separated out and it would be the top layer. We could just drain some excess liquid this way and add rice flour to the rest.
Preparation time -5 mins
Cooking time – around 30 mins
Difficulty level –easy
Ingredients to make Kunukku - Serves 3-4
Left over Adai batter – About 1 cup
Rice flour – 3-4 tsp (Depending on how thin the consistency of the batter is)
Onion (Finely chopped) – 1 small
Green chillies (Optional) – 2 (Finely chopped)
Salt – to taste (The adai batter already has salt)
Vegetable oil – to deep fry
Cilantro – few leaves (Finely chopped)
Procedure
Separate the excess liquid from the adai batter (as mentioned above). Add the rest of the ingredients to the batter (Except the oil) and mix well. The consistency should be like that of a vadai batter now, so that you can work it with your hands and drop into oil.
Heat oil and once the oil heats up, add the batter to the oil. The shape would be small irregular balls. Try to keep the balls the same size as they would cook up evenly.
Once they turn golden brown, drain on a paper towel and serve hot with ketchup or any chutney.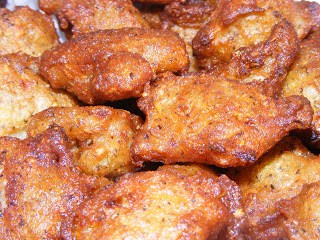 Enjoy !!