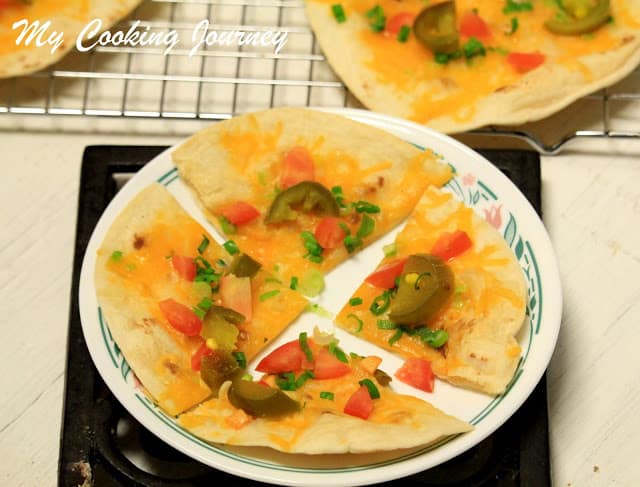 I was really excited when I saw the theme 'dishes with tortilla' for this month's BM. I make Mexican food at least once every couple of weeks at home and I found the list of tortilla dishes very interesting. The first dish that caught my eyes is this Arizona cheese crisps. This is a simple open face baked tortilla topped with cheese and baked until crunchy. This dish is very famous in Arizona, as the name suggests and is very hard to find anywhere else outside the state.
We could just use cheese and eat it with a side of salsa, or add some topping if preferred. I used some tomatoes, green onions and jalapenos as topping and the flavors reminded me of the Mexican Pizza we eat at Taco Bell. I was almost tempted to make this into the Mexican pizza, but left it out this time as I wanted to stick to the theme.
This would make a wonderful starter for a party and takes just few minutes to put together. We had it as our dinner though and since we ate it loaded, we did not even need a salsa to go with it.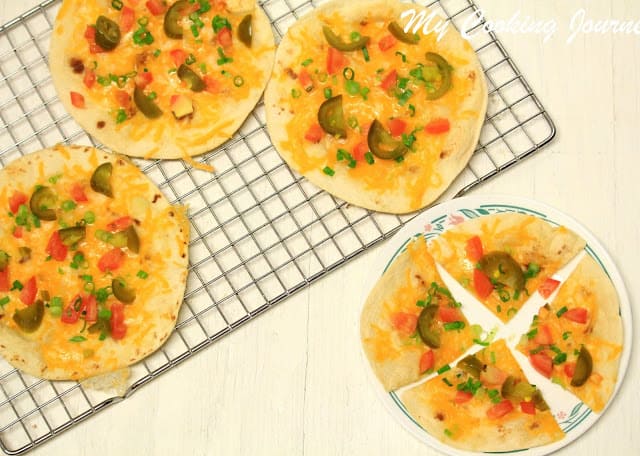 Preparation time – 5 minutes
Cooking time – 10 minutes per batch
Difficulty level – easy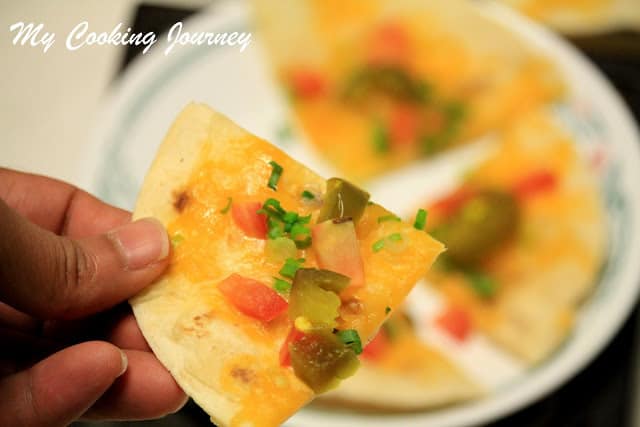 Ingredients to make Arizona Cheese Crisps – (makes 6)
Flour tortilla – 6 (I used medium ones)
Mexican cheese blend or cheddar – 1 ½ cups
Butter – 1 tbsp
Pickled jalapeno – as pee your taste
Green onions – 2 (thinly sliced)
Tomato – 1 (deseeded and finely chopped)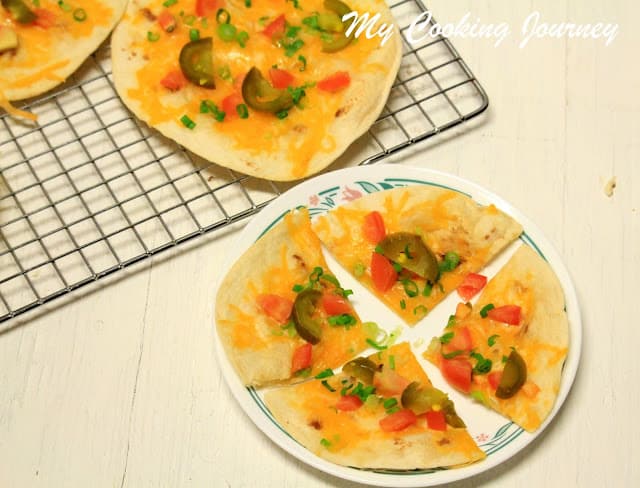 Procedure to make Arizona Cheese Crisps –
Preheat the oven to 350 F.
Arrange the tortillas in a greased baking tray and spread a thin layer or butter on it. Bake in the preheated oven for about 5-7 minutes or until the edges of the tortilla curl up and starts to get crisp. If you prefer really crispy tortilla, leave it for couple of minutes more.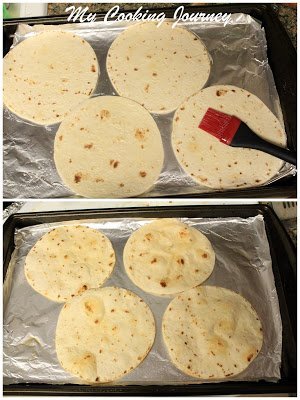 Take it out of the oven and top it with cheese. Return it back to the oven and bake for 3 more minutes or until the cheese has melted.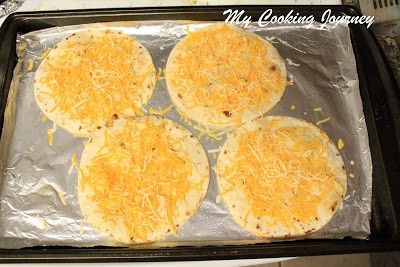 Take it out and layer the jalapenos, tomatoes and green onions.
Cool it on a rack for couple of minutes and then slice it into quarters and serve. You could serve it with sour cream or salsa, but we needed none. They tasted great as it is.