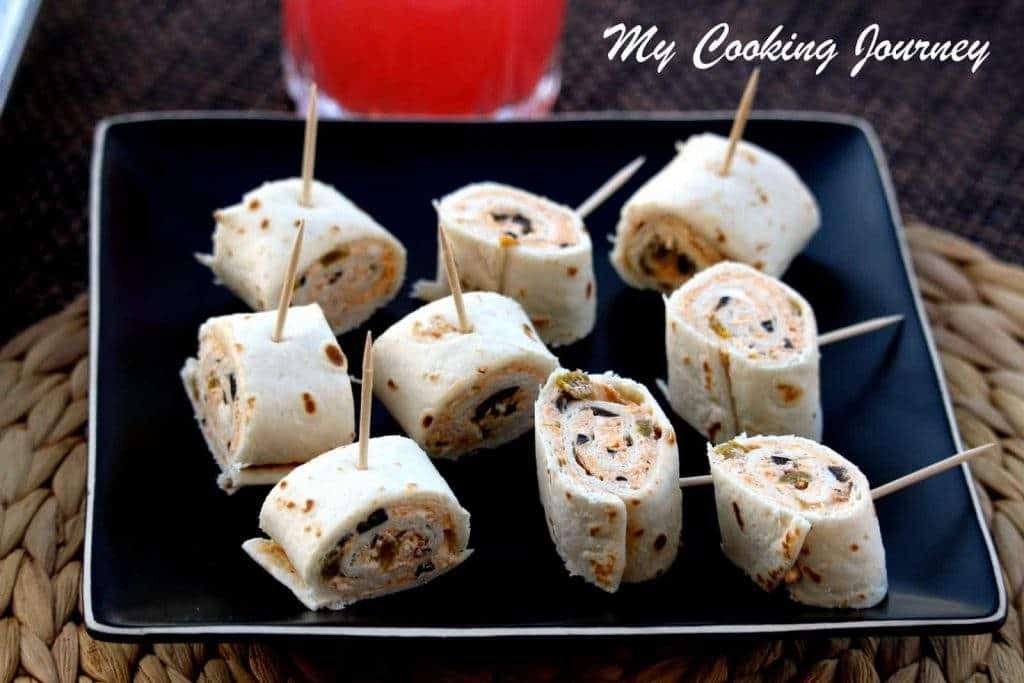 I love parties and potluck, but always stumble when it comes to making appetizers. Most of the appetizers that I make involve being served hot or at least warm and that means I am cooking right until the moment guests come. We were invited for a Christmas party and everyone had to bring bite size finger food. That is when my usual dilemma kicked in and I was at lost as to what to make for the party.
When browsing through few websites, I came across this wonderful make ahead bite sized Fiesta Pinwheels that were so easy to put together and had wonderful Mexican flavors.It also happened that I am doing the theme 'rolls and wraps' for this week's Blogging Marathon and Fiesta Pinwheels recipe fitted right in the theme. Do not be fooled by thinking that these would not be a filling finger food. All I needed for 3-4 rolls and I was stuffed.
I had made a huge batch of this for the party and also had made some to keep back at home. My son loved to eat this Fiesta Pinwheels as an after school snack since it was very filling. The best part is, it has to be served chilled and hence no hassle of warming just before serving.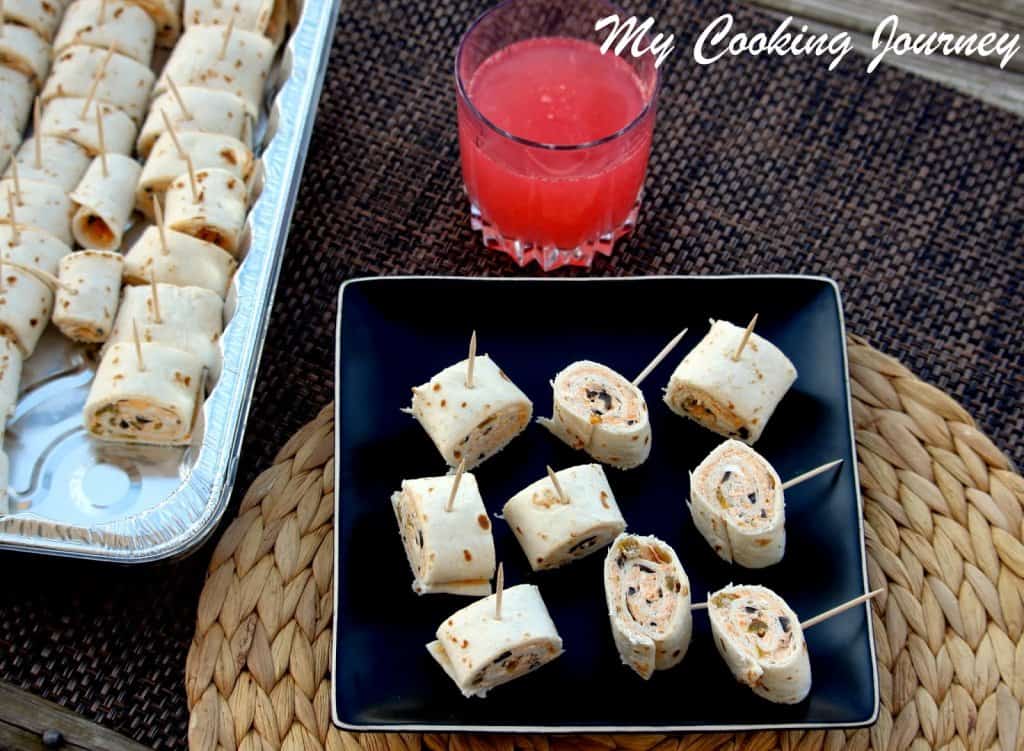 Preparation time – 15 minutes plus time to chill
Cooking time – none
Difficulty level – easy
Recipe adapted from – Tasteofhome.com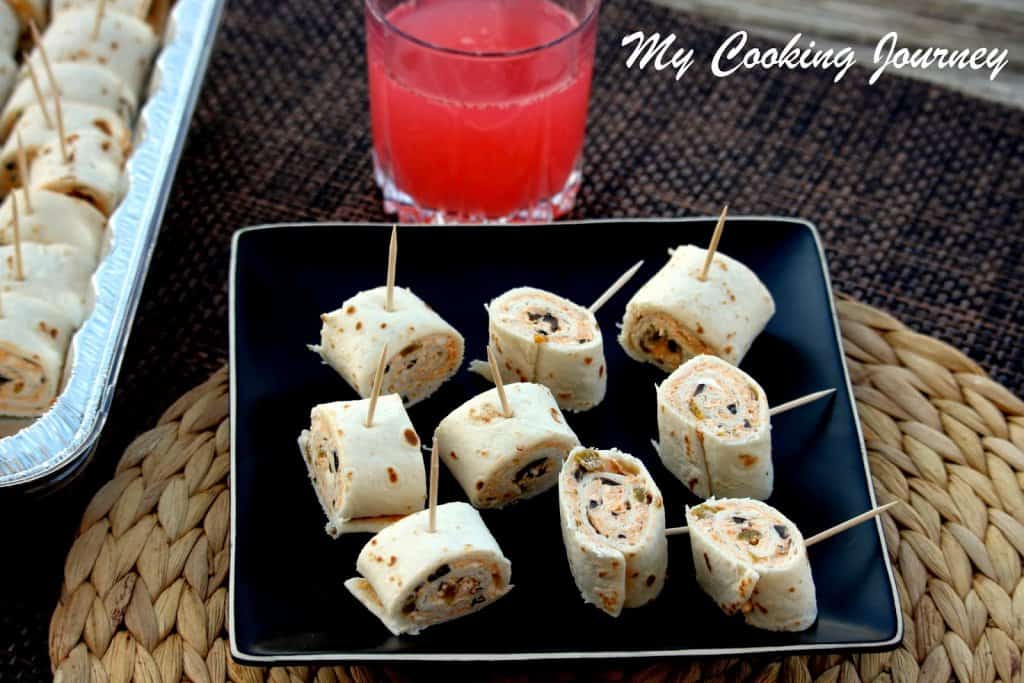 Ingredients to make Fiesta Pinwheels– Makes about 30 bite size pieces
Flour tortilla – 4 (burrito size)
Cream cheese – 4 oz
Sour cream – ¼ cup
Picante sauce or any Mexican hot sauce – 3 tbsp (adjust based on your liking)
Taco seasoning – 1 tbsp
Ripe olives – 2 oz or about ¼ cup (drained and finely chopped)
Canned green chilies – 2 oz (drained and finely chopped)
Cheddar cheese – ½ cup (finely shredded)
Salsa – to serve (optional)
Toothpicks – to make it easier to pick and eat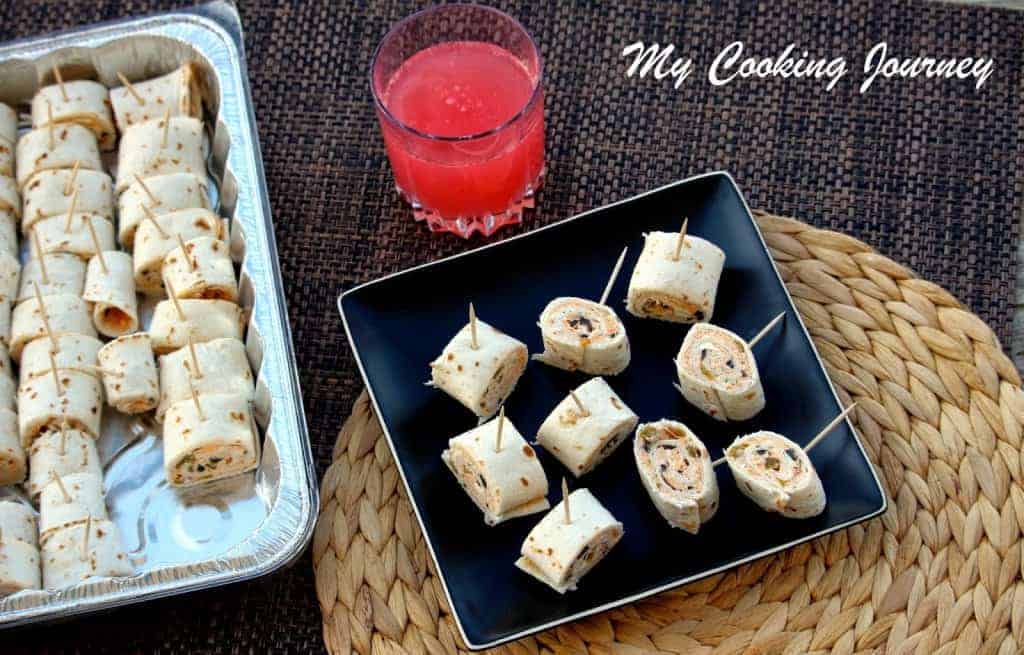 Procedure to make Fiesta Pinwheels –
In a wide bowl, combine the cream cheese, sour cream, hot sauce and taco seasoning and mix well until smooth. Stir in the rest of the ingredients.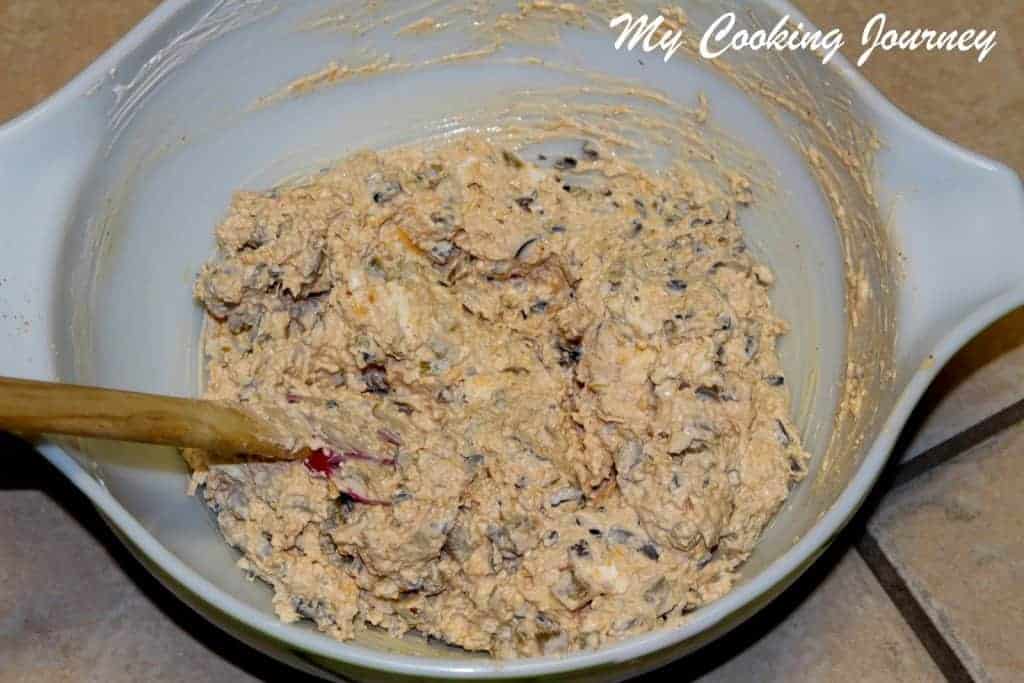 Add a heaped ¼ cup of the filling on a tortilla and spread well.
Roll it up jelly roll style tightly and lay it on a serve ware seam side down or wrap them in plastic wraps. Since I made a big batch of the recipe, I just layered mine on an aluminum tray and refrigerated it.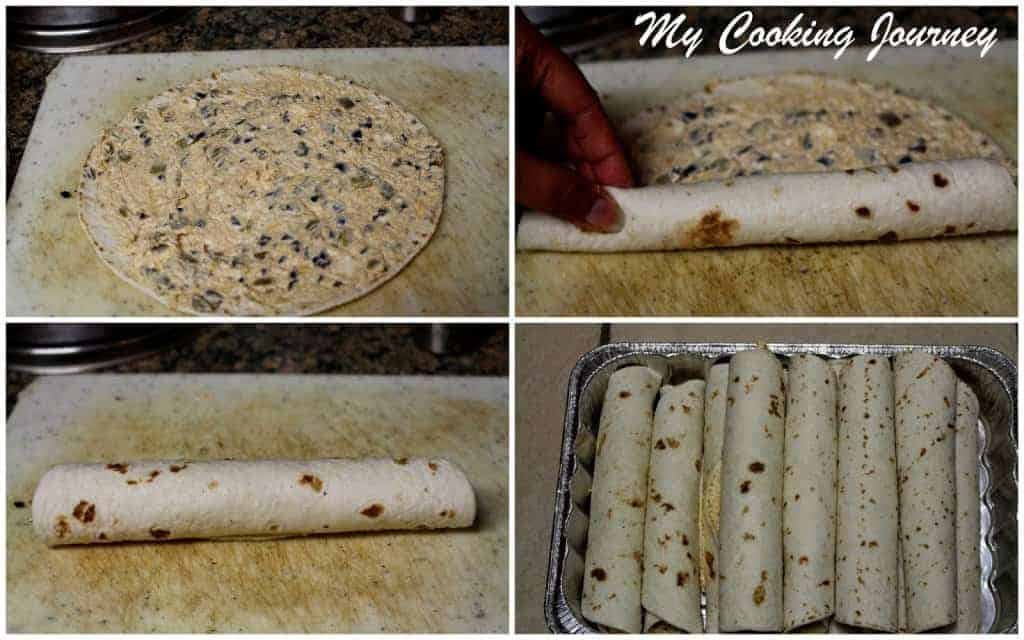 Refrigerate for at least 2 hours or preferably overnight.
Once chilled, slice them into 1 inch piece with a sharp knife and insert a tooth pick through the middle to make it easy for serving.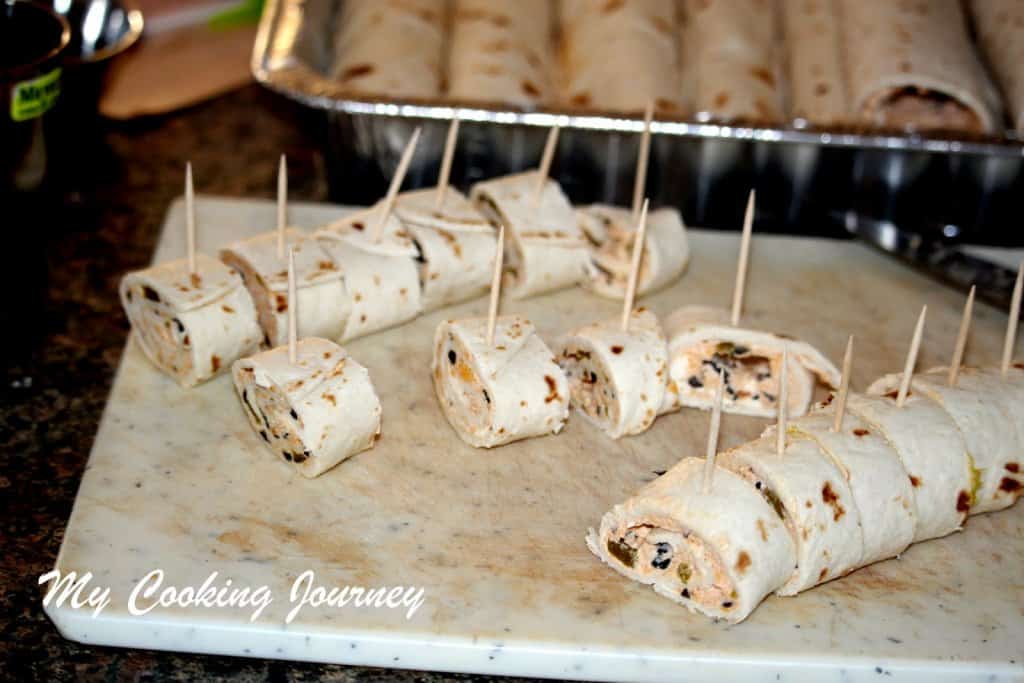 Serve the Fiesta Pinwheels with salsa or as is.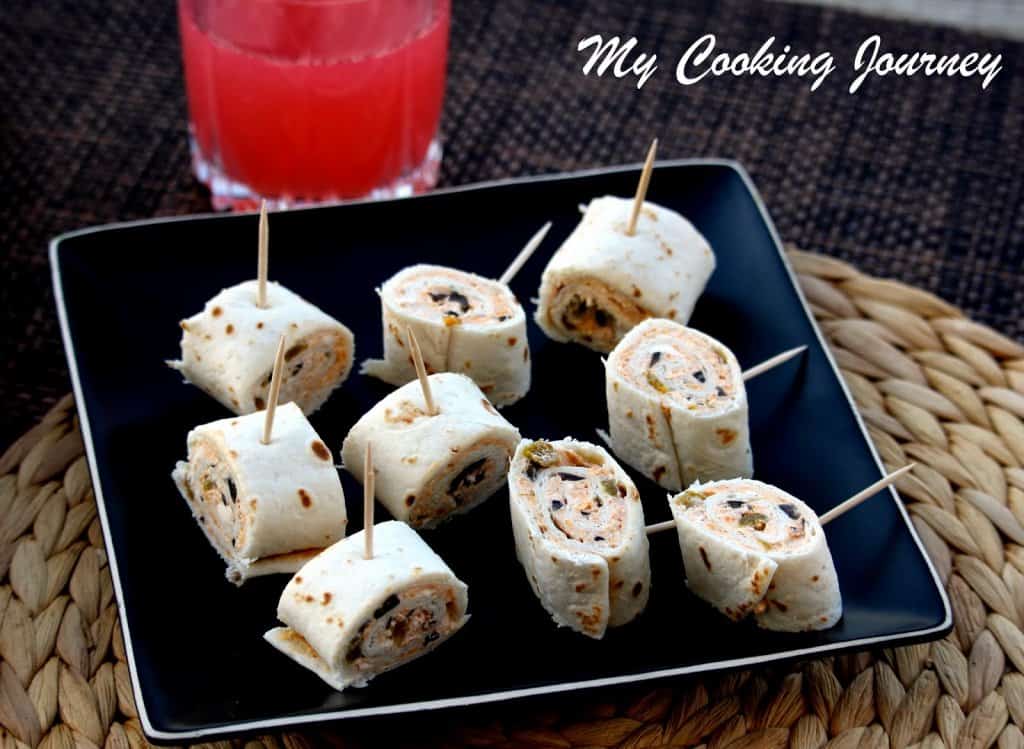 If you like the recipe, don't forget to pin it!