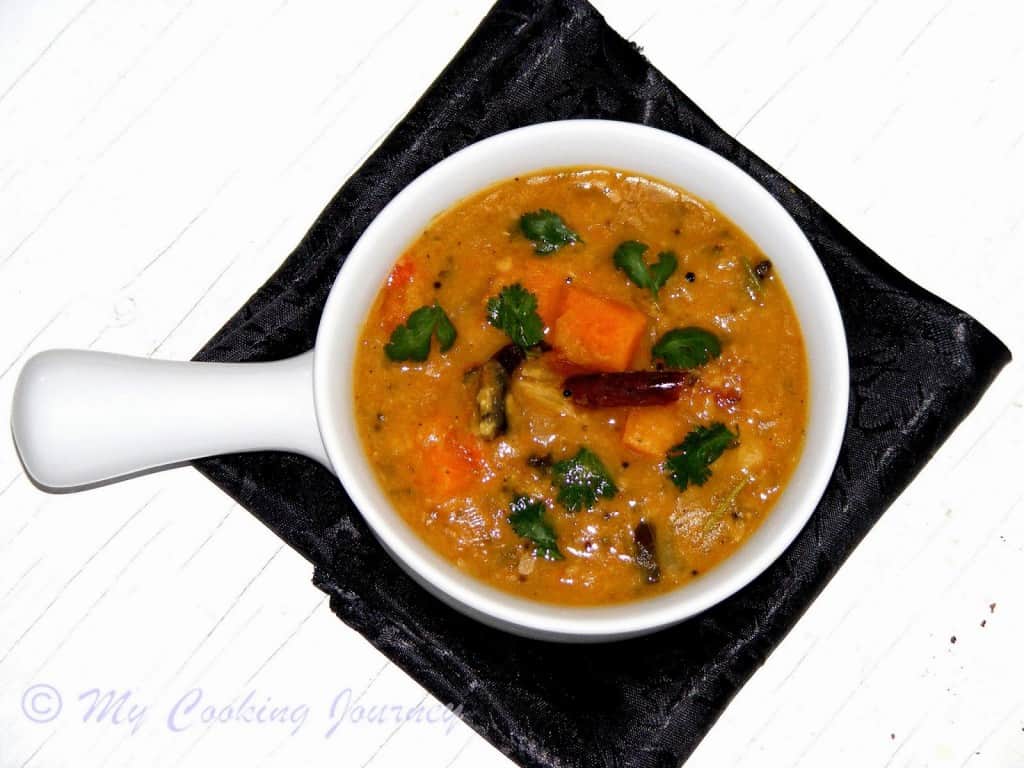 Puducherry, formerly called Pondicherry is a Union territory in the East Coast of India. It was the former French colony and often referred to as the 'French Riviera of the East'. Many streets still retain their French names and the French Villas are a very common sight. Puducherry has a large number of Indians and also few non-Indian with the descent French passport. The official languages of the state are Tamil, Malayalam, Telugu and French.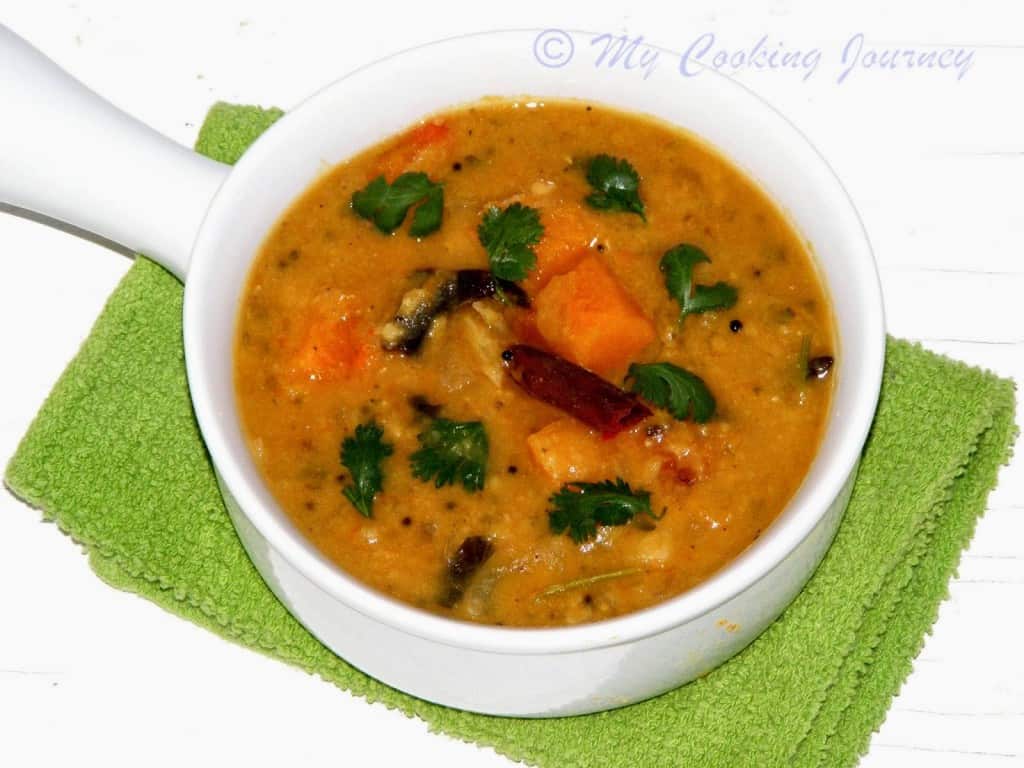 Puducherry is very close to the city where I grew up and my favorite places to visit are the Aurobindo Ashram, Manakula Vinayagar temple and of course the restaurants en route to my native place. We always plan our trips in such a way that we are in Pondicherry right around lunch or dinner time. Even though I have eaten many times in Pondicherry, until now I have never realized that they had a cuisine that is quite different from the Tamil Nadu cuisine. They have a lovely blend of French and Indian style in the cuisine. Also the cuisine is influenced by the neighboring states which are Tamil Nadu, Kerala and Andhra Pradesh.
The recipe I chose for today is from Aparna's blog, where she had reviewed the cook book, The Pondicherry Kitchen, by Lourdes Tirouvanziam-Louis. I was able to read a few pages from the book that they had as a preview in Google Books and was happy to see several simple dishes. This Pondicherry sambhar was quite different from the sambhar that we often make and it tasted just wonderful.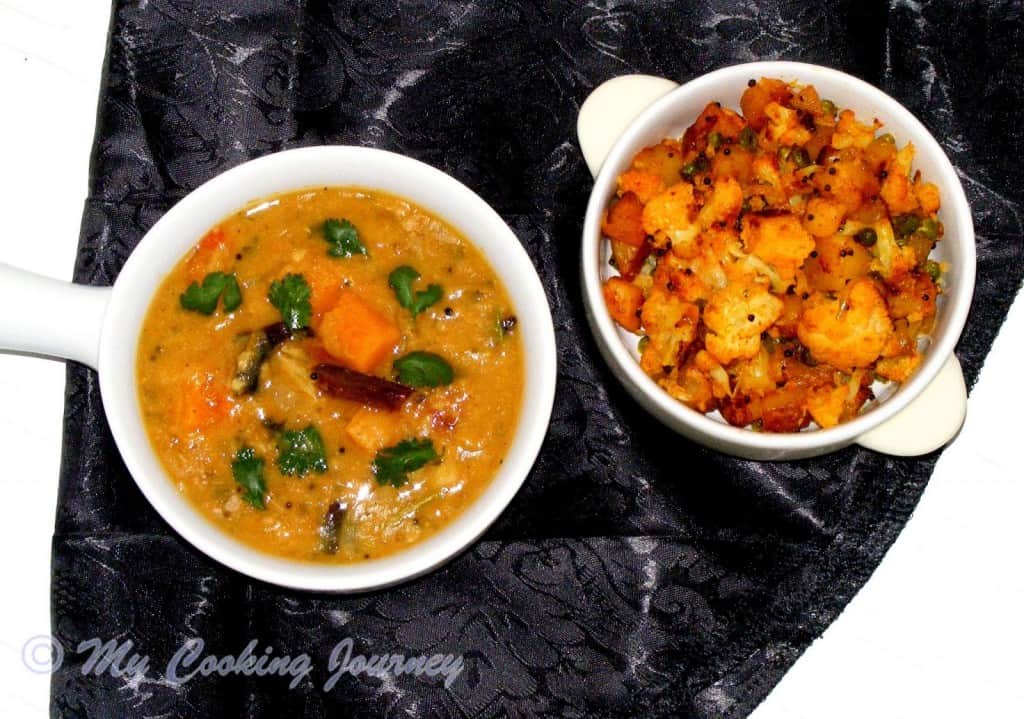 Preparation time – 20 minutes
Cooking time – 30 minutes
Difficulty level – easy
Recipe Source - My Diverse Kitchen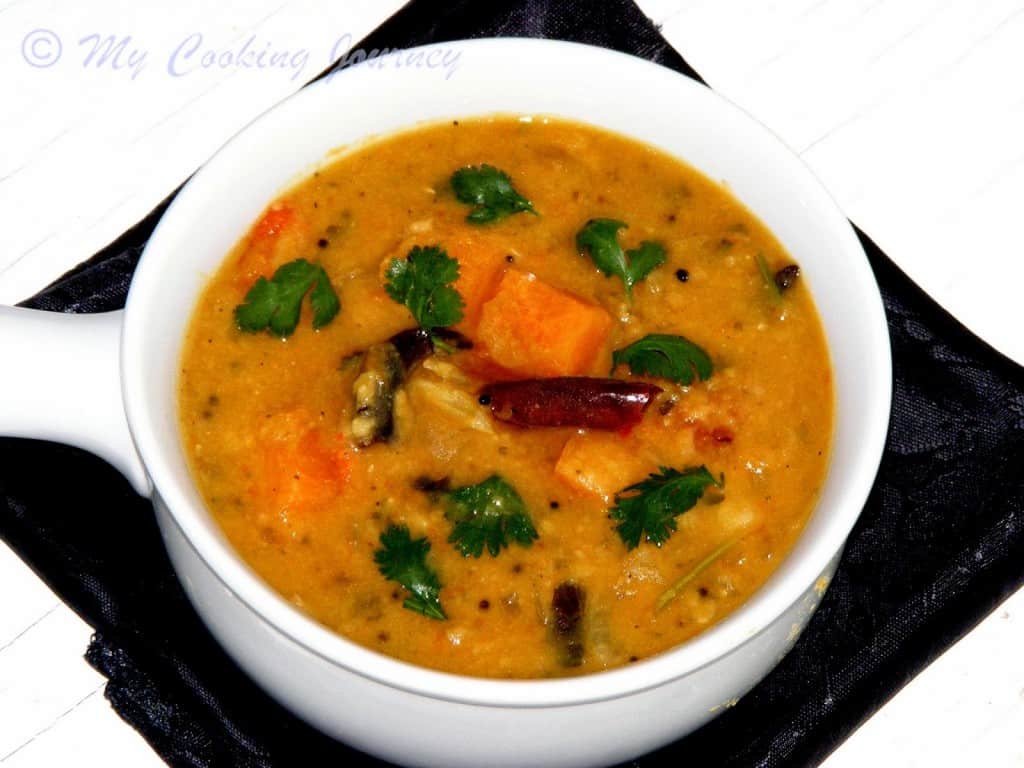 Ingredients to make Pondicherry Sambhar– Serves 4-6
Tuvaram paruppu / Toor dal – ¾ cup
Yellow pumpkin (or any vegetable of your choice) – 2 cups (chopped into large chunks)
Onion – 1 large (thinly sliced)
Tomato – 2 (chopped)
Garlic cloves – 3 (crushed)
Tamarind pulp – ½ tbsp
Jaggery – 1 tsp
Curry leaves – few
Cumin seeds – ½ tbsp
Peppercorns – ½ tbsp
Oil – 1 tbsp
Mustard seeds – 1 tsp
Ullutham paruppu/urad dal – 1 tsp
Red chilies – 4/5
Cilantro – few
Salt – to taste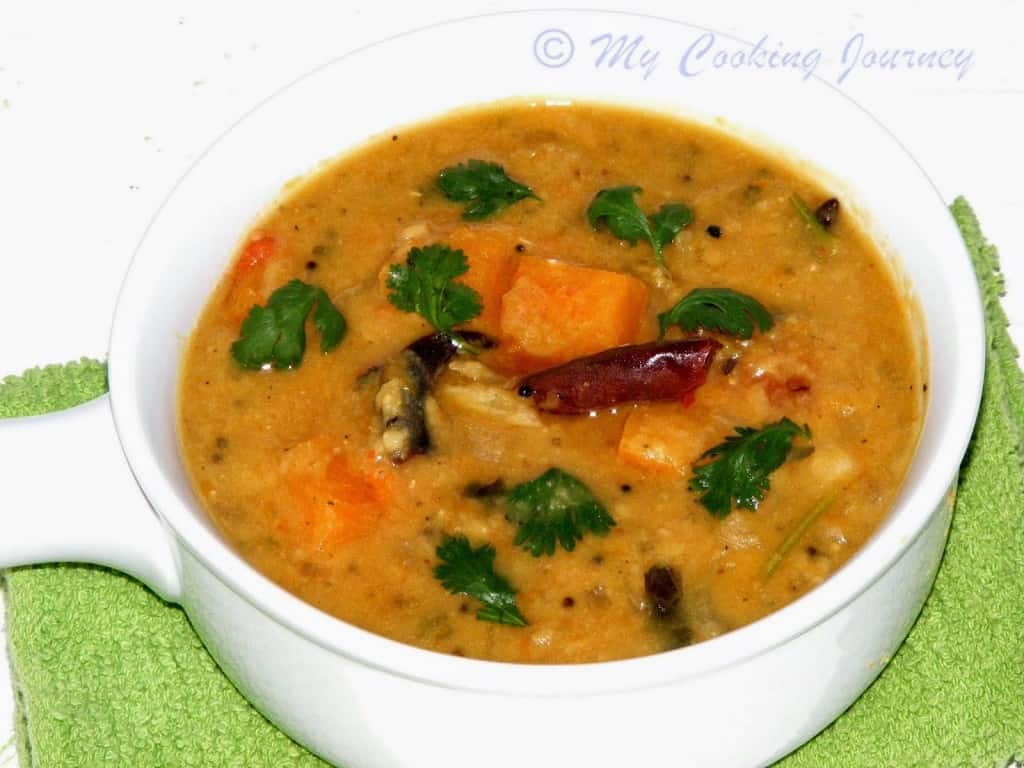 Procedure to make Pondicherry Sambhar –
In a pressure cooker, cook the toor dal in about 2 cups of water until it soft and mushy. Let it cool down and then drain the cooked dal water into a bowl and keep aside.
In a pan, heat the oil and then add the mustard seeds, urad dal, asafetida and the red chilies. Let it fry for a minute.
Now add the red pumpkin or any other vegetable of your choice, onions, tomato, curry leaves and sauté for couple of minutes. Then add the cooked dal water, jaggery and salt. Cover the pan and let the vegetables cook.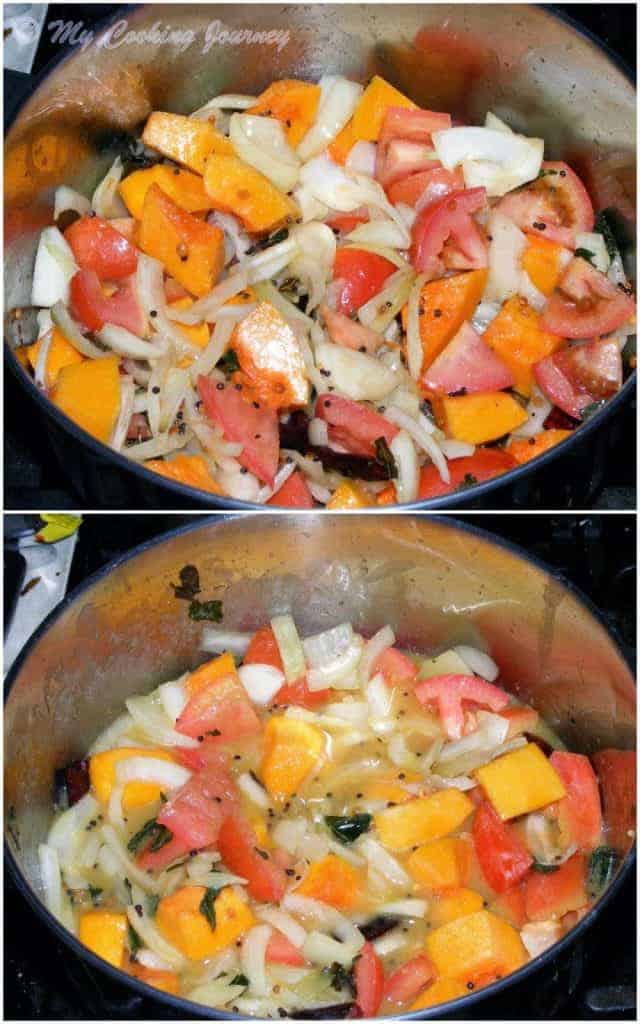 Meanwhile crush the garlic and pound the cumin and peppercorns in a mortar coarsely.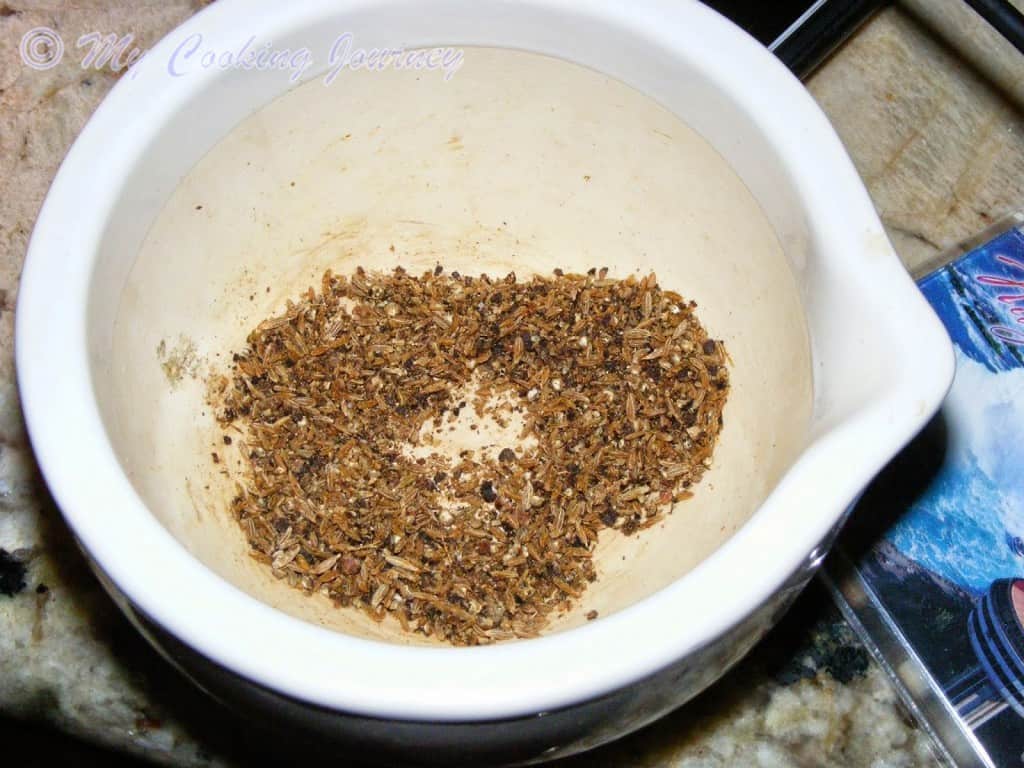 When the vegetables are cooked, add the tamarind pulp, Cooked dal, crushed garlic cloves, crushed cumin and pepper and also the cilantro leaves.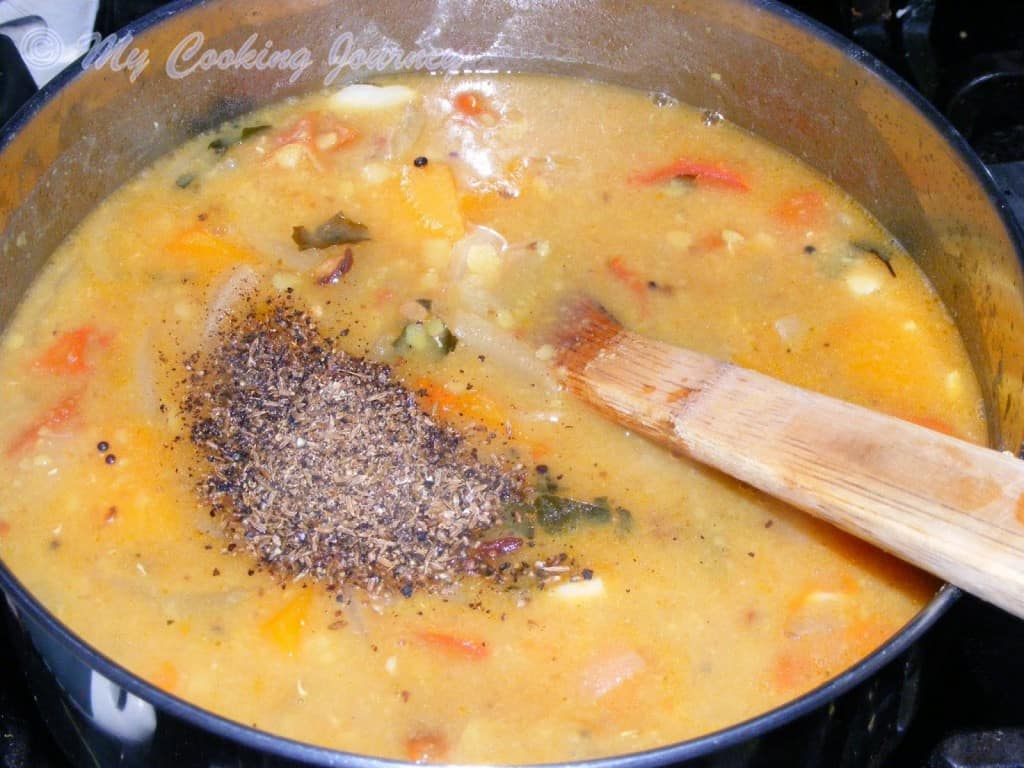 Cover the pan and let it cook for 10 more minutes.
Serve the Pondicherry sambhar hot with rice, ghee and a vegetable on the side.