Making the traditional dessert with a healthy twist, this Quinoa Chakkara Pongal is creamy and delicious.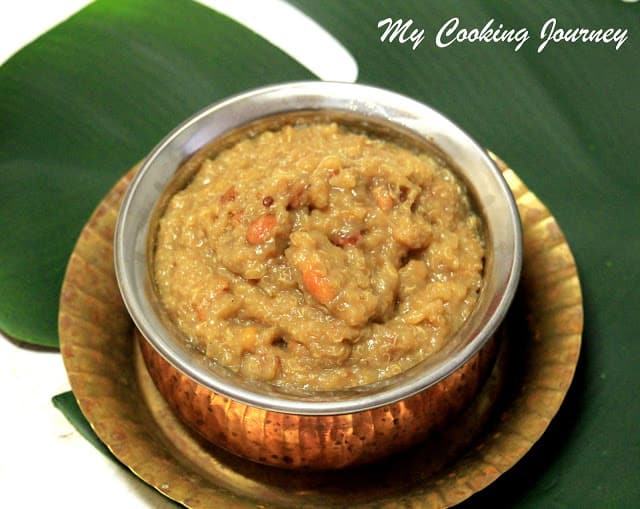 This Quinoa Chakkara Pongal is my third recipe under the theme guilt free indulgences for blogging marathon. I have been posting about some everyday swaps that I do for rice in my recipes and this one is a fool proof one. Desserts are my family's weakness and I end up making them very often. In no way this recipe is a healthy option if you are watching your sugar and fat as I have not compromised with them, but the grain is definitely a healthy swap for rice.
Quinoa is the new super grain/seed that is becoming (if not already) very famous all around the world. I do cook once in awhile with quinoa and regularly swap my white rice with it. My boys are a big fan of traditional South Indian sweets and chakkara pongal is their favorite. It is my older one's star birthday today and my parents wedding anniversary. So I decided to make this sweet to celebrate both the occasions today.
There is absolutely no compromise in the flavor and he did not even figure out that it was made with something different until he saw the tiny tails of the quinoa and asked me what they were. According to him (he has a great sense of taste), there was not a big change in taste but it was slightly strong. I totally agree with him as the earthiness of the grain came across in the flavor. My little one who is the pickiest in our house had nothing to say about it and thoroughly enjoyed.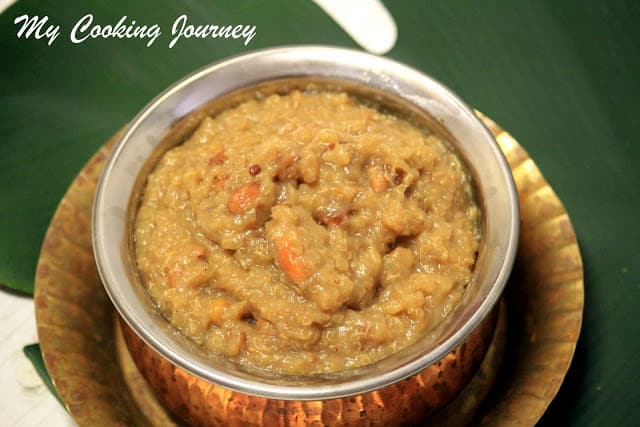 Preparation time – 10 minutes
Cooking time – 40 minutes
Difficulty level – easy
Ingredients to make Quinoa Chakkara Pongal – (serves 6)
Quinoa – ¾ cup
Moong dal / payatham paruppu – 3 tbsp
Channa dal / Kadalai paruppu – 1 tbsp
Jaggery / Vellam – 1 ½ cup (crushed)
Milk – 1 cup
Ghee / Nei – 5-6 tbsps
Cashew nuts – 1 tbsp
Raisins – 1 tbsp
Ground nutmeg – ¼ tsp
Edible camphor – couple of pinches (optional)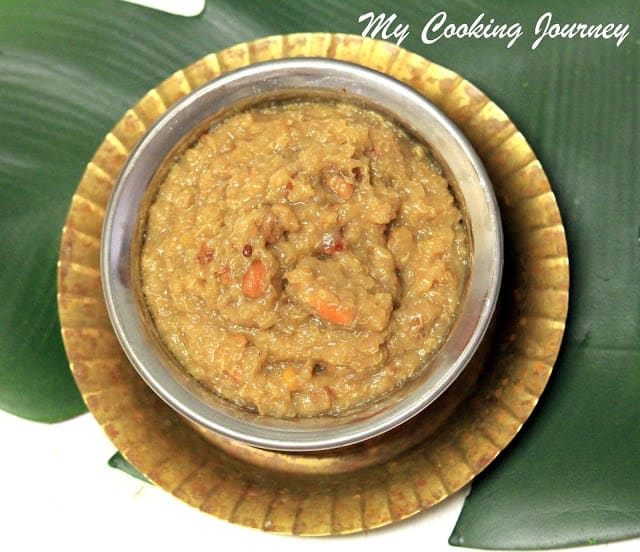 Procedure to make Quinoa Chakkara Pongal –
In a pan dry roast the lentils until golden brown and then add the quinoa to it. Fry it for about 2-3 minutes more in low flame.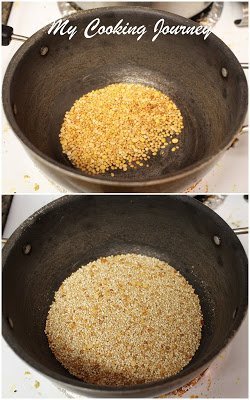 Wash the mixture well couple of times under running water. Add about 2 cups of water and 1 cup of milk to the quinoa mixture and cook it in the pressure cooker for 4-5 whistles. You could alternatively cook this on stove top as well until the quinoa and lentils are mushy. When warm, mash the cooked quinoa with a flat ladle or potato masher.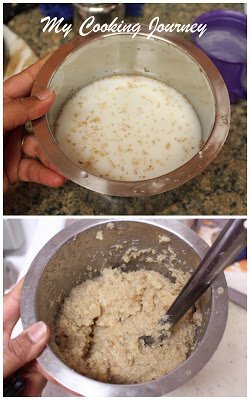 In another pan, add the jaggery and about ½ cup of water and cook it on medium flame. Let the vellam dissolve and if needed at this stage, strain it to remove impurities. Return it to the pan and let it cook on medium flame until it becomes syrupy in texture.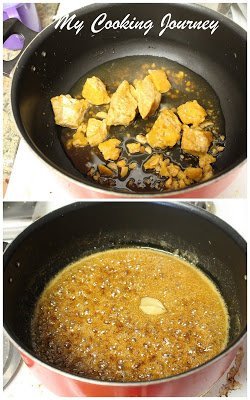 Add couple of tablespoons of ghee at this stage and then add the mashed quinoa to it. The syrup would liquefy a bit when the quinoa is added. Add 2 more tablespoons of ghee and continue to cook over low flame.
Meanwhile in a small pan, heat about a tablespoon of ghee and fry the cashews and raisins until golden brown. Add the nutmeg powder and edible camphor (powdered) to the ghee and mix well. Turn off the flame and add this to the chakkara pongal.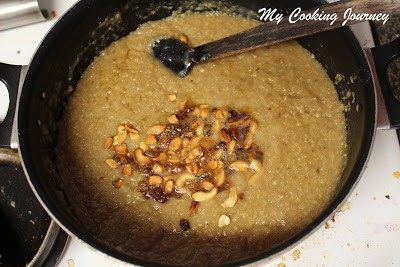 Mix well and once the pongal comes to a thicker consistency, turn off the flame. Make sure that the chakkara pongal is still in semi solid stage as it will thicken when cooled.
Serve warm or at room temperature.