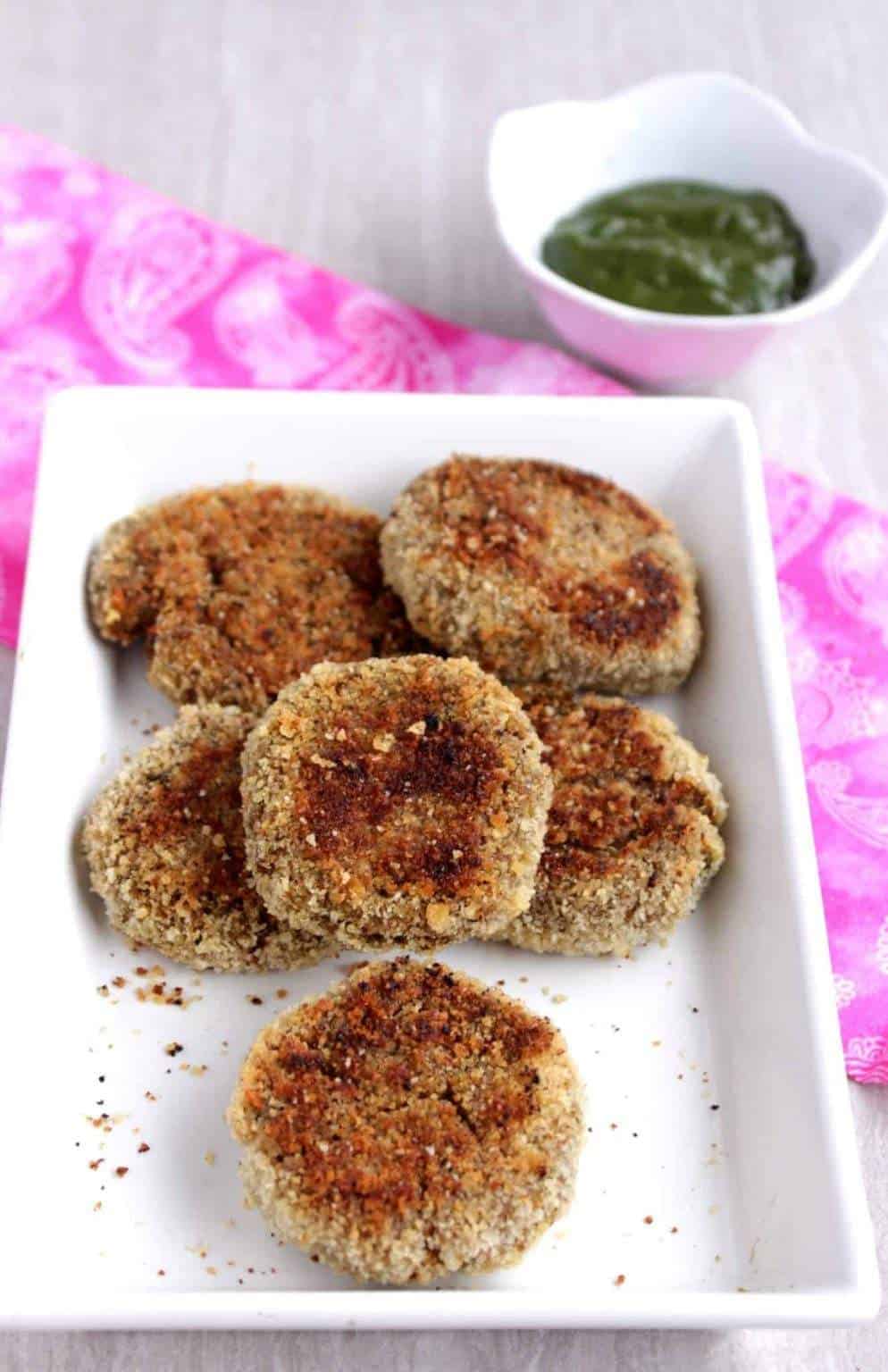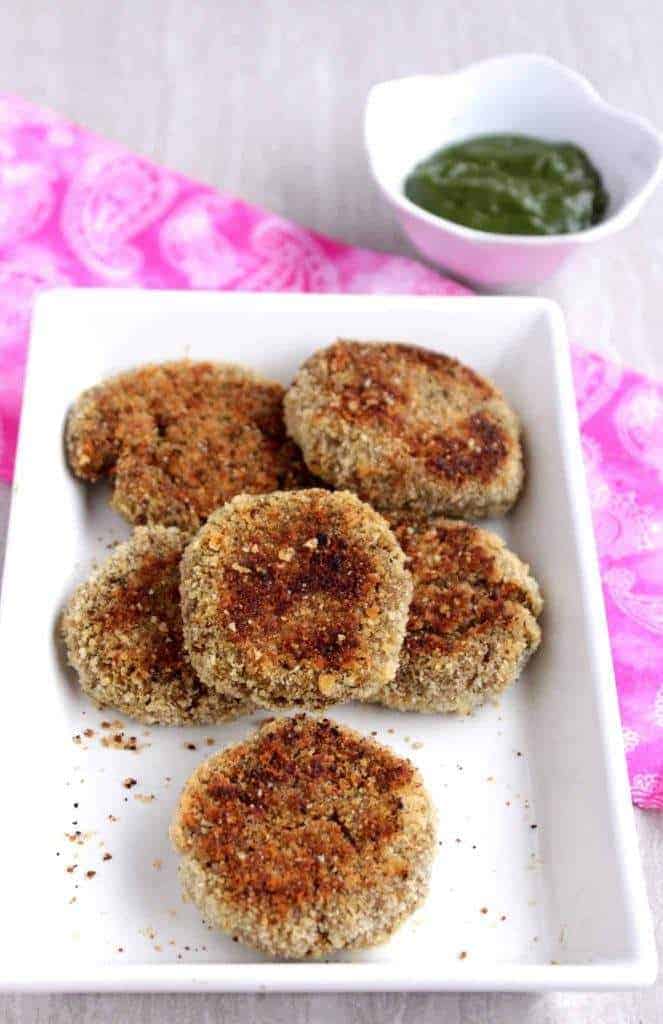 We make many different recipes with many different ingredients and almost have no second thoughts. But when someone sends you or asks you to make something with a specific ingredient, you are totally at lost as to what to make. That is what happened when I received three ingredients from Varada who blogs at Varada's Kitchen as a part of Blogger ingredient exchange theme. The first ingredient that I used was the French Green lentils and I made a delicious and a very simple French Green lentil salad with it. The next ingredient that I tackled is the quinoa that she had sent and made this Indian spiced Baked Quinoa Cutlets.
Cutlet is a very famous street food and I remember eating tons of it growing up. My grandfather bought home some snacks or other like bajji, vadai or these cutlets when he returned home from work and I remember eagerly waiting for him to return home every evening. The cutlets are usually deep fried and that makes it extra tasty. I was able to enjoy the deep fried snacks those days but my mind and body does not allow me to do so anymore.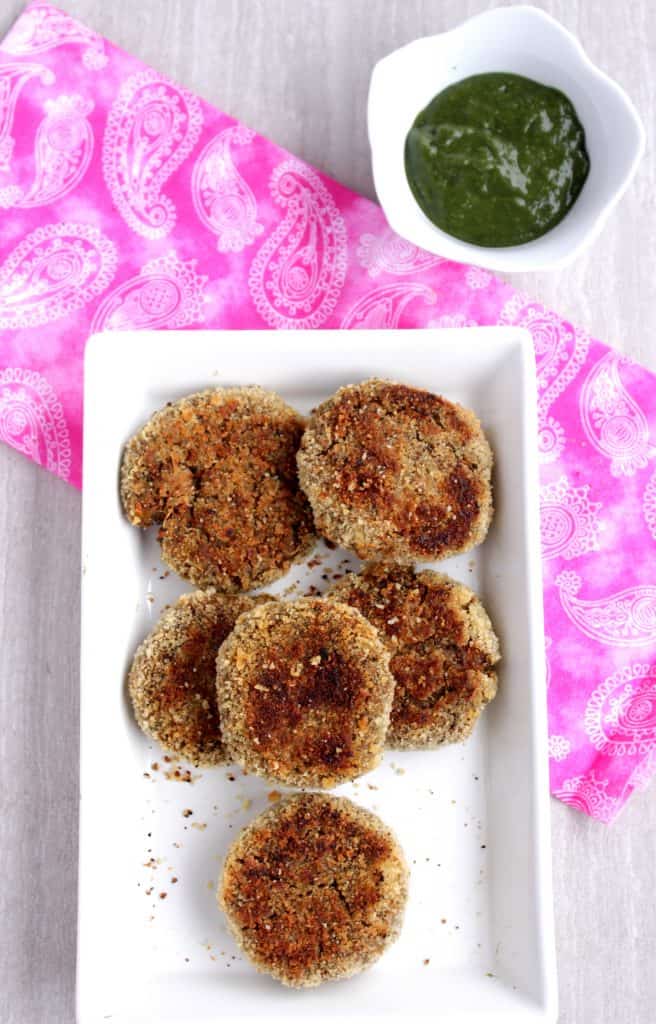 I have cooked with quinoa quite a bit and also use it as a rice substitute many days. This time when I saw the quinoa I did not want to make a main course, but wanted to try to make a snack / appetizer with it as that is something that I have not tried before. This attempt to make the Baked Quinoa Vegetable Cutlet was very successful and is a great way to include quinoa in your diet. To make it even more healthy, this is not deep fried or pan fried. I baked these in oven using just a bit of oil for each of the cutlets.
If you are looking for more Quinoa recipes, here are a few of mine to check out -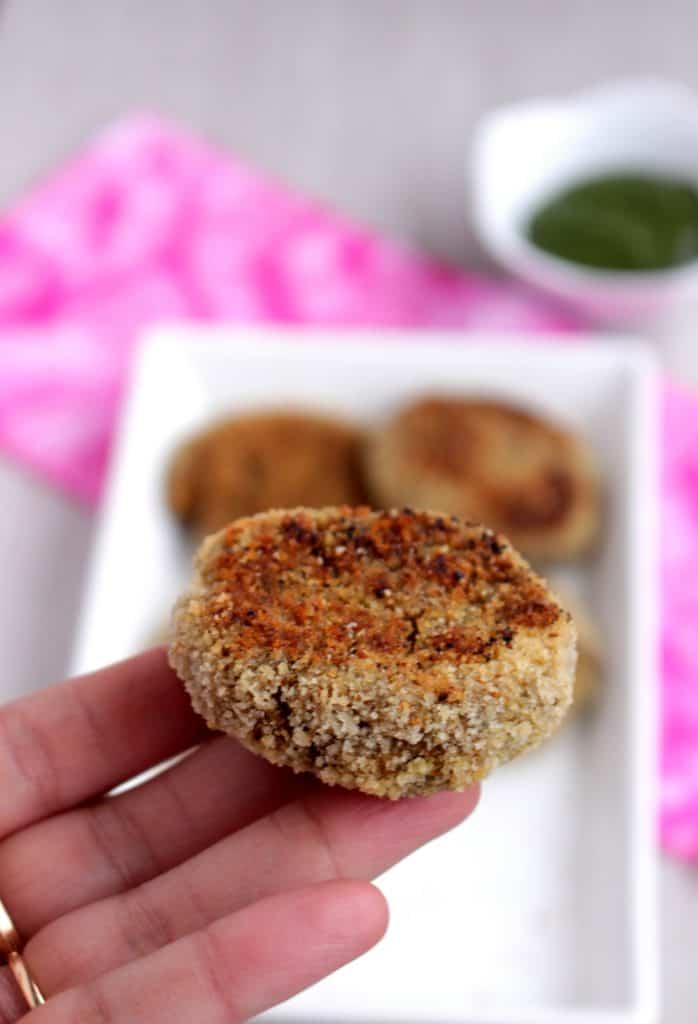 Preparation time - 20 minutes
Cooking time - 45 minutes
Difficulty level - Medium
Ingredients to make the Baked Quinoa Vegetable Cutlet - Makes about 20 cutlets
Quinoa (uncooked) - ½ cup
Potatoes - 2 (boiled and peeled)
Carrots - 2 (cooked until fork tender)
Green peas - ¼ cup (cooked until soft)
Red chili powder - 2 tsp (adjust based on your liking)
Garam masala - 1 ½ tsp
Dhania Jeera Powder / cumin coriander powder - 1 tsp
Chaat Masala - 1 tsp (optional)
Salt - to taste
Corn flour / corn starch - 4 tbsp dissolved in ½ cup of water + 2 tbsp
Bread crumbs - 1 ½ cups
Oil - to brush on the cutlets.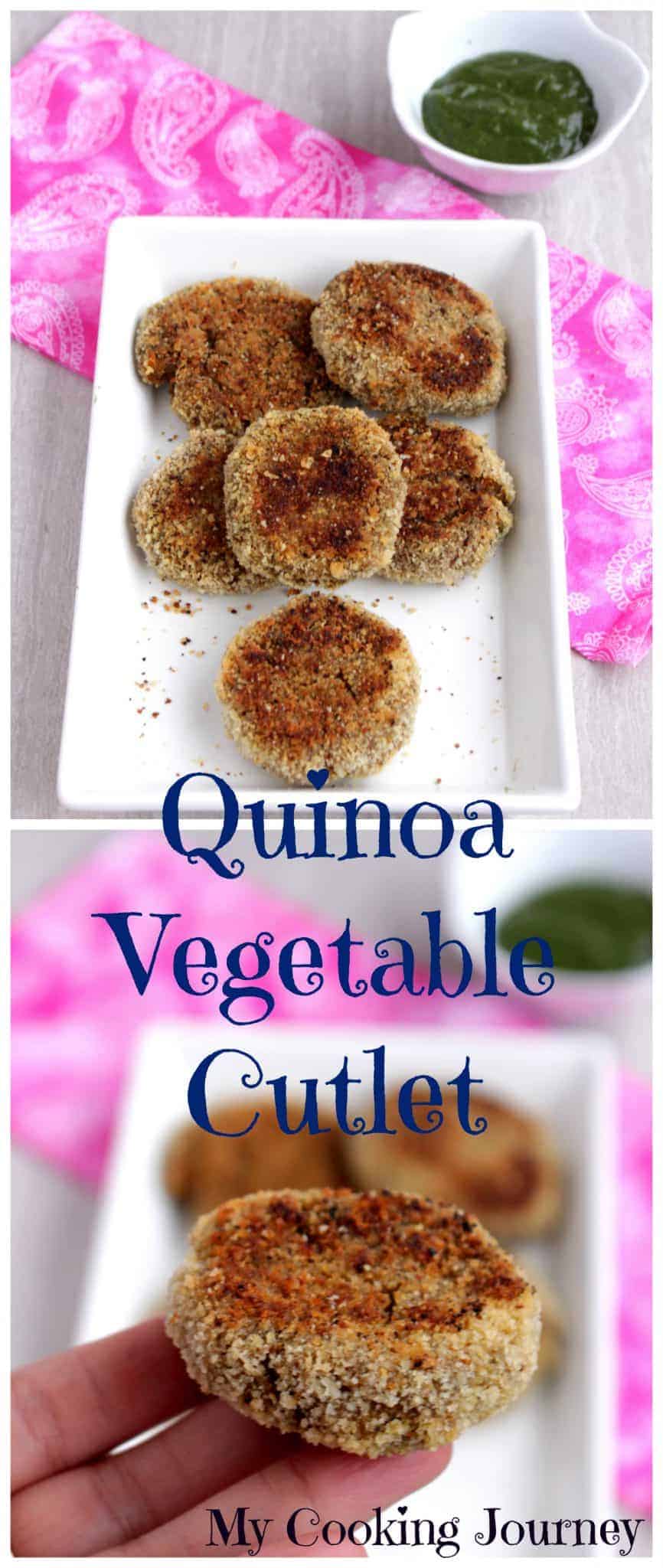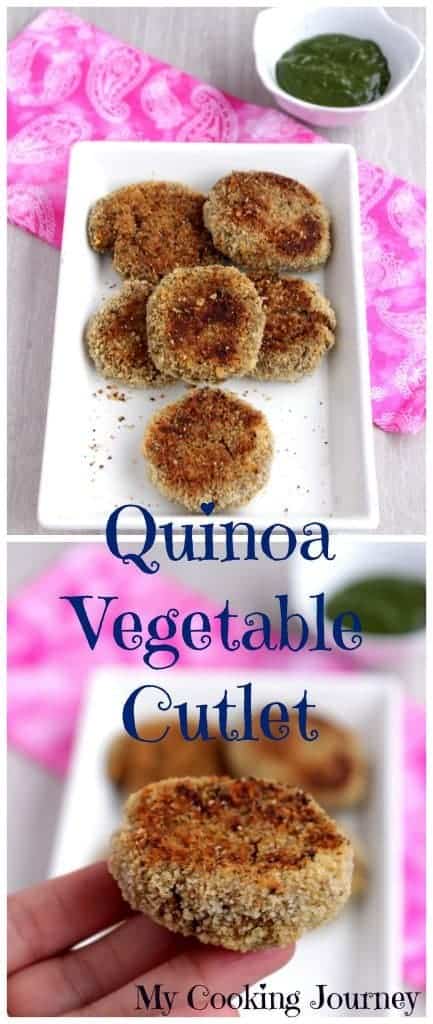 Procedure -
Wash the quinoa under running water few times. I place the quinoa in a fine mesh strainer and then wash it few times in water. This helps in removing the slight bitterness that the quinoa might sometimes have.
Place the washed quinoa in a pan with 1 cup of water. Cook in medium heat until it comes to a boil. Then simmer the flame and cook until the quinoa is cooked and all the water evaporates.
In the meantime, cook all the other vegetables until they are soft.
Place the cooked quinoa, 2 tbsp of corn flour and vegetables in a large bowl and mash them using a masher. Once they are half way mashed, add the spices and salt and mix/mash well. Make sure that there are no big lumps of vegetables and they all are combined well.
Dissolve the corn starch in water and keep it ready.
Place the bread crumbs in a wide bowl.
Prepare two baking sheets and line them with parchment paper or aluminum foil.
Divide the quinoa-vegetable mixture into equal sized balls and flatten them slightly. Dip it in the corn flour mixture to coat evenly and then place it in the bread crumbs. Make sure that the cutlet is coated well with the bread crumbs.
Place it on the prepared baking sheet. Repeat the same with the rest of the mixture.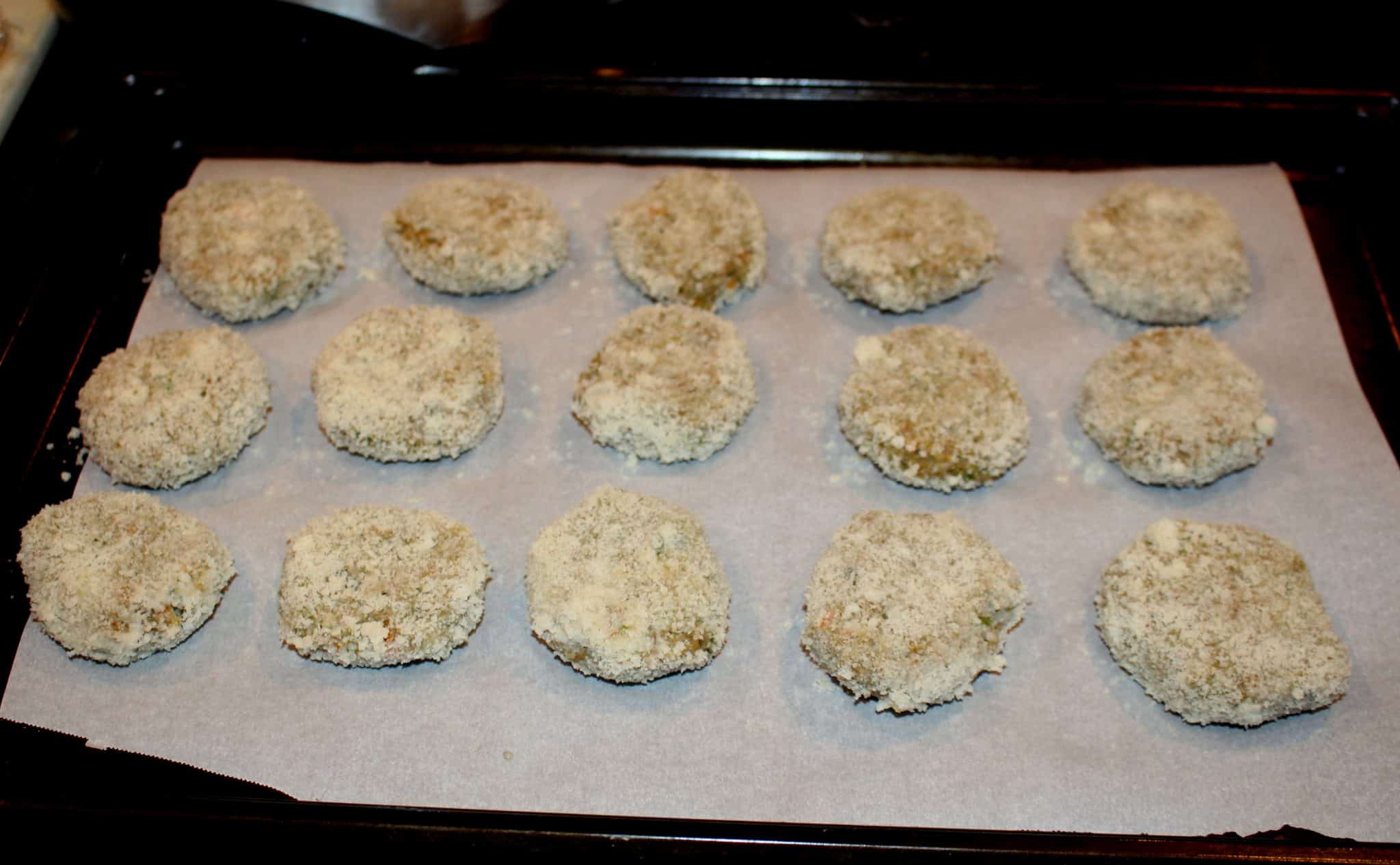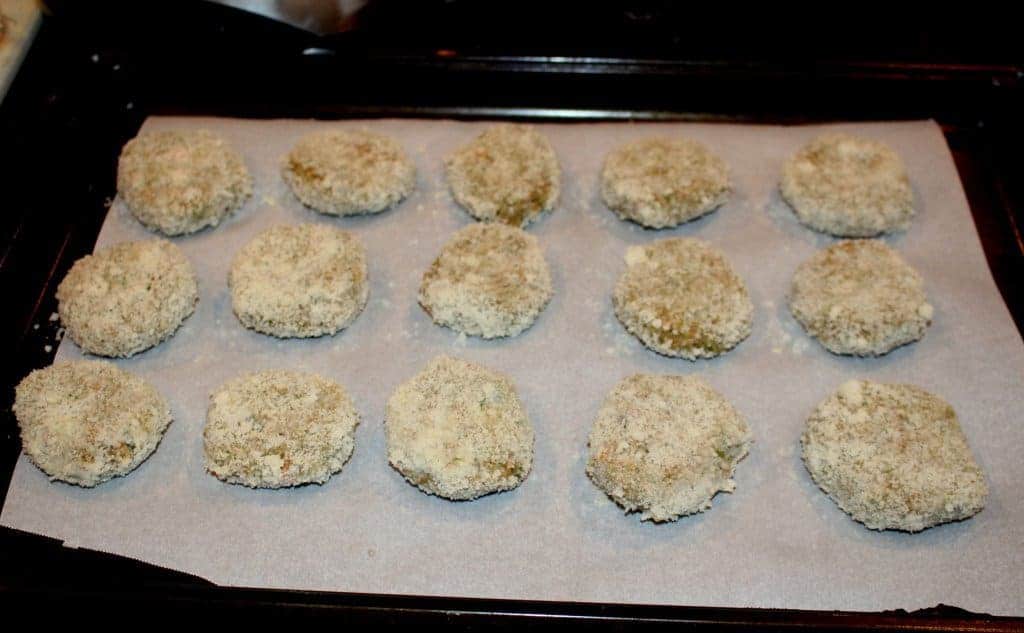 Preheat the oven to 400 F. Brush the cutlets on both sides with oil. Make sure that you brush them on both the sides.
Bake the Baked Quinoa Vegetable Cutlet for about 20 minutes flipping the cutlets once or twice in between. This helps in even browning of the cutlets. Remove from oven when they are golden brown on both the sides. Let it cool down a bit on the tray and then serve them warm with chutney or ketchup.