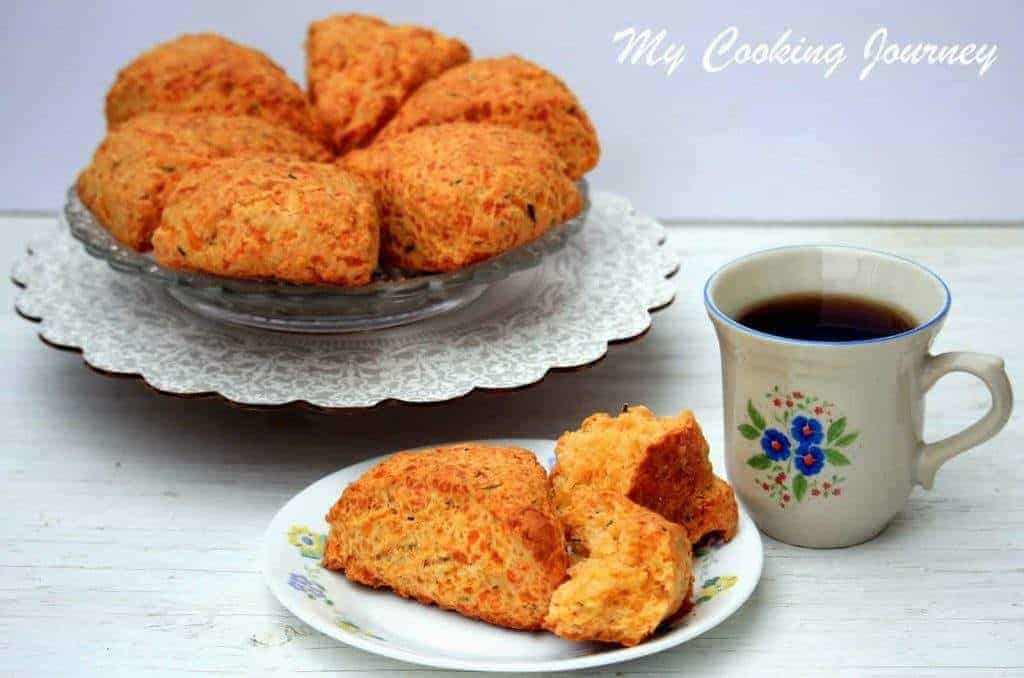 Every time I see or hear scones, it reminds me of my favorite book series, The Famous Five adventures by Enid Blyton. I grew up reading her books and they are my favorite ever. I used to love the book for the amazing way they describe the situation, especially food. The food just sounded so amazing when I read the description. This month for the Home Baker's Challenge, when Priya chose scones as the theme, I was reminded of my favorite book.
I have never tasted savory scones before and hence I chose to make those. The herbs and cheese mixed in with the savory shortbread like dough resulted in very flaky and soft scones. Have used rosemary as suggested in the recipe, but if you don't have any in hand, go ahead and use any herb you find. Cilantro or mint would work great in the recipe. I have used crushed black pepper and also some chili powder to add heat to the dish. Use them or ignore.
If you are expecting guests for tea, this would work great as a quick snack recipe. The whole process took less than 40 minutes. I also made my own buttermilk by mixing lemon juice with milk. You could also use vinegar instead of lemon juice. I no longer buy buttermilk for baking purpose ever since I learned this technique of making my own. If I need buttermilk for cake or bread, I just use the homemade sour yogurt mixed in with some milk or water and use in the recipe.
Preparation time – 15 minutes
Cooking time – 15 – 20 minutes
Difficulty level – easy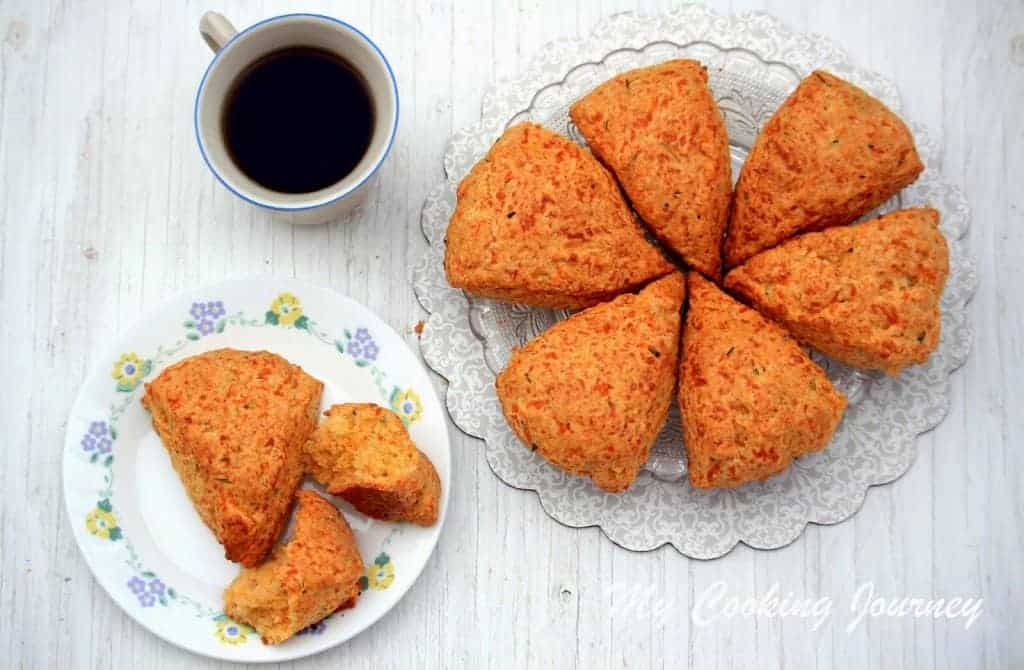 Ingredients to make Scones – Makes 8
All purpose flour – 240 gms (2 cups)
Baking powder – 2 tsp
Baking soda – ½ tsp
Salt – ¼ tsp
Butter – 80 gms (5 ½ tbsp) – Cubed
Cheddar cheese – 160 gms (1 ½ cups)
Rosemary -1 sprig (stem removed and finely chopped)
Buttermilk – 150 ml
Black pepper (crushed) – ½ tsp
Red chili powder – ½ tsp (optional)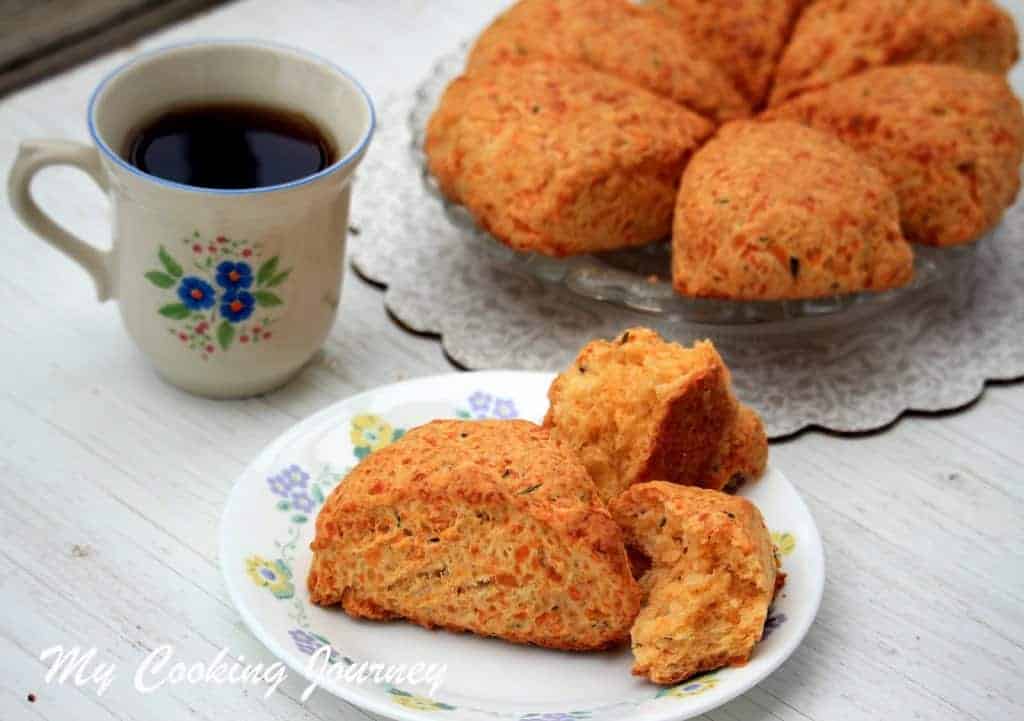 Procedure to make Scones –
To make the buttermilk –
Measure out 150 ml of milk and add about 1 ½ tbsp of lemon juice to it. Mix and let it sit for about 5 minutes. By now you will see that the milk has slightly curdled. This is the buttermilk that I used. Mix the milk mixture once again and use in the recipe.
Sift the flour along with salt, baking powder and baking soda in a large bowl.
Add the cold butter (cubed) to the flour and rub it with your finger tips to incorporate with the flour. Keep rubbing with your finger tips until the butter is all incorporated into the flour. The mixture will appear slightly rough now.
Add the rosemary, black pepper, red chili powder and then shredded cheese and mix well.
Now slowly add prepared buttermilk and make stiff dough. Do not all the buttermilk at once. Add almost all the buttermilk and then if needed add the remaining. I had to use all of the buttermilk to get the right consistency of the dough.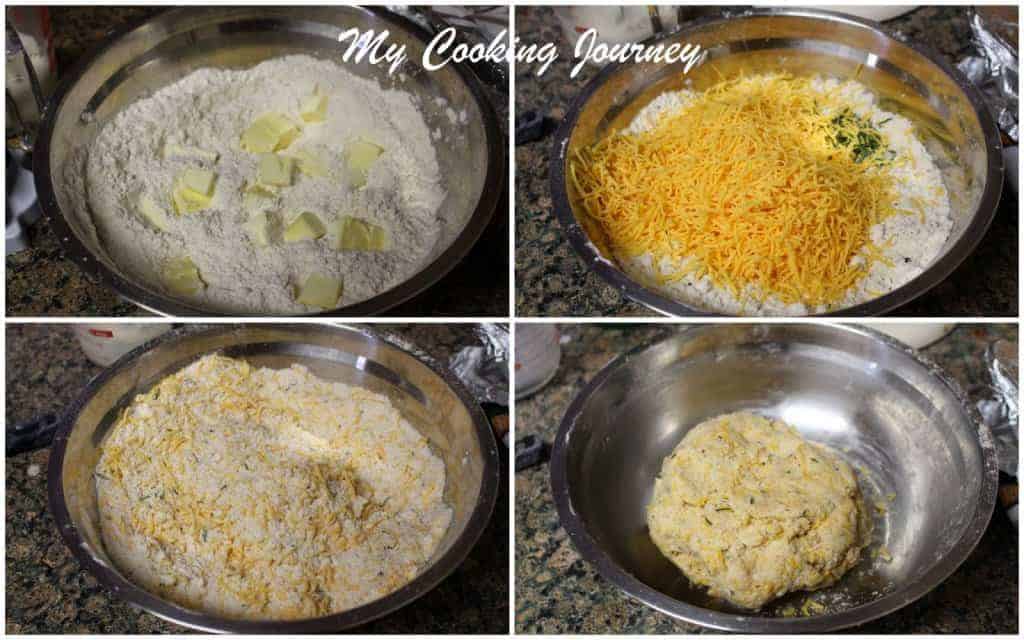 Place the dough on a floured surface and form a rough disc about 3/4th inch thick. I used my hands to pat down the dough and form a disc.
Now make 8 wedges from the disc and place it on a parchment lined baking sheet.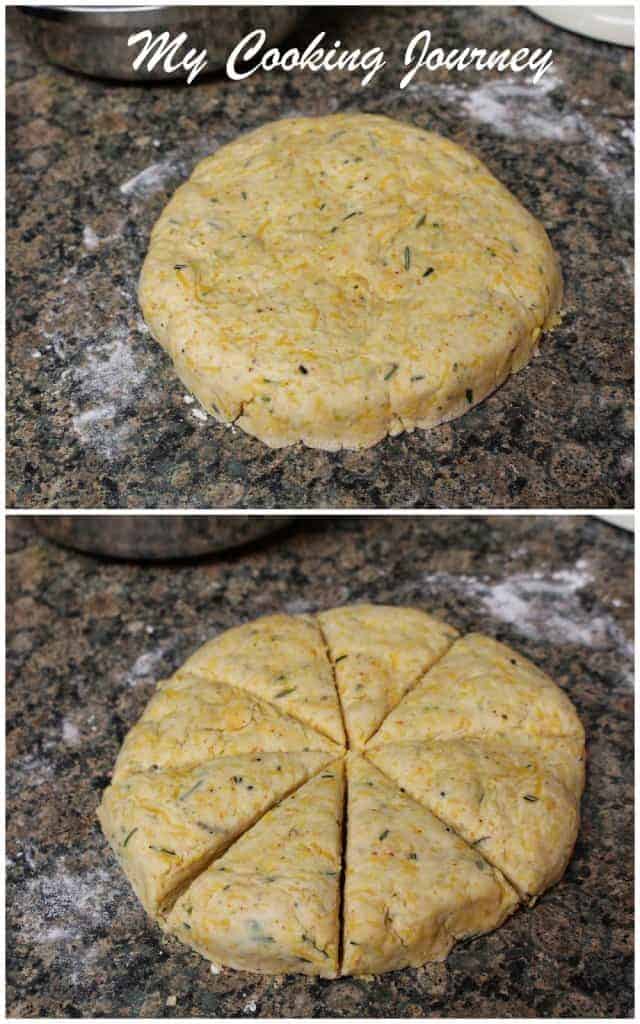 Brush the top with milk (or egg wash).
Preheat the oven to 400 F. Bake the scones for about 15- 20 minutes or until it is golden brown.
Cool on a rack and serve!