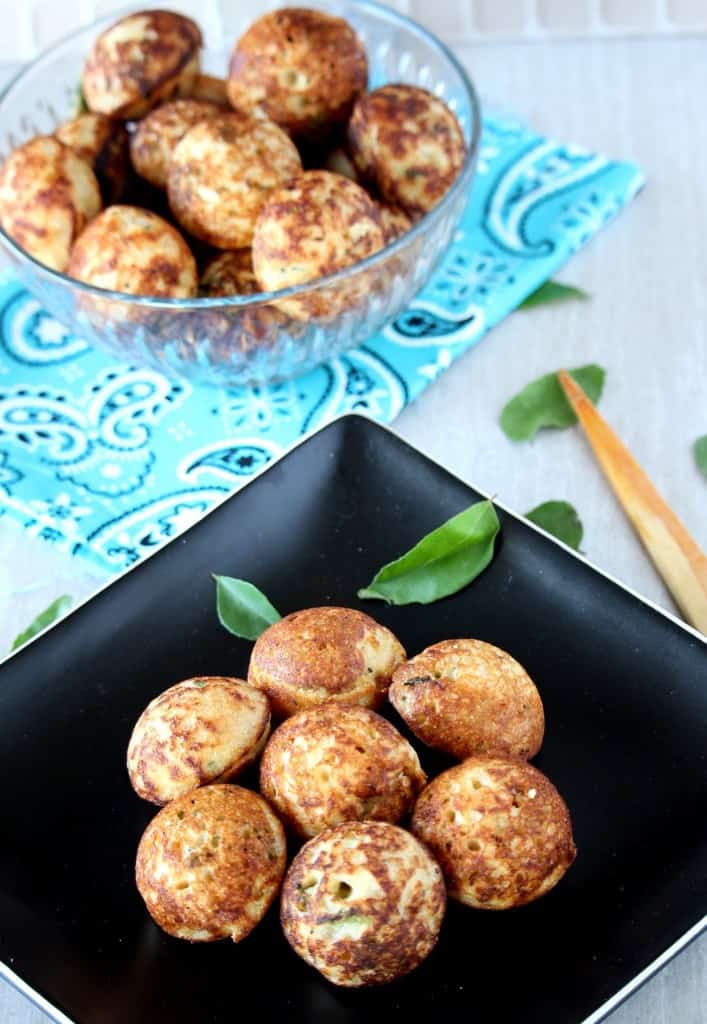 Choosing a recipe for the alphabet W started out being over ambitious and I kept putting it away as it was for the last week. By the time, I was done with two weeks, we have had enough of deep fried and sweets that I no longer wanted to make what I originally chose for the letter. My husband was really looking forward to me making the Wheat Halwa (Tirunelveli Halwa), but I had to cancel it out as it involves quite a bit of procedure and a lot of Nei / Ghee.
This Wheat Flour Kara Kuzhi Paniyaram recipe was very interesting when I came across it from here. I have always made kuzhi paniyaram from left over idli batter and never knew that I can make it with wheat flour as well. The paniyaram was very soft and fluffy and it definitely is a good recipe option if you don't have idli batter in hand.
I very frequently make kuzhi paniyaram for kid's lunch boxes as it is easy to handle for them. They love it with some ketchup on the side. This time, I had it ready when they came back home from school and they loved it as their evening snack. It is quite filling and we can also add few vegetables in the batter like carrot or bell pepper. I have used only onions here, but if you are using any other vegetable, just sauté it a little bit with the onions.
When making the kuzhi paniyaram, I realized that my paniyaram pan is very small and since I make it so often, it becomes time consuming. I wrote it on my India list and will ask my father to buy one when he comes to US this summer. I have been seeing that we get large non stick pans available these days and I need to research a little bit more and see what I need.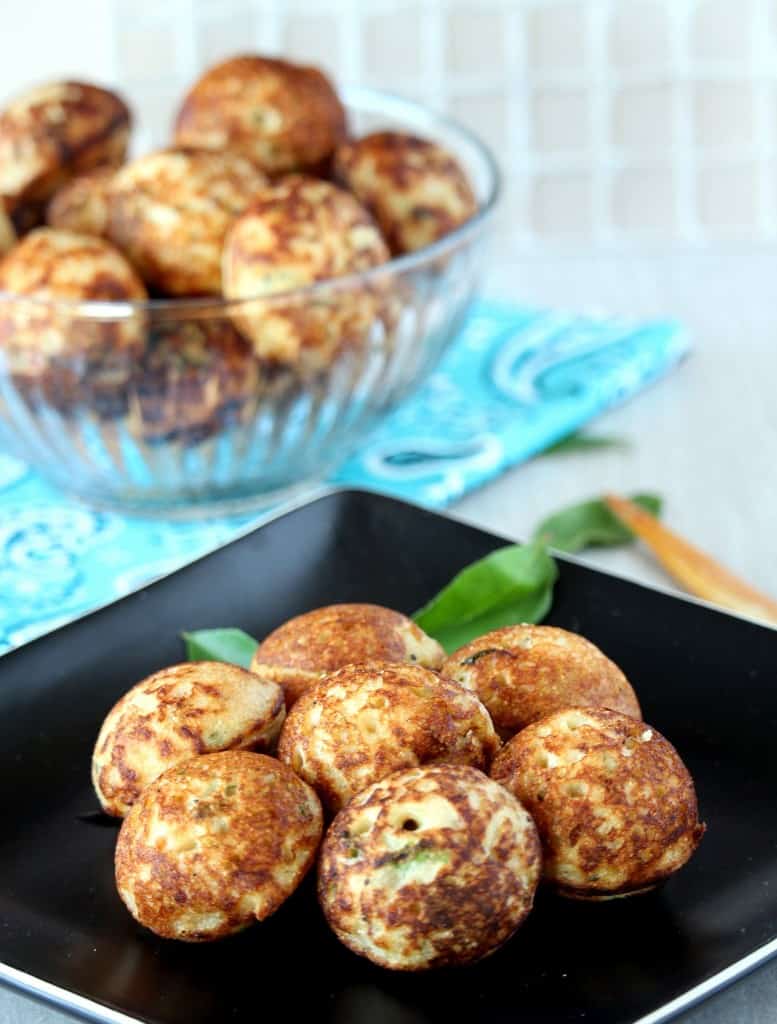 My other recipes from this series -
A - Athirasam
B - Badam Burfi
C - Chettinad Masala Cheeyam
D - Dosai Milagai Podi
E - Ellu Urundai
F - Fruit Kesari
G - Godhumai Rava Pidi Kozhukattai
H - Homemade Rice flour
I - Inji Marappa
J - Jevvarisi Thengai Paal Payasam
K - Kancheepuram Idli
L - Lemon Pickle
M - Manapparai Murukku
N - Nokkal
O - Oothappam
P - Pattinam Pakoda
Q - Quinoa Dosai
R - Ragi Idiyappam / sevai
S - Semiya Pakoda
T - Thaen Mittai
U - Ukkarai
V - Vazhaipoo Vadai
Preparation time – 10 minutes
Cooking time – about 20 minutes
Difficulty level – easy
Recipe adapted from – Bhojana Recipes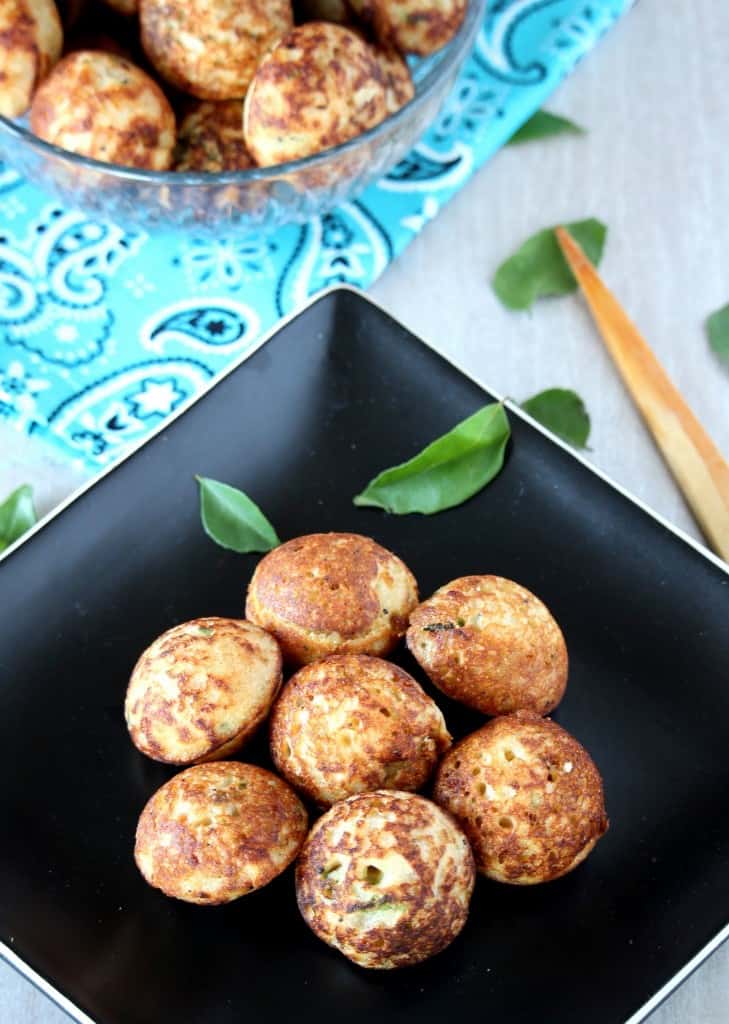 Ingredients to make Wheat Flour Kara Kuzhi Paniyaram - (makes about 35)
Wheat flour – 1 ½ cup
Rava / semolina – ½ cup
Rice flour – ¼ cup
Yogurt – 1 cup (preferably sour)
Baking soda – ¾ tsp
Onion – 1 small (finely chopped)
Green chilies – 4 (finely chopped)
Ginger – ½ inch piece (grated)
Mustard seeds – 1 tsp
Ullutham paruppu / urad dal – 2 tsp
Cumin seeds – 1 tsp
Asafetida – a pinch
Curry leaves – few
Cilantro – few
Salt – to taste
Oil – 1 tbsp per more to make the kuzhipaniyaram
Procedure to make –
In a bowl add all the flours along with salt and mix well.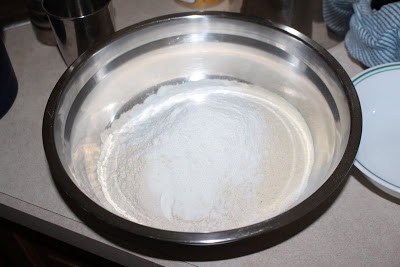 Add the yogurt and just enough water to make a thick batter. The batter should be like idli batter. Make sure that you mix them up well so that there are no lumps. The wheat flour tends to lump up and hence it is important to use your hands to break the lumps.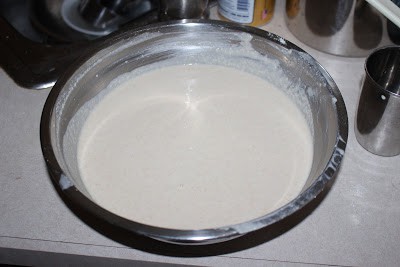 In a pan, heat 1 tbsp of oil and add the mustard seeds and the cumin seeds. Let the seeds splutter and then add the urad dal. Also add the asafetida and curry leaves along with the onions and sauté the onions until they turn translucent. Add salt just enough for the onion mixture as we have already added salt to the batter.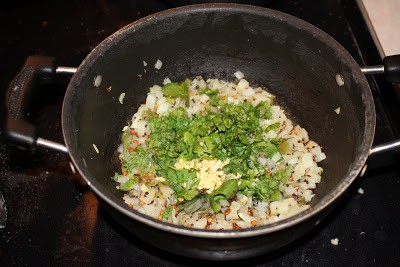 Turn off the flame and add the ginger and the cilantro. Mix once and add it to the batter. Mix well.
Add the baking soda to the batter at the end and mix up well to combine.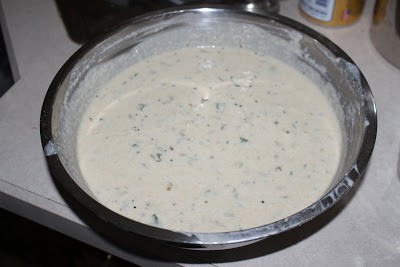 Heat the appam pan and add about ½ tsp oil in each of the holes. Add the batter and cover the pan to help cook the paniyaram. Flip over to the other side and let it cook on the other side as well.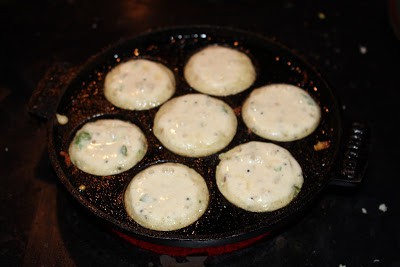 Remove and serve the Wheat Flour Kara Kuzhi Paniyaram with sauce or chutney.