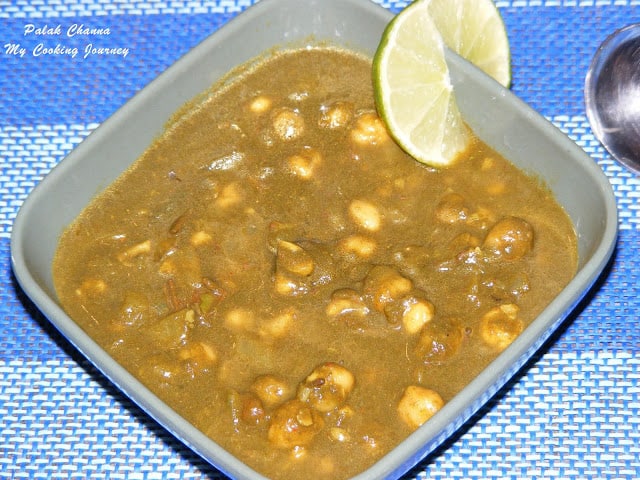 There are days when I want to just eat comfort food. This is one such recipe that my dear friend Arthi introduced me to. There used to be a time for me, when Palak (spinach) was only paired with paneer to make gravy. In fact Palak Paneer was the only palak recipe I knew . But now I have learned a few other recipes from Palak like Dhal Palak and this Palak Channa I have here. This recipe is a low fat one which ensures that we get loads of protein minus the fat.
Preparation time – 15 mins (plus overnight for soaking the channa)
Cooking time – 40 mins (plus time to cook the channa)
Difficulty level – easy
Ingredients to make Palak Channa – Serves 4-6
Channa/chickpeas – 1 cup (uncooked)
Palak/spinach - 1 big bunch or about 12 Oz
Onion – 2 (chopped)
Tomatoes – 2 or 3 (chopped)
Ginger – 1 inch piece (grated)
Green chilies – 2
Garam masala – ½ tsp
Turmeric powder – 1 tsp
Chili powder – ½ tsp
Cumin seeds – 1 tsp
Oil/ghee – 2 tsps
Cream – to garnish (optional)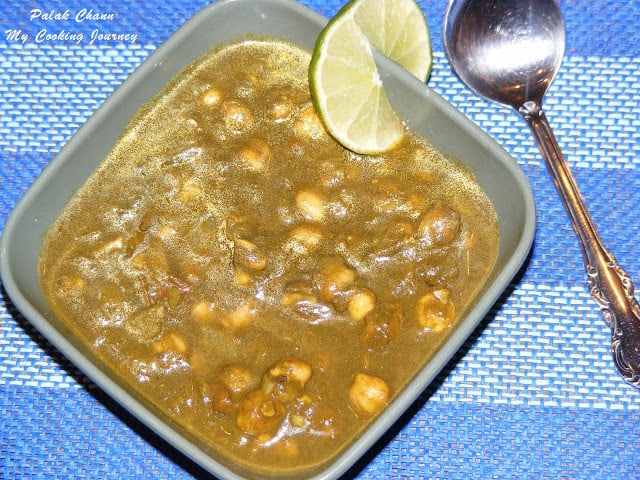 Procedure –
Soak the channa overnight in enough water. Replace the water and cook it in a pressure cooker with salt, turmeric powder, Garam masala, ginger and the green chilies.
Meanwhile, clean the spinach leaves and cook it with water. Once the leaves are cooked, blend it until nice and smooth. You could use a blender to grind it or use a hand blender. Keep it aside.
In a pot, add the oil/ghee. Heat it and then add the cumin seeds and chopped onions. Sauté until the onions are translucent.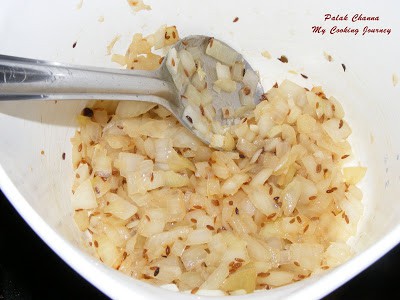 Now add the chopped tomatoes. Cook it until the tomatoes are mushy and comes together as gravy. Add salt and red chili powder and mix well. Keep in mind that the chickpea already has salt in it. So just add enough salt for the gravy.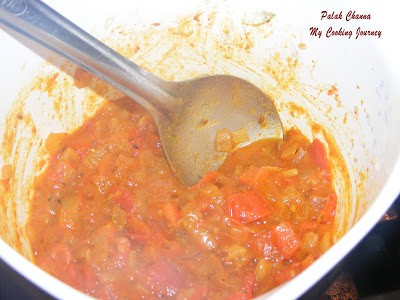 Now add the ground spinach and bring it to boil over medium heat.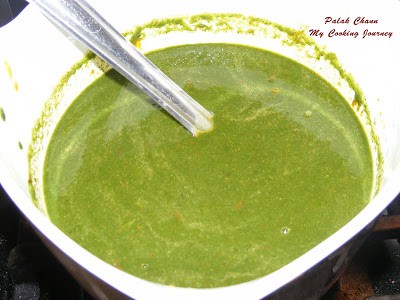 Next add the cooked chickpeas and mix well. Bring it to a boil again and let it simmer for about 10 mins mixing in between.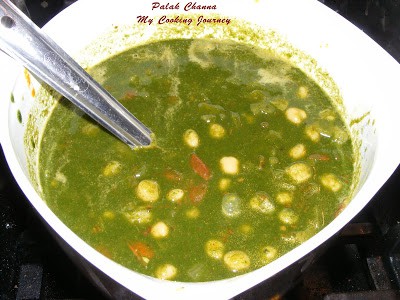 Garnish with cream (if using) and a piece of lime.
Serve with pulkas or rice!