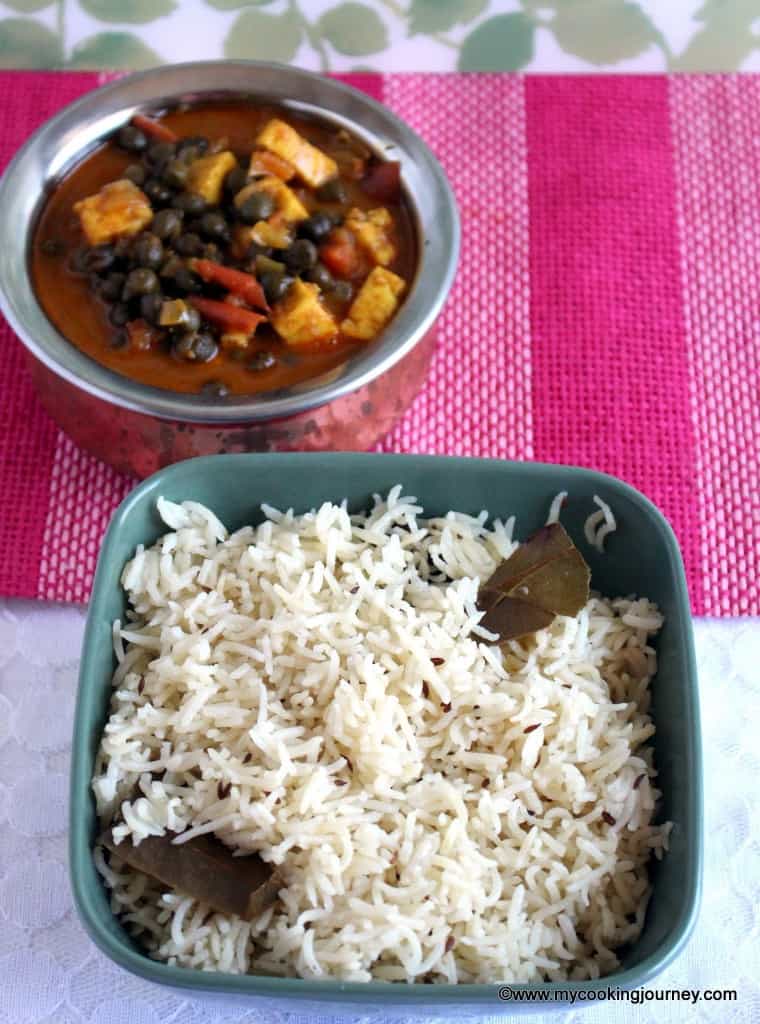 There are many days when I am in no mood for cooking. Those are specifically the days when kids are dying to eat and come with various requests. This week I am doing the theme of 'Quick Dishes'. This means, the dishes have to be made in less than 30 minutes. My weekdays are very busy in the evenings with kid's activities. So, if for some reason I do not get the dinner planned and prepped during the day, it becomes very hard to get something decent on the table.

I do not work outside of the house and hence take up many volunteering hours at my kid's school, library and so on. On those days, I make one quick dish that works well with just pickle or yogurt. Jeera rice is a wonderful alternative to just serving plain rice. It takes just as much time to cook as plain rice, but is very flavorful and aromatic. I often also add a bit of cashews and raisins to make it more fun for the boys.
This particular time, I had made this rice as a part of Haryana Thali that I have still not posted. Talking about thali, one thing I have learned is that with proper planning, it is very easy to make a complete meal. Working on couple of things at one time and getting them going helps cut down on time. In this instance, once we get the tempering done for the rice, the rice just has to cook. In that time we can start working on making the subzi.
I love making complete meals from different states and regions. This gives me an idea of how people eat and how the local grown ingredients are utilized. Haryana, being famous for its milk products have many dishes that have dairy products in them. My menu for the thali was –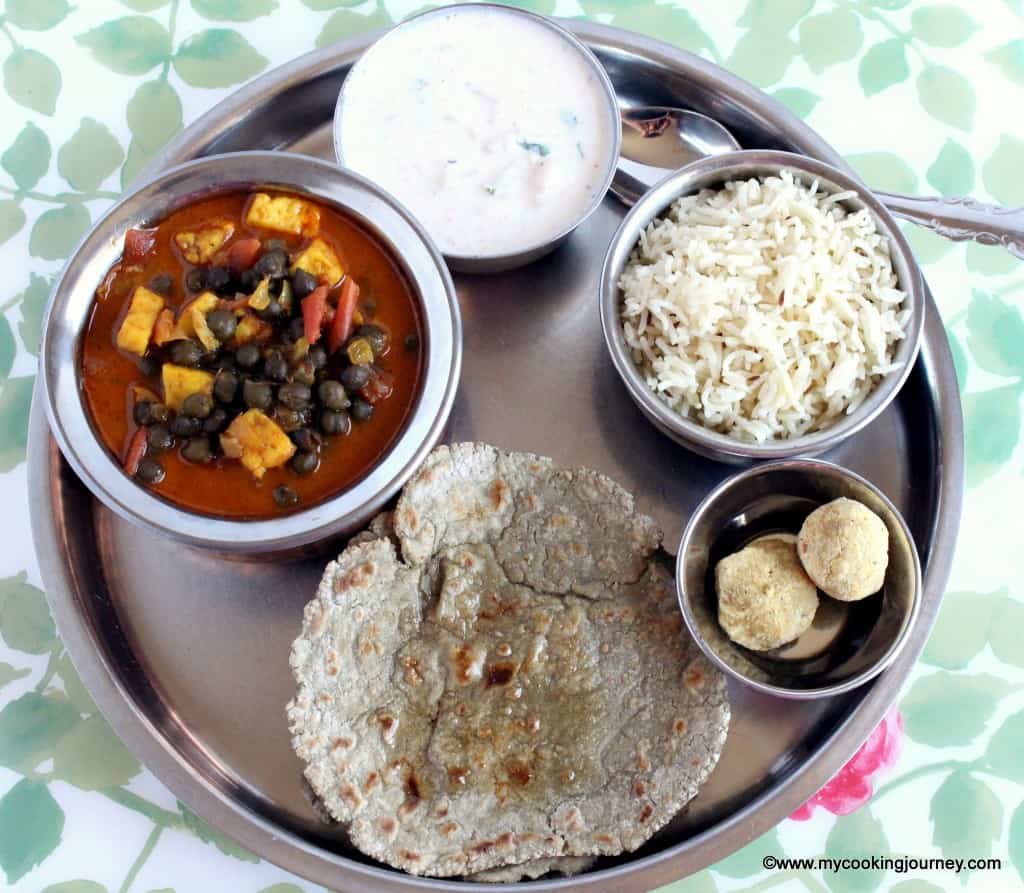 Also check out this classic combo dish that I have made from Haryana
Preparation time – 5 minutes plus 10 minutes soaking time
Cooking time – 20 minutes
Difficulty level – easy
Ingredients to make Jeera Pulao – Serves 4 as a part of the meal or 2
Basmati rice – 1 cup
Ghee / Nei – 1 tbsp
Cumin seeds / jeeragam – 1 tsp
Cinnamon – ½ inch stick
Bay leaf – 1 large
Salt – to taste
Cashews and raisins – few (optional)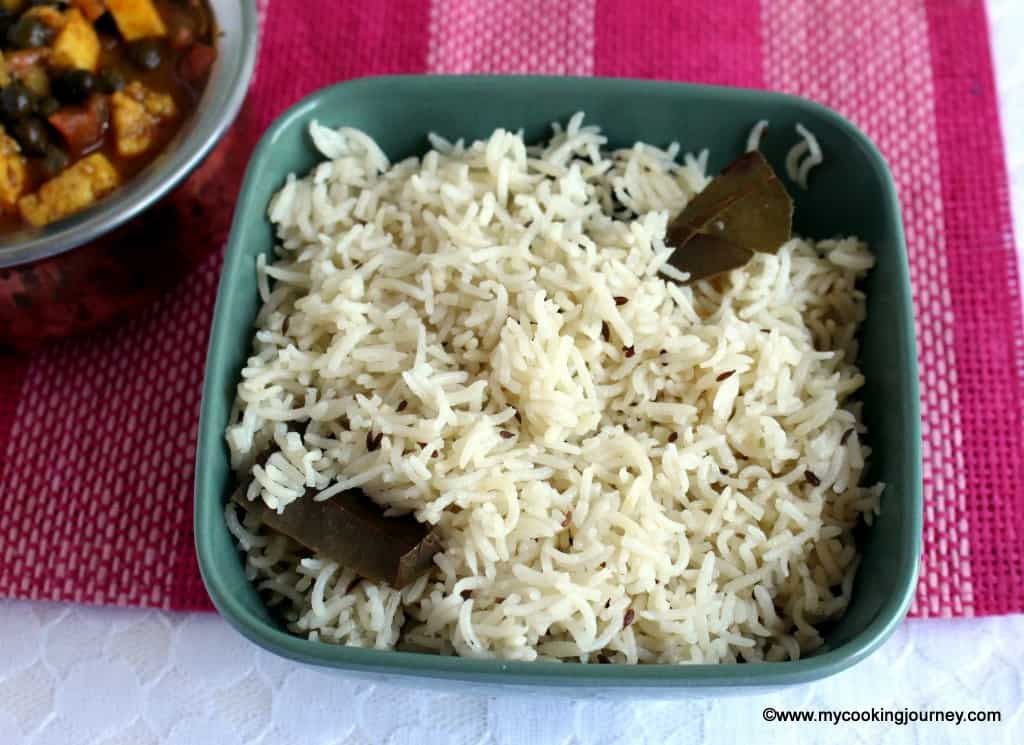 Procedure –
Wash the rice and soak it in water for about 10 minutes. Drain the rice well and keep it aside.
In a heavy bottom pan, heat the ghee. I have used ghee to make the rice as it makes it more flavorful, but you could use oil instead. Add the cumin seeds, cinnamon stick and bay leaf and let it fry for about 20 seconds or until aromatic. If using cashews and raisins, add it at this stage and let it fry until golden brown.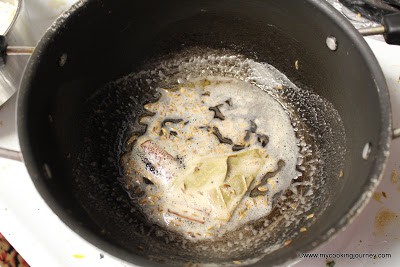 Add the drained rice to the pan and gently stir. Make sure you don't break the rice when stirring.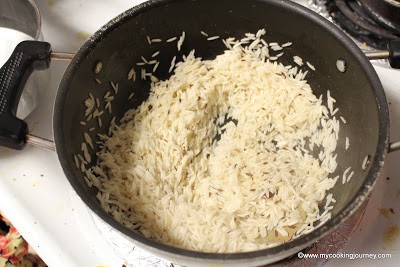 Add the water needed to cook the rice and mix well. Add salt needed. I used about 2 cups of water to cook the rice.
At this stage, you could transfer the rice to a cooker to cook. I cooked the rice in the pan.
Let the water come to a boil and then simmer the flame and cover the pan. Cook covered for about 10 minutes. Check to see is the rice is cooked. Fluff with fork and let it rest for about 5 minutes before serving.
Serve the Jeera Pulao with subzi or raita and pickle.