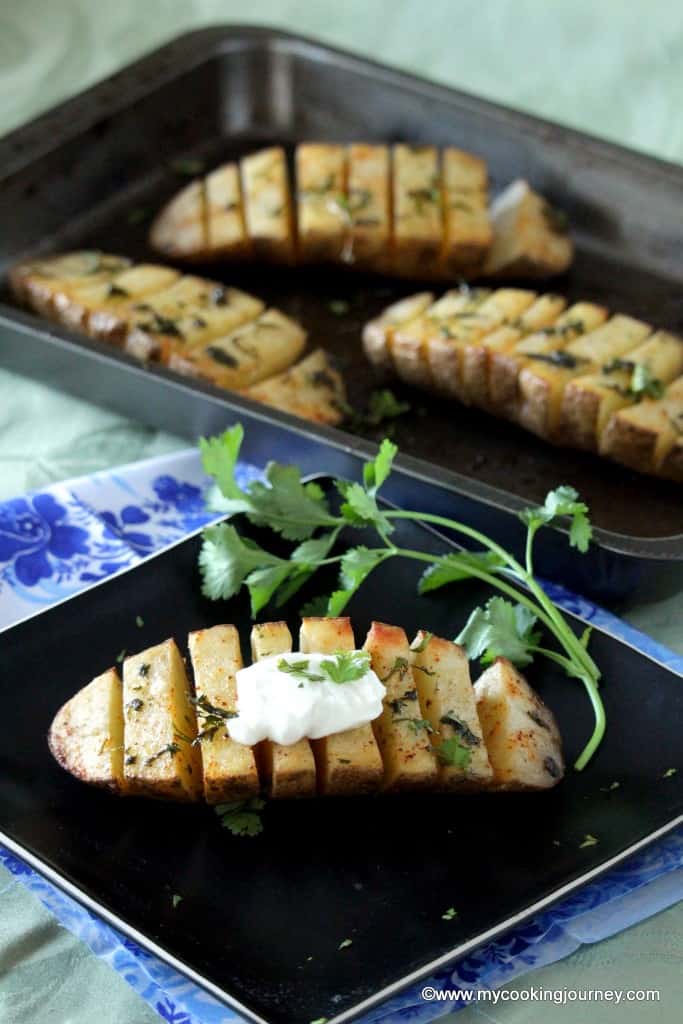 I fell in love with this week's theme for choosing three recipes from Taste of Home – Top 100 dishes. The first recipe that my eyes went on was this scored potato. Who does not like potatoes? My little guy absolutely loves potatoes, more than any of us at home.
Both my boys have been asking me to make baked potato at home. I have never eaten a baked potato in life and I asked them where they even got the idea of one. That is when they showed me that there lunch menu has baked potatoes with cheese and toppings. One of the topping is bacon and hence they can't buy it for lunch from school.
I was looking at all different recipes for making baked potatoes at home, but was not too keen on the recipe.When I saw these scored potatoes on the website, I immediately decided I was going to make it for the boys. This is as simple as a recipe can get with just couple of ingredients. I made mine a little extra spicy to satisfy the Indian taste buds. This made for a wonderful after school snack. I also baked it once again and that was when I topped it with some cheddar cheese at the end of the baking cycle. We liked it better with the cheese on it, but not that we did not like the plain ones.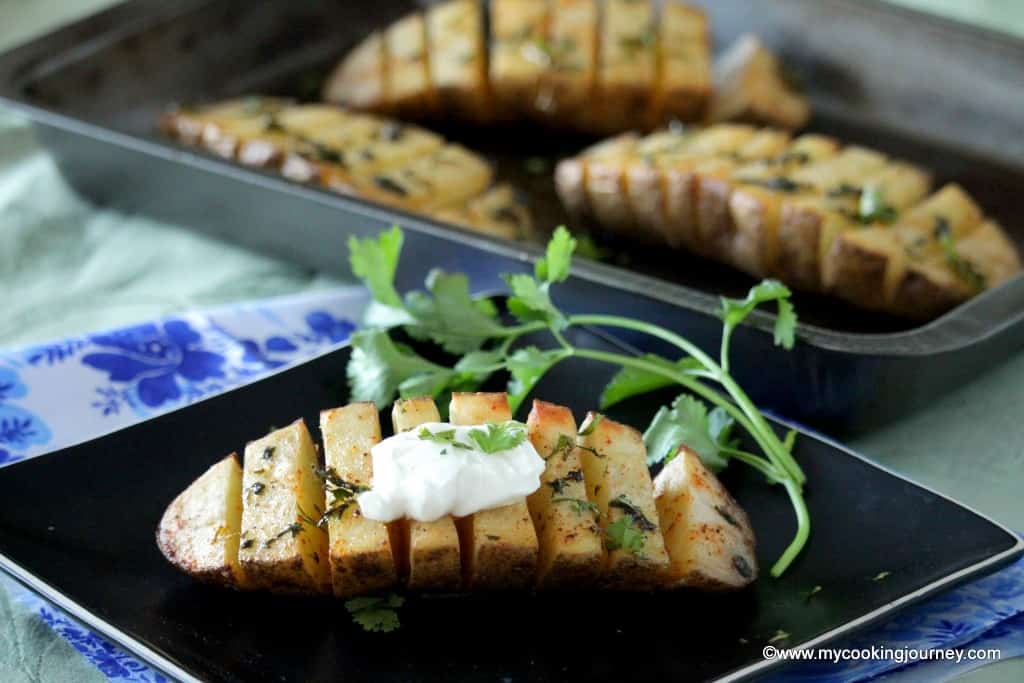 Preparation time – 5 minutes
Cooking time – 45 – 50 minutes
Difficulty level – easy
Recipe adapted from - Taste of Home
Ingredients to make Spicy Scored Baked Potatoes – serves 4 as a snack
Baking potatoes – 2
Butter + olive oil – 2 tbsp (melted and mixed together)
Chili powder or paprika – 1 tsp (more or less depending on your spice level)
Salt – to taste
Pepper – to taste
Cilantro – 2 tbsp (finely chopped)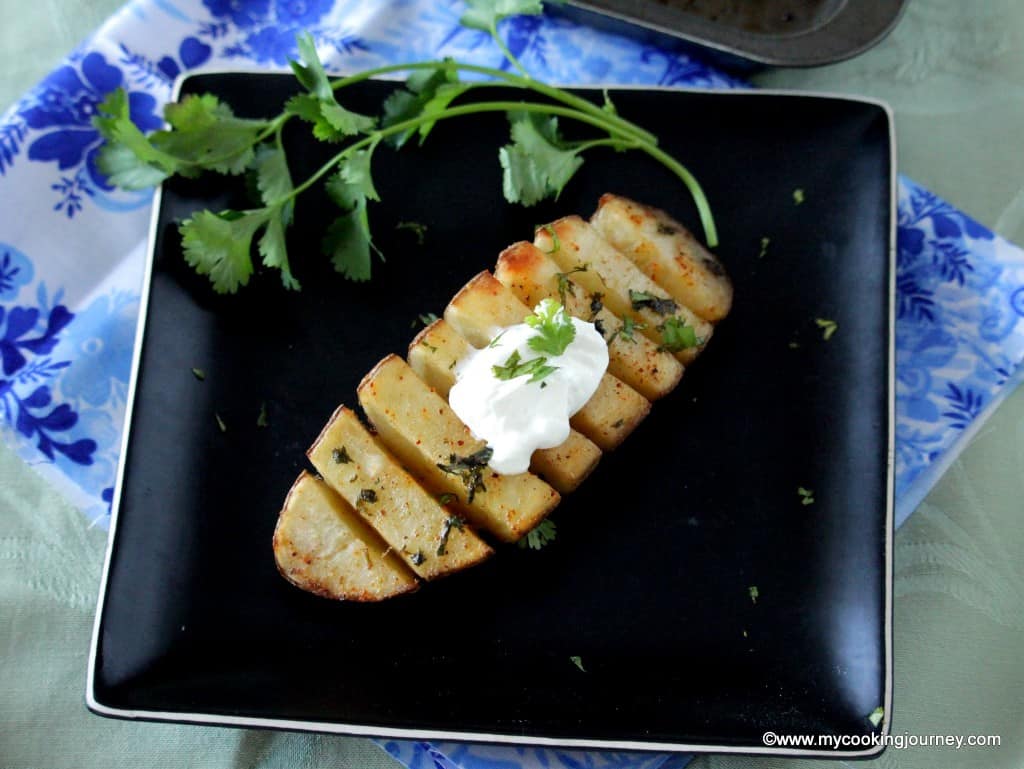 Procedure to make Spicy Scored Baked Potatoes –
Scrub the potatoes very well and wash. Cut the potatoes into halves and then carefully make horizontal cuts on them. I made about 6 to 7 cuts on each of them. Fan the potatoes slightly and place them on greased baking sheet.
Meanwhile melt the butter in a small bowl and then mix olive oil. Add salt and chili powder to the butter-oil mixture and brush it over the scored potatoes. Our potatoes were pretty under-seasoned. They really needed the salt, so make sure you season the potatoes well.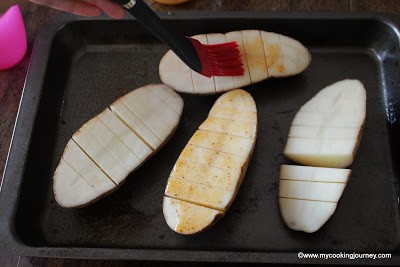 Sprinkle the chopped cilantro evenly over the potatoes.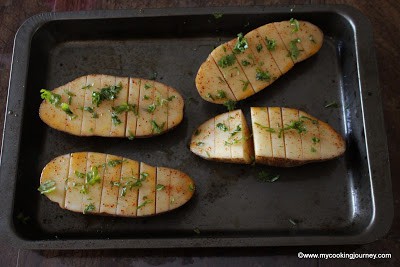 Bake in the pre-heated 350 F for about 45 – 50 minutes or until tender when pricked with a fork.
Serving suggestions –
Sprinkle cheese generously and broil for about 30 seconds.
A dollop of sour cream works great as a topping.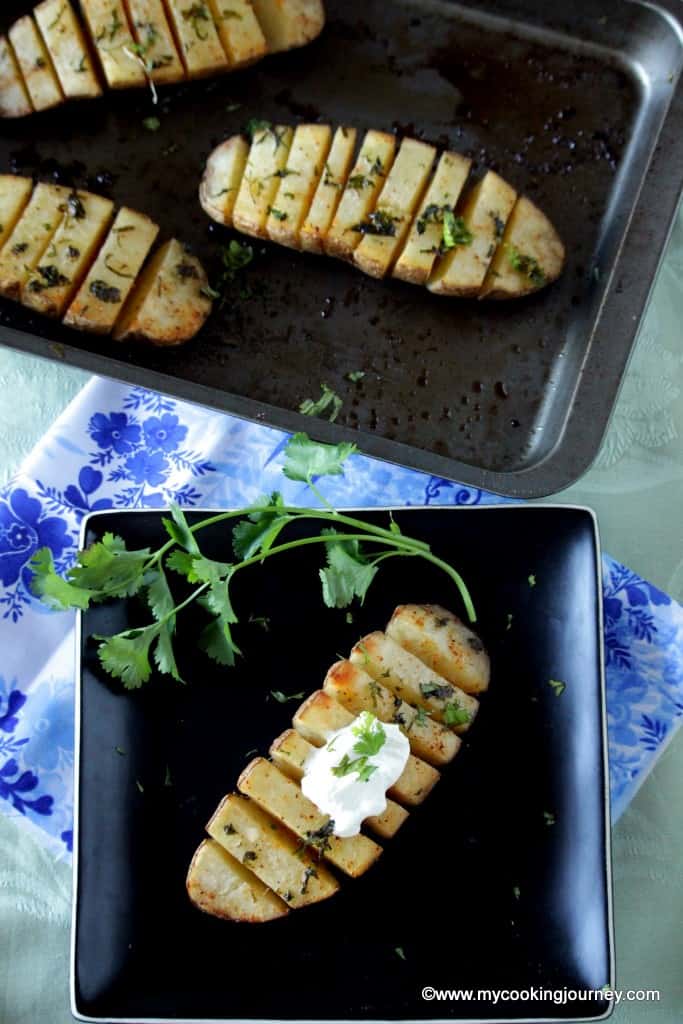 Pint the recipe here to use later -