10th Feb, 2013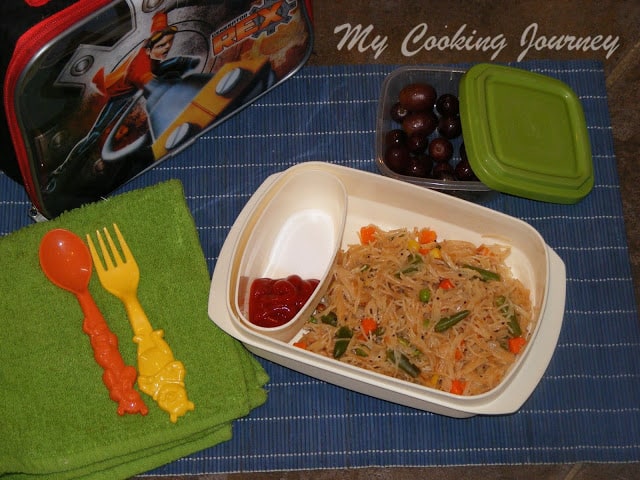 I recently joined the blogging marathon group run by Srivalli. I am very excited to be a part of the group in this silver jubilee. My theme for the next three days is kids delight –lunch box recipes. This is one of the challenge that every mother faces, what to pack for lunch. Even though we cook various recipes and different cuisines, with kids we are always on look out for various lunch ideas that is easy to cook in the morning hours and at the same time welcomed by the kids.
This theme has proved very useful to me in the past, because I can always browse through what other mom's out there are cooking and share their ideas. Hopefully, my recipes would be helpful to few others out their like me looking for new ideas to incorporate in the kids meal.
When I am packing lunch, there are few things I like to keep in mind. The first one is the ease of eating. I have seen with my son that one pot meal works better. He likes to just pick up something and eat rather than having to dip in something and then eat. The next thing that I want is the balance in the ingredients. I try to include some kind of carbohydrate, vegetable and protein in his meal. The other important thing is the ease for the mother to make it in the morning. When the house is in full chaos in the mornings, we need something that can be made quickly and I also like to keep some for me to eat as my breakfast or even lunch.
So the first lunch box recipe from my side is the semiya uppuma. It is a very simple dish to make and I include a variety of vegetables to make it colorful. Kids like noodles, since it is a playful meal and this fulfills the criteria. I pack this with some flavored yogurt and a fruit to make it a complete meal. I used the combination of frozen vegetables, but if you are using fresh ones, I would suggest that you cut them at night to make it easier in the morning.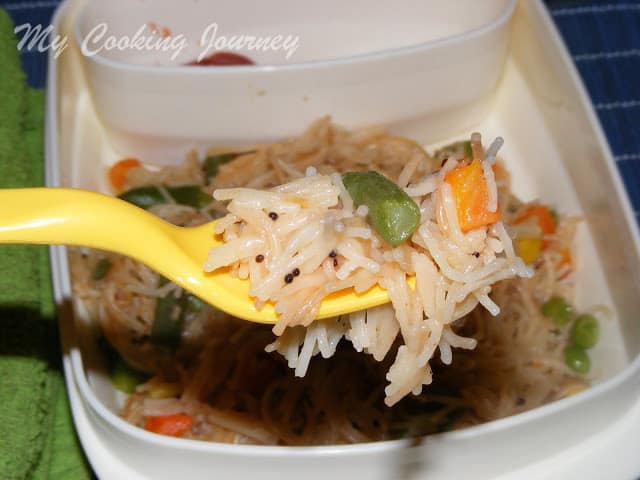 Preparation time – 10 mins
Cooking time – 30 mins
Difficulty level – easy
Ingredients – (serves 4)
Semiya/vermicelli – 2 cups
Water – 3 to 3 ½ cups
Onion – 1 (chopped)
Cut vegetables (carrots, beans, peas, corn) – 1 ½ cups
Oil/ghee – 1 tbsp plus 1tsp
Mustard seeds – 1 tsp
Ullutham paruppu /urad dal – 1 tsp
Cashew pieces – 2 tbsp
Red chilies – 2
Asafetida – ¼ tsp
Salt – to taste
Curry leaves – few (optional)
Lime/lemon juice – from 1 lemon/lime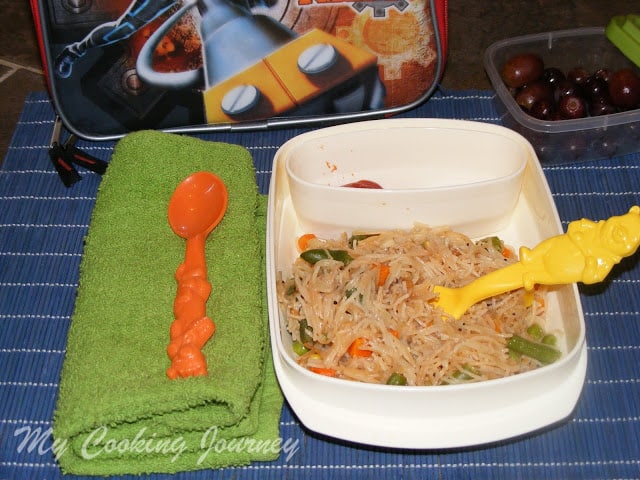 Procedure –
Heat 1 tsp of oil and roast the vermicelli to golden brown. Remove it in a bowl and keep aside.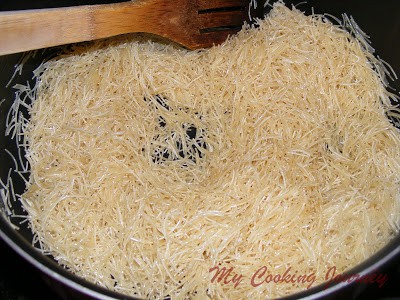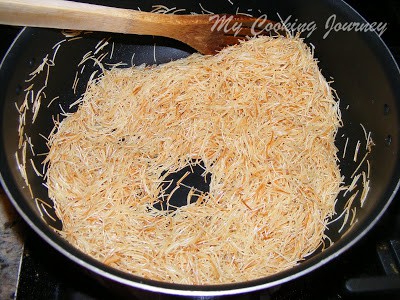 In the same pan, heat the remaining oil or ghee and add the seasonings (mustard seeds, urad dal, asafetida, cashew nuts, red chilies and curry leaves). Let the mustard seeds sputter and the rest of the ingredients fry for a minute.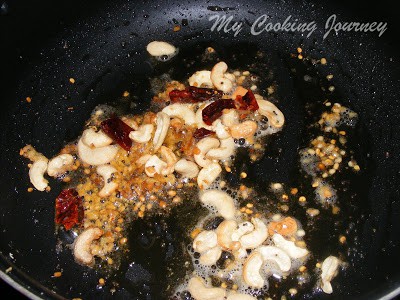 Now add the chopped onions and fry it until translucent (about 5 mins).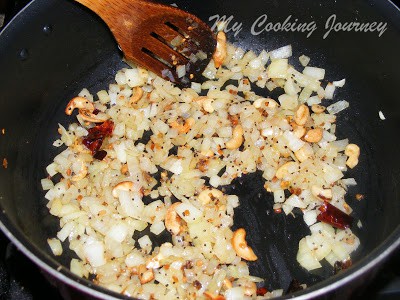 To this add the cut vegetables and sauté it until tender.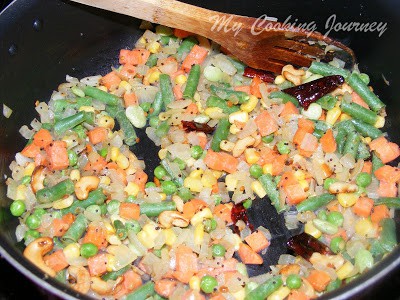 Now add about 3 cups of water. Also add the required salt and let the water come to a boil. Check if the vegetables are cooked. Make sure that the vegetables still have a bite to it.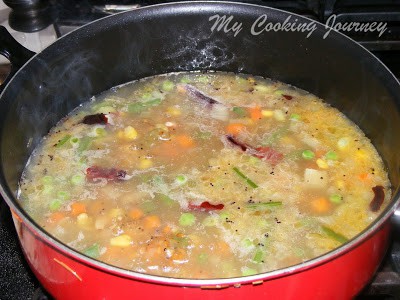 Now add the roasted semiya to the boiling water and let it cook. Once the semiya cooks, it would absorb all the water. If you feel that the vermicelli is not cooked, add some more water and cook it for few more minutes. Also cooking with the lid on helps to quicken the cooking process. Once the semiya has cooked and absorbed all the water, remove it from flame and add the lime juice. Mix well and pack it in lunch boxes.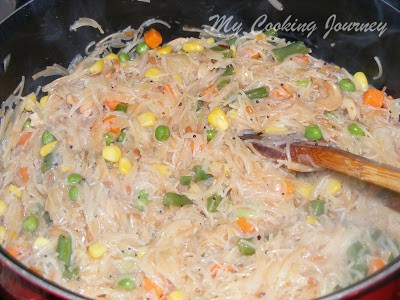 My kids like it with ketchup and some sugar on the side.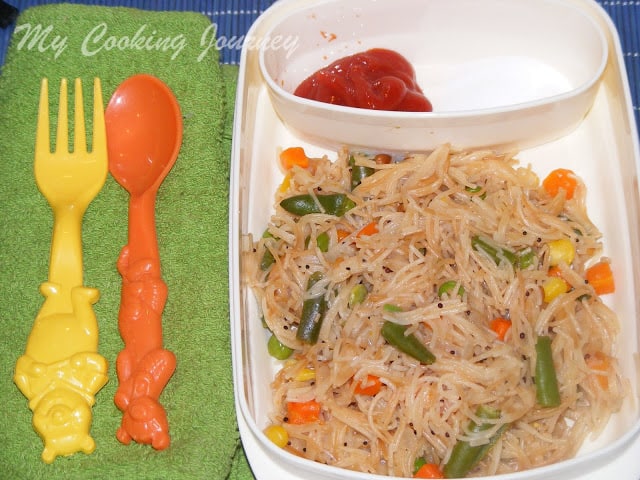 Check out what my other friends are cooking for the Blogging Marathon #25 !
Sending this recipe to
PJ hosting Srivalli's Kid's delight