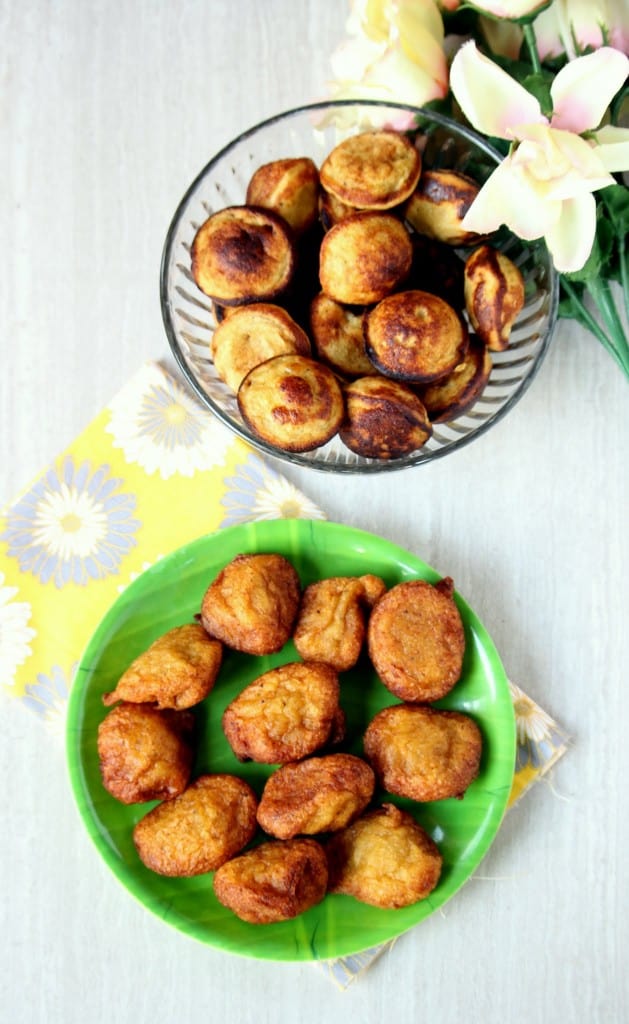 Ghana cuisine uses abundance of plantains in their cooking and I was amazed to see so many vegetarian snacks that I could make with them. Most of the recipes (if not all) called for over-ripe plantains. When they mean over ripe, they mean the absolutely black and squishy ones and it was mentioned all over the book that those were the perfect plantains for the recipes.
I had bookmarked this particular recipe,Plantain Balls / Kaklo / Krakro, and was excited to find few over-ripe plantains in the grocery store. Do not confuse the plantains with the regular bananas. Plantains are the large ones that you find in the grocery and they taste entirely different from the regular green bananas. The plantains are called the nenthrampazham in Tamil and Malayalam and are consumed by Kerala folks a lot. My favorite dish ever with the plantains are the chips (Nenthrankkai chips) that are made with raw Plantains.
Just after I got married, myself and my husband ate often at a Chinese take-out place in Connecticut and they served these delicious deep fried sweet plantains. Those were something I was never able to eat anywhere else. When I was looking at this recipe, it sort of reminded me of the deep fried plantains, thought texturally they both are very different from each other.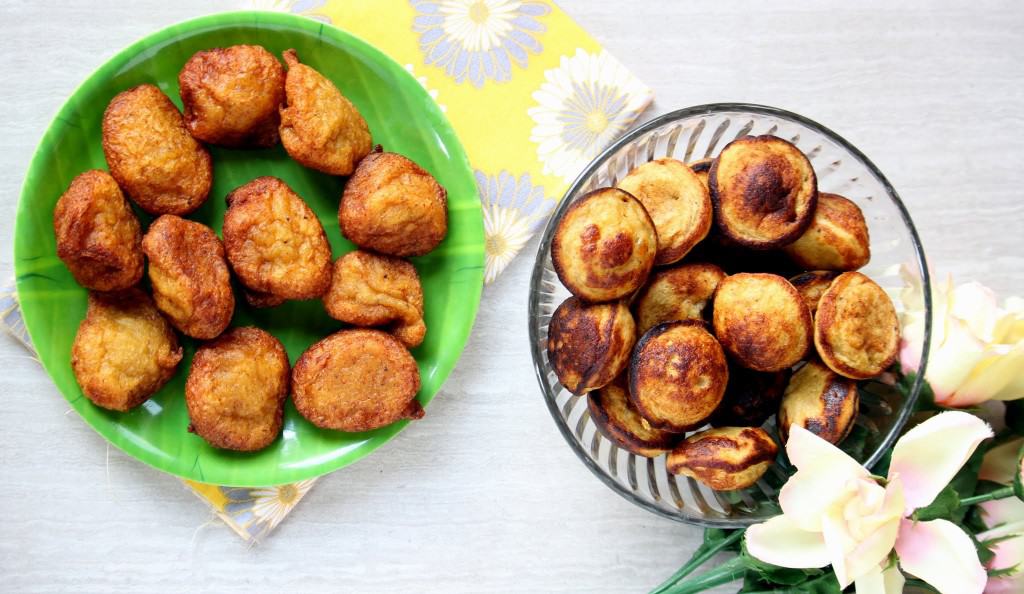 This Plantain Balls / Kaklo / Krakro recipe uses just a few ingredients and the plantains are the star. I used some jalapeno pepper for heat. The only trick to making them perfect is frying them in pretty low to medium heat. If not, the plantain balls will become dark on the outside and will remain raw inside.
Deep fried plantain balls tasted awesome, but they did suck up quite a bit of oil. That is when I tried to make a batch of it the appam pan and they turned out perfect. Again, cooking them in low heat is very important and also using a lid to cover the pan when frying was essential as it allowed the inside of the plantain balls to cook.
The Plantain Balls / Kaklo / Krakro are slightly crisp on the outside and soft inside. You can serve it with some hot sauce or just as is. They can be served warm or at room temperature. I personally liked it at room temperature.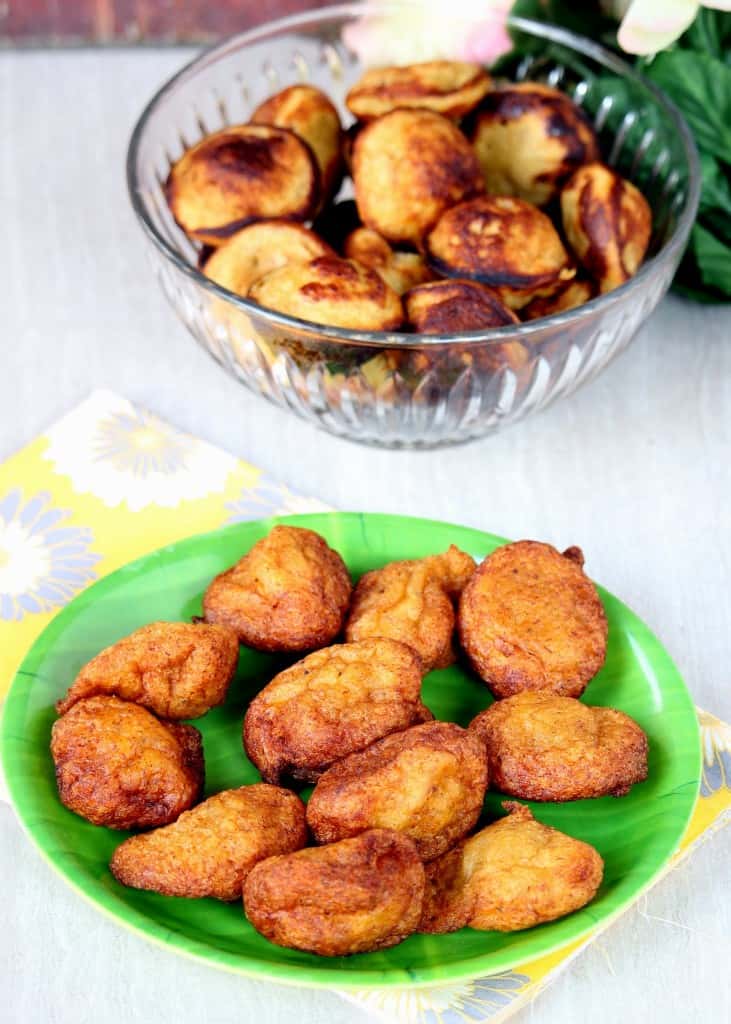 My other recipes this Marathon –
Soups
Day 2 - Vegan Chickpeas Soup (Middle Eastern)
Day 3 - Roasted Butternut Squash Soup - (Mexican)
Appetizers / Snacks
Preparation time – 10 minutes
Cooking time – 30 minutes
Difficulty level – medium
Recipe adapted from – The Ghana Cookbook
Ingredients to make Plantain Balls – (makes 20 fritters)
Over ripe plantains – 3 (not bananas)
Jalapeno – ½ of a large one
Onion – 3 tbsp
All purpose flour – ½ cup
Baking powder – ½ tsp
Salt – ½ tsp
Oil – to deep fry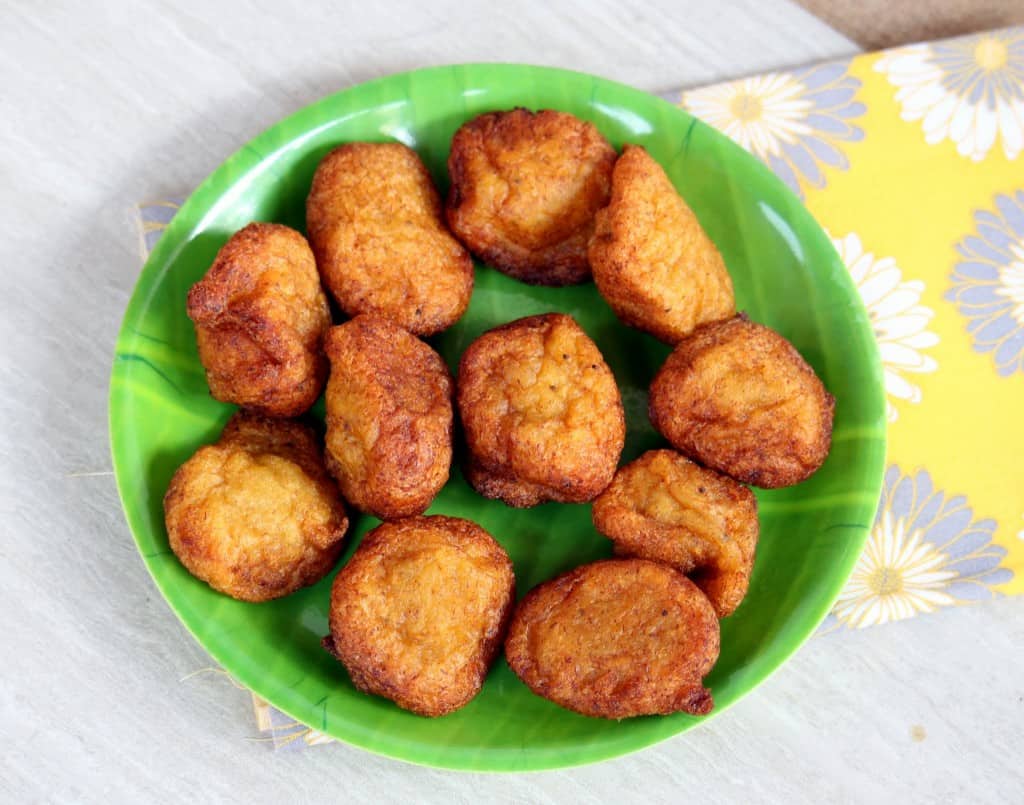 Procedure to make Plantain Balls –
In a blender jar, add the onion and the jalapeno along with 2 to 3 tbsp of water and blend it.
If using a mortar and pestle, add the peeled plantains into the mortar and make it into a smooth puree. I don't have a large mortar and pestle and hence used my blender itself to blend the plantains.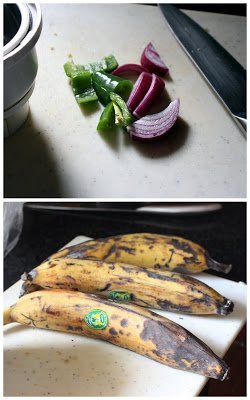 Once the onions and jalapenos have become a smooth paste, add the chopped plantains in the blender jar and blend it couple of times to make into a smooth paste.
Transfer this mixture into a large bowl and add the baking powder, flour and salt to it.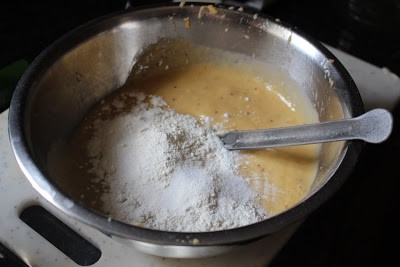 Mix it well and leave it aside for 10 to 15 minutes.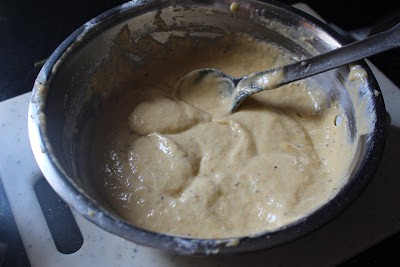 In the meantime heat oil in a pan for deep frying. Do not let the oil become too hot. The oil should be in medium heat through the cooking process so that the inside of the plantain balls are cooked as well. If the oil is too hot, it will brown up on the outside too quickly and the inside would be raw.
Take a spoonful of the batter and gently slide it into the oil. Add a few balls in the oil without overcrowding them. Let it cook on all the sides until deep brown. Make sure that you cook it in low to medium flame.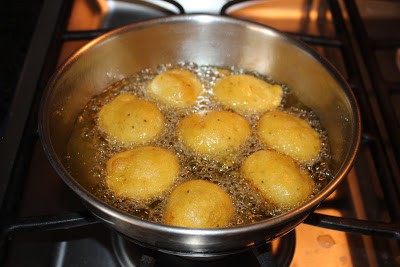 Drain it on a paper towel lined dish and serve when it cools down a bit. Personally I liked them in room temperature.
I also made a batch of it in the appam pan / Appe pan and it used up way less oil than the deep frying method. Taste wise, definitely the deep fried were much better but the appam pan made up for a healthy alternative.