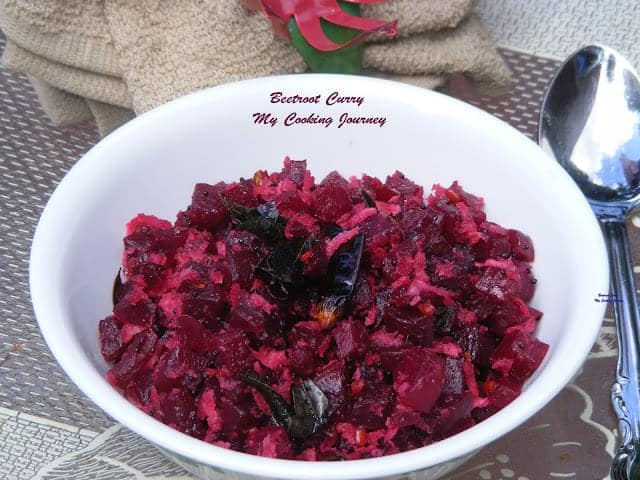 If you ask me for one of my favorite vegetables, the answer would be Beets. I just love beets and as weird as it might sound, I love beetroot curry with curd/yogurt rice. I guess I passed on my liking to my children. Both my kids love beets. So, one would think that this would be a common vegetable that I cook. Unfortunately, the answer is a big NO! Reason being, the cumbersome process of chopping the beets and how messy they can get. This was until few months ago when my mom passed on a very useful tip to process the beets. You will find this out shortly in my procedure…So keep reading 🙂

Preparation time – 10 mins
Cooking time – 30 mins
Difficulty level – easy
Ingredients to make Beetroot curry – Serves 4
Beetroots – 4 to 5 small ones
Mustard seeds – 1 tsp
Black gram lentil/urad dal/ullathum paruppu – 1 tsp
Red chilies – 2-3
Curry leaves – few
Salt – to taste
Sugar – 1 tsp
Oil – 1 tbsp
Asafetida – ¼ tsp
Coconut – ¼th cup (grated)
Procedure –
Wash the beets and pressure cook them for 4 to 5 whistles. Once cooked, remove it from the cooker and let come to room temperature. At this point you will notice that you can peel the skin of the beets just like you do for cooked potatoes.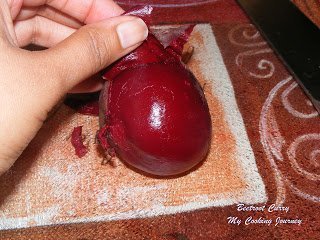 Peel the beets and chop them into small pieces. Cooking the beets makes the chopping very easy (I could make this curry every day.)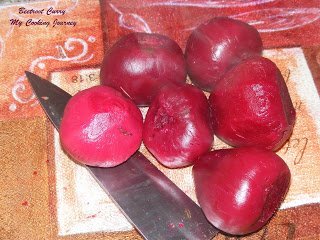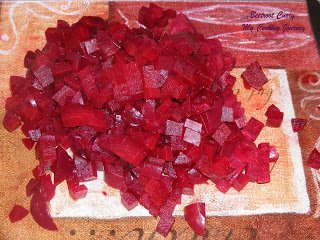 Heat oil in a pan and add the seasonings (Mustard seeds, urad dal, red chilies, curry leaves, asafetida).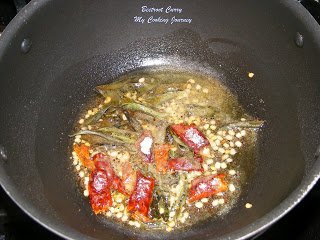 Now add the chopped beets, salt and sugar. I always add sugar to any of my coconut based curry. Why? Because, my mother always adds sugar.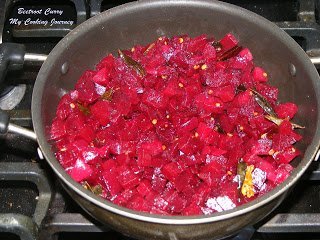 Mix well and let it cook for 5 mins. Now add the grated coconut and mix it well.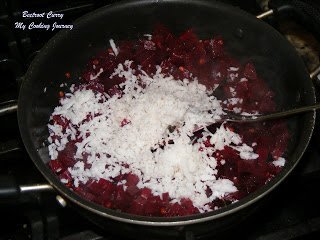 Take it off the flame and serve the beetroot curry!!!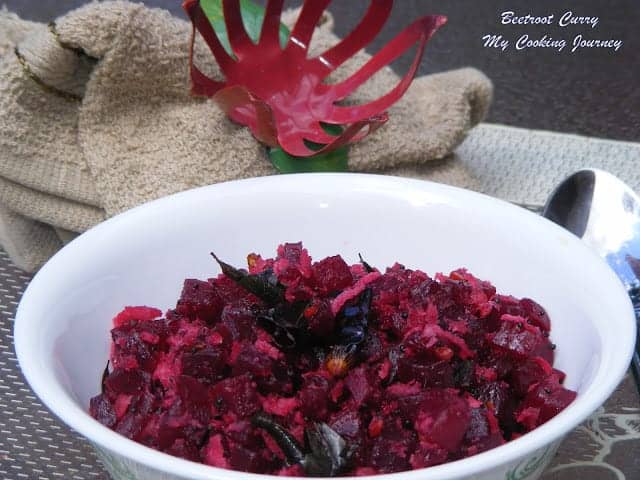 Notes –
When choosing beets, always choose small and even sized ones. This results in even cooking of the vegetable. If the beets are too big, it takes a long time to cook and mostly they cook on the outside and remain uncooked in the inside.
If there is no pressure cook, peel the beets and cut them into small pieces. Once the seasonings are added, add the beets and cook them covered for at least 20 mins. Check for doneness and then proceed as above.