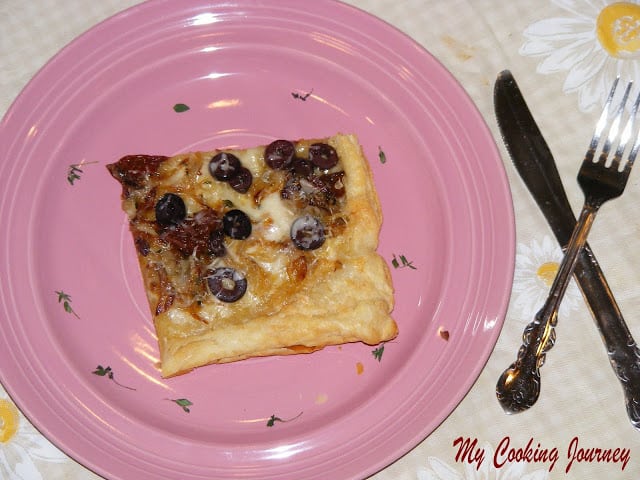 This is my second month of participating in the Baking Partners and it is so much fun. This month's theme was 'PIE'. There was a real cool Apple pie recipe that I absolutely wanted to try, but having eaten so many sweet treats this month, I decided not to (at least for now). I am sure I will bake it soon. So as an alternative when I saw the recipe for the Savory pie, I was excited. This Sun Dried Tomato And Onion Tart recipe was suggested by Samantha of Samantha Menzies. The recipe is from here and it was a very quick one, yet loaded with layers of flavor.
Preparation time – 10 mins plus time taken to defrost the pastry sheets
Cooking time – 40 mins
Difficulty level – easy
Ingredients to make Sun Dried Tomato And Onion Tart – Serves 4
Thawed puff pastry, (9 by 9 inches) - 2 sheets
Olive oil - 2 tablespoons
Thinly sliced onions - 3 cups
Thyme - 4-6 sprigs
Salt - to taste
Dijon mustard - 1½ tablespoons
Heavy cream - 1½ tablespoons
Grated Gruyère cheese - 1 cup
Sun-dried tomatoes, roughly chopped - ½ cup (I used Sun dried tomatoes in Olive oil)
Olives - ¼ cup (optional)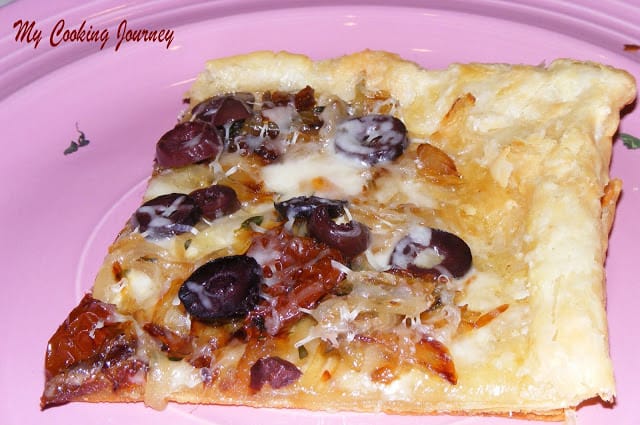 Procedure –
Thaw the puff pastry sheets according to the manufacturer instructions. Unfold the sheets and lay them on baking sheets. If the pastry sheets are touching each other, lay them on 2 different baking sheets. Using a fork, prick the surface several times, leaving a half a inch border all around.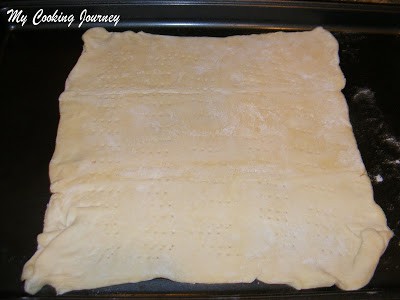 Preheat the oven to 400 F. Now get the prepared sheets in the oven for about 10 minutes or until the sheet base is slightly brown.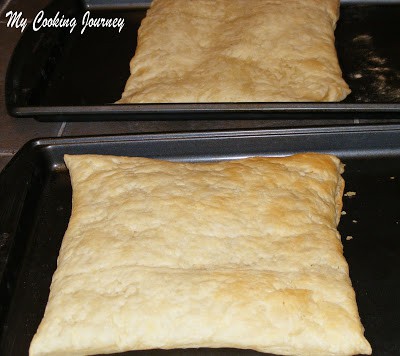 The sheets could get puffed up in the oven in spite of pricking them. Let the sheets cool on a cooling rack and allow it to settle down. Then transfer it back to the baking sheet.
In the mean time, add oil to a large sauté pan and get the onions inside it. I used the olive oil from the Sun Dried tomatoes. Also add the required salt and the thyme to it. Sauté the onions on medium heat until they are evenly caramelized.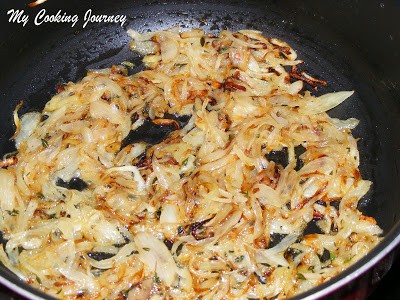 In a small bowl combine the mustard with the heavy cream. Mix well and once the pastry sheets have cooled down a bit, spread this mixture evenly on the sheets, leaving half an inch border untouched.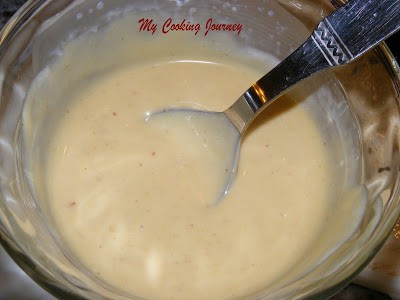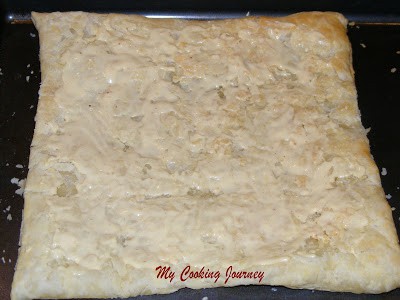 Now add half the grated cheese to the pastry sheets.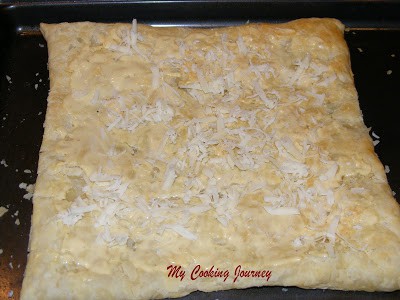 Next add the sun dried tomatoes, onions and the olives (if using) and spread the remaining cheese on top.
Sun dried tomato and onion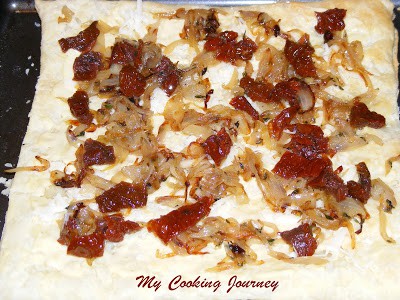 Sun dried tomatoes, Onion and Olives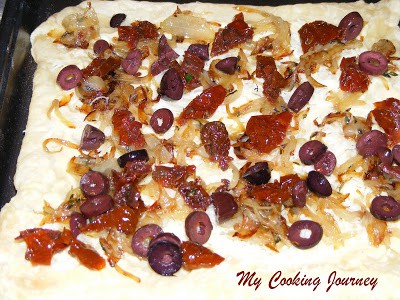 Cheese spread on top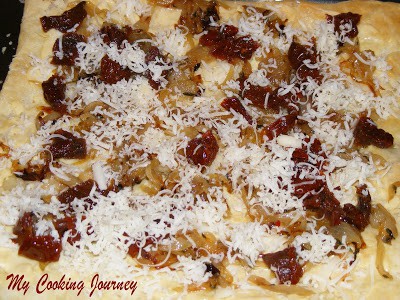 Bake at 400 F for about 15 mins, until the cheese melts.
Serve hot!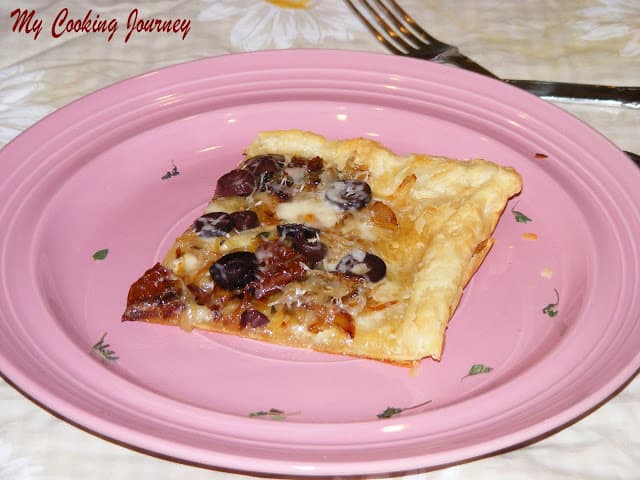 Expert Tips and FAQ's
Adding the oil from the Sun dried tomatoes, added an extra layer of flavor.
My tarts were a little soggy, the reason being that I did not drain the onions in a paper towel before aging it to the pastry sheet. I would highly suggest that rest the caramelized on a paper towel before adding it to the pastry sheet to ensure crisp tart.
I added olives to one of the tart as my kids do not like olives too much. It added another layer of flavor. So if you are an olive lover, go ahead and use it.

If you made this recipe and liked it, give a star rating on the recipe card or let me know in the comments below.
You could also share it with me on Instagram using #MyCookingJourney and tagging me @sandhya.ramakrishnan.
You could follow me and my recipes on Facebook |Instagram | Pinterest | twitter

Sun Dried Tomato And Onion Tart Recipe

The buttery, flaky crust of this tart feels particularly festive when topped with layers of onions and sun-dried tomatoes.

Print Pin Rate

Equipment

Baking sheet

saute pan

bowl

Ingredients

2

sheets

Thawed puff pastry

(9 by 9 inches)

2

tablespoon

Olive oil

3

cups

Thinly sliced onions

4

sprigs

Thyme

Salt - to taste

1½

tablespoon

Dijon mustard

1½

tablespoon

Heavy cream

1

cup

Grated Gruyère cheese

½

cup

Sun-dried tomatoes

roughly chopped (I used Sun dried tomatoes in Olive oil)

¼

cup

Olives

optional

Instructions

Thaw the puff pastry sheets according to the manufacturer instructions. Unfold the sheets and lay them on baking sheets. If the pastry sheets are touching each other, lay them on 2 different baking sheets. Using a fork, prick the surface several times, leaving a half a inch border all around.

Preheat the oven to 400 F. Now get the prepared sheets in the oven for about 10 minutes or until the sheet base is slightly brown.

The sheets could get puffed up in the oven in spite of pricking them. Let the sheets cool on a cooling rack and allow it to settle down. Then transfer it back to the baking sheet.

In the mean time, add oil to a large sauté pan and get the onions inside it. I used the olive oil from the Sun Dried tomatoes. Also add the required salt and the thyme to it. Sauté the onions on medium heat until they are evenly caramelized.

In a small bowl combine the mustard with the heavy cream. Mix well and once the pastry sheets have cooled down a bit, spread this mixture evenly on the sheets, leaving half an inch border untouched.

Now add half the grated cheese to the pastry sheets.

Next add the sun dried tomatoes, onions and the olives (if using) and spread the remaining cheese on top.

Sun dried tomatoes, Onion and Olives

Bake at 400 F for about 15 mins, until the cheese melts.

Serve hot!

Notes

Expert Tips and FAQ's

Adding the oil from the Sun dried tomatoes, added an extra layer of flavor.
My tarts were a little soggy, the reason being that I did not drain the onions in a paper towel before aging it to the pastry sheet. I would highly suggest that rest the caramelized on a paper towel before adding it to the pastry sheet to ensure crisp tart.
I added olives to one of the tart as my kids do not like olives too much. It added another layer of flavor. So if you are an olive lover, go ahead and use it.

Nutrition

Calories:

971

kcal

|

Carbohydrates:

76

g

|

Protein:

20

g

|

Fat:

67

g

|

Saturated Fat:

20

g

|

Polyunsaturated Fat:

7

g

|

Monounsaturated Fat:

36

g

|

Cholesterol:

37

mg

|

Sodium:

717

mg

|

Potassium:

771

mg

|

Fiber:

6

g

|

Sugar:

11

g

|

Vitamin A:

574

IU

|

Vitamin C:

16

mg

|

Calcium:

274

mg

|

Iron:

5

mg